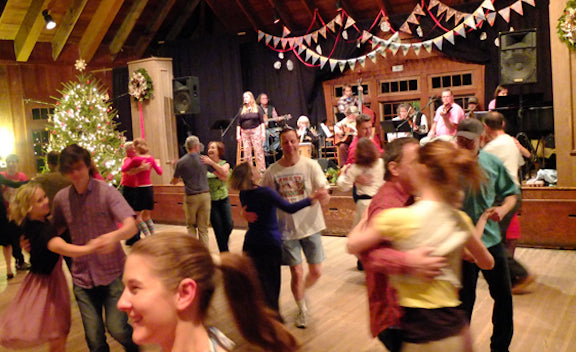 I don't need more stuff. My house is fully furnished. My closet is overflowing. My car is paid off. Okay, I'd like a mountain cabin, but that's not exactly going to fit under the tree. For all intents and purposes, I have everything I need, and a lot of my family and friends are in the same boat.
That's why I've begun giving more and more experiential gifts. For instance, I gave my partner Ryan a Bob Ross class a while back. Remember Bob, the soothing, fro-haired painting genius from PBS?
He passed away years ago, but his unique "wet on wet" technique is still taught at craft stores across the country. Ryan would have never bought this for himself. For that matter, he'd never outright admit that he liked it—like a perpetual teen, he's too cool to gush over anything—but even he came home with a repressed smile and a lovely winter scene complete with "happy little trees."
Once you start exploring experiential gifts, the options are endless—from classical concerts to deep water fishing trips—but my new favorites are mountain-themed. All across the Appalachian South, cultural centers and local programs help keep our heritage alive. Many offer classes that are unique to our corner of the world.
Know someone who loves the sound of the fiddle? Think you have a repressed soap-stone sculpture on your list? Know any avid hikers who could bone up on their survival skills?
Then check out these Appalachian-based options. They will bring a slice of our regional heritage right into your holiday season, and, bonus prize, they'll save you money on gift wrap!
Also, we're dying to know—have you ever given an experiential gift? If so, what was it, and how did it turn out?
*
Cowan Creek Music School, Whitesburg, Kentucky: Hailing from the land of Loretta Lynn, this one-of-a-kind school draws on the deep musical traditions of Eastern Kentucky. Banjo and fiddle classes dominate—ranging from beginner to advanced—but other instruments are in the mix, including the mandolin and, one of my favorites, the mountain dulcimer. Also, don't miss the Monday workshops. Every week, the school hosts a ballad swap, a flatfooting lesson, and a local field trip.
Mountain Shepherd Wilderness Survival School, Catawba, Virginia: Know someone who missed out on scouting as a kid? Here's your chance to help him or her make up for it. Mountain Shepherd's survival courses cover everything from wilderness first aid to building a fire in the pouring rain. It's held in beautiful Catawba, Virginia, just outside Roanoke, and it is the only experiential gift that might keep your loved ones alive in the case of a bear attack.
John C. Campbell Folk School, Brasstown, North Carolina:
Before there was a knitting revival or Etsy, there was the John C. Campbell Folk School. For more than 80 years, this Appalachian institution has kept folk traditions alive. Courses range from the merely traditional—like clogging and hand-forging knives—to the truly obscure. Anyone up for spinning yak hair?
Clifton Forge School of the Arts, Clifton Forge, Virginia:
Nestled among Virginia's Blue Ridge Mountains, the Clifton Forge School of the Arts offers a full range of classes, from painting to music, with many drawing from our regional traditions. The sculpture class, for example, uses stones from the only soapstone quarry in the U.S., which happens to be right outside Charlottesville. The stone's distinctive grey finish has become a signature look for Blue Ridge sculpture.