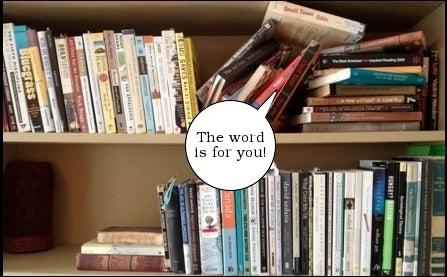 As I explained a few week's back,
Jim the Boy
was presented to me by The Great Book Pile along with another book--
Child of the Mountains. 
I am convinced that these two young adult novels are, in fact, companions.
Don't get me wrong. The authors and publishers probably had no connection, but the books themselves compliment one another so well. Both have Appalachian themes. Both are young adult novels with grown-up appeal. One focuses on a boy in the early 20th century and the other on a girl during the same timeframe.
I can take no credit. The Great Book Pile--my sentient mess of unread books--made the connection. It catapulted these two books up, overtop dozens of others, to the top of the cluttered shelf, insisting that I read them. Whats more, I think The Great Book Pile intended that I share them with you.
Please don't roll your eyes like an unwanted evangelist has shown at your door. I'm serious. The Great Book Pile has your interests at heart. It is a literary sage. It will deliver you from the doldrums of chick lit and Tolkien knock-offs if you let it.
Be brave. Have faith. The Great Book Pile loves you. It will be your guide.
All it asks is that your read, Read, READ!
*
Jim the Boy
In the book's first pages, we learn that a new school is opening in Aliceville, North Carolina. It will have electric lights, giant blackboards, and a principal, which is as foreign to Jim as the school's glowing bulbs. His old school just had two teachers. It didn't need an administration, but this school will be big. It has been under construction for as long as Jim can remember, and everyone will go there, even hillbilly kids from Lynn's Mountain, kids that Jim distrusts:
Jim had often seen hillbilly kids with their fathers at the store. They stared at Jim as if they hated him already; he didn't like them either. Jim's grandfather lived on Lynn's Mountain. Jim had never laid eyes on him, and did not think he ever would. Mama would not permit it. Jim was a little afraid of going to school with kids who might know his grandfather, but he had not told anyone that.
This short passage sets the stage for
Jim the Boy, 
a beautiful and understated book. There are no mysteries or monsters, just a country boy who learns from his family--a single mother and a trio of uncles who raise him on their farm--and from his own fears.
Jim has reason to be weary of his grandfather. The man is, in fact, a scoundrel, a violent moonshiner who pulled a gun on Jim's daddy and terrorized his granny. His cruelty made him a family legend, a boogieman of sorts, and in Jim's young mind, he has tainted everyone and everything from Lynn's Mountain.
As unlikely as it sounds, Jim's fear and prejudice hold this book together...or rather, these books together. The author, Tony Early, has written 
Jim the Boy
 as a collection of books, Book I: Birthday Boy, Book II: Jim Leaves Home, Book III: Town Boys and Mountain Boys, and so on.
Each could stand on its own. They are simple, clear windows into this young man's life, but when linked together, they reveal something greater, an elegant narrative about a boy who faces his bias against mountain people.
Now, instilling prejudice in a protagonist is risky. It could ruin Jim, make him unlikeable. But Early shows this boy with bone bare honesty, and we can't help but care for him.
We see Jim's gratitude when he receives a baseball and glove as a gift. "Jim gazed up at his mother and the uncles as if he had a wonderful story to tell them but could not remember their language."
We hear him say with plain and true love that he doesn't need a Daddy because he has three of them--his mother's brothers.
We share his wonder when he sees the ocean for the first time. "Each wave when it crashed and broke sounded to Jim like the angry breath of God."
We learn that Jim is not extraordinarily bad or extraordinarily good. He is a regular boy, flawed, a bit short tempered, but striving to do right.
Doesn't that sound familiar? Doesn't it sound like all of us?
This is Tony Earley's gift. He can take his understated characters, his simple scenes, and fill them with humanity. Take this section for instance--Jim is with his mother, Cissy, who's temperament is usually even. They are looking at blackbirds that have gathered by their farmhouse. Jim is speculating on how many his uncle could kill with a shotgun:
"I bet he could kill a hundred," says the boy. "Maybe two hundred."Cissy's eyes begin to fill. She doesn't know if the boy can even hear her; she doesn't know if she has spoken out loud. She blinks so that she can see clearly."What's wrong, Mama?" he asks. Cissy waves him away, doesn't dare look at him. She unties her apron and takes it off. She pushes her hair behind her ears. She takes a few hesitant steps toward the tree, then breaks into a run; she reaches down with one hand and pulls up her skirt so that she can run faster; she is surprised by how good running feels. The boy trots along behind her, his eyes wide. He has never seen her run before. She has not run a step in his lifetime. "Mama," he says, "Mama, where are you going?"Cissy begins to wave the apron over her head."Shoo!" she yells. "Fly away! Leave!"When she closes to within thirty yards of the tree, the flock lifts as one body with a percussive, ripping sounds, as if the air itself is tearing. It moves away from the tree, a creature with a single mind; it flattens and stretches out and winds fluidly across the field, like water seeking a low place.Cissy runs a few more steps, still flapping the apron, then slows to a stop. Her heart throbs wildly inside her chest; her breath burns in her throat. She stares at the guant limbs of the walnut tree, the empty sky. She hears the birds shouting in the dark woods along the river. They sound angry, indignant, accusing. In the morning they would be gone. She wheels and stares down at the boy. He backs up a step. When she steps toward him, he backs up again. She points at the tree."There, Mr. Glass," she says. "It is winter now."
I nearly wept when I read this. I can't say why. I don't fully understand why Jim's talk upset Cissy so, but I was caught up in her reaction. I felt her sadness, her desperation to save the birds, and I think it's because Early felt it too. He conveys his characters' hurts and worries with such crystal clarity, I have to believe that he cares for them.
In this way, he reminds me of another young author,
Josh Weil
, whom I interviewed a couple of years back. Maybe this is an emerging vein with male Appalachian writers. These two--Earley and Weil--treat their characters with tenderness, with a sympathy that I don't see in the generation before them. Breece D'J Pancake, Pinckney Benedict, and Ron Rash are some of my favorites, but they have all written gritty, gothic stories full of drug addicts and low-downs who kill, connive, and harm.
Maybe this is something new. Maybe mountain men are developing a soft spot.
I guess it's too soon to say, but I do know that I admire Early. He finds beauty in the everyday. He honors the good hearts of country folk. He commits to loving his characters, and, for me, that counts more than all the trailer park murders and meth-induced rampages in the world.