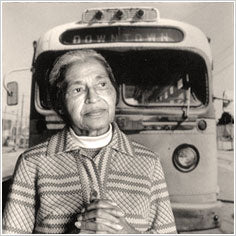 I rode in the front of the Blue Bird school bus, usually within two seats of the driver, as close as I could get without being in her lap. I balanced a stack of books on my skinny right thigh, which dangled over my skinny left thigh, which was covered by paper thin corduroys, one of Mother's Salvation Army finds.
It was the 1980s, three decades after Rosa Parks' legendary defiance. Not that it mattered. I was white; I should've been able to sit anywhere I wanted, but it was safer near the front. The kids in back had it out for me. I was underweight, poor, and conspicuously nelly. Their slurs and gut punches were at the ready. They waited for an errant squirrel or sun glare, anything that would distract the driver long enough for them to rush me. Most days, I sweated through my shirt riding home.
I wonder if Rosa Parks did the same -- sweat, that is. She was exhausted from work, facing arrest and an angry white bus driver, but it's difficult to imagine even a drop on her handsome dress, in her tidy hair, on her still face.
I remember the black and white photo our teachers posted of her every year. They framed the Mother of the Civil Rights Movement with crepe paper beside Thurgood Marshall, W.E.B. Du Bois, and Martin Luther King Jr. -- a wall of famous black men, who might shed their jackets, roll their sleeves, and sling perspiration like confetti during their orations -- but not Mrs. Parks. She was thin, stoic, and while darker than either of my grannies, tough mountain women, my young eyes saw in her something familiar, a fearlessness that I assumed was intrinsic to all ladies that age.
Later I learned that the bulletin board actually diminished Parks. She was not just a fatigued seamstress. She was the local secretary of the NAACP and four months before her arrest, she attended a workshop on desegregation in the Western foothills of the Appalachians. At the 
Highlander Folk School
(now the Highlander Center), she learned the principles of nonviolent resistance from leaders who helped integrate parts of the labor movement in the 1940s. She described it as "an atmosphere of equality with members of the other race."
She was prepared and informed, a conscious proponent of the rising movement, the kind of woman who would later say, "Knowing what must be done does away with fear."
That's a psalm for the sweating kid inside me -- maybe you too -- a gift from the woman who did not squirm in her seat or clamp her arms tight against her sides to hide the creeping dampness. She launched a revolution, and I'm convinced that she didn't shed a bead.