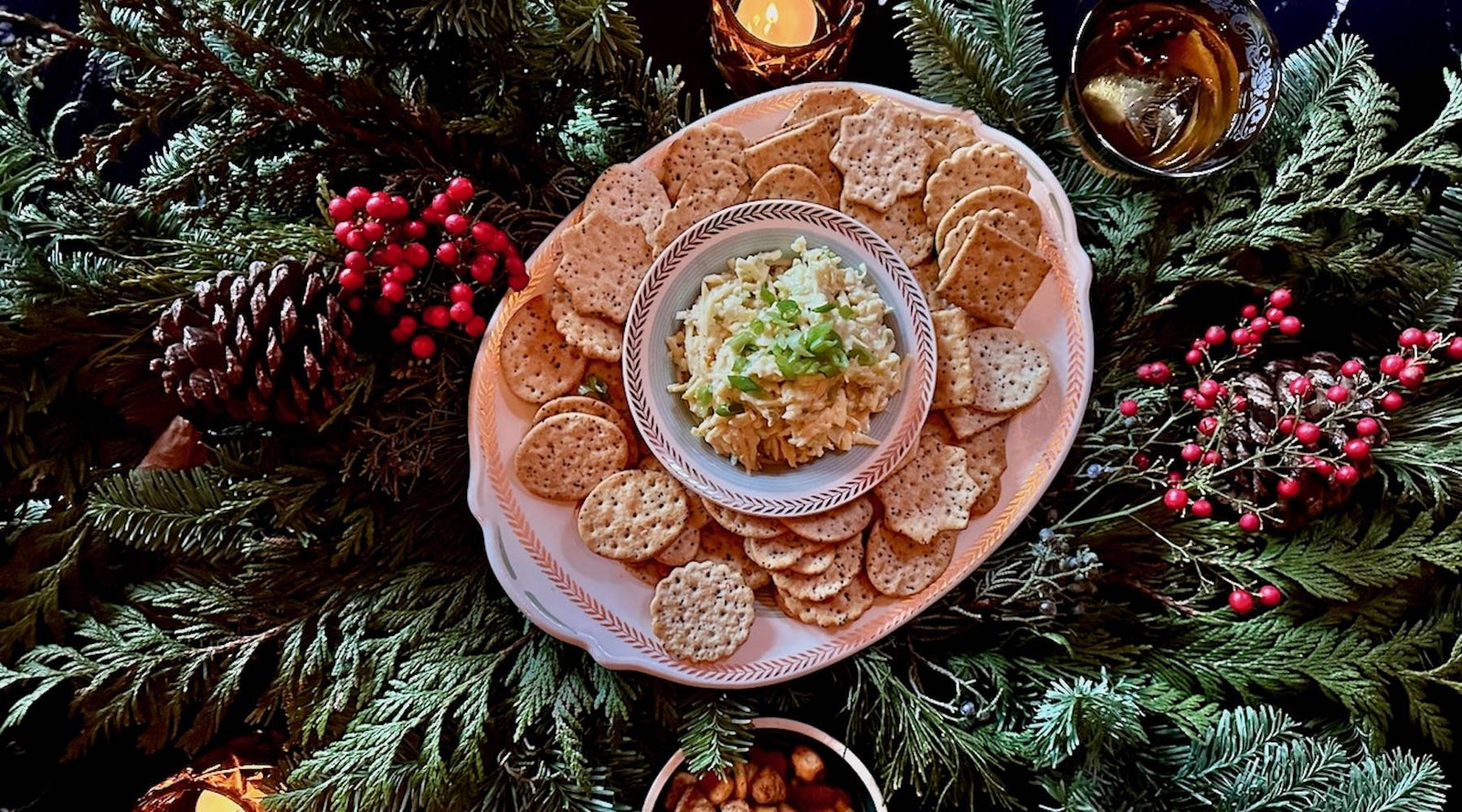 PHOTOS BY MARK LYNN FERGUSON
"Think of cheese slaw as the party guest who slinks in unnoticed, ends up stealing the spotlight, and definitely gets a repeat invite."
Pimento cheese might be synonymous with Southern hospitality, but its lesser-known cousin, cheese slaw, is the penultimate Appalachian party dip. Both are creamy and cheese-based, but that's where the similarities end. Pimento might be impossible to miss with its bright orange color, but it's also basic. Shredded cheddar, chopped red pimento peppers, and mayo can only take you so far.
Cheese slaw, on the other hand, looks subtle, but its shredded-Swiss-and-mayo mixture is studded with a riot of flavor and texture, including chopped green onions, banana peppers, and pickled jalapeños. Think of cheese slaw as the party guest who slinks in unnoticed, ends up stealing the spotlight, and definitely gets a repeat invite.
Perfect for your holiday table, cheese slaw hails from Roanoke, a charming Virginian city nestled in the Blue Ridge Mountains, where its creation is attributed to caterer-extraordinaire Lib Wilhelm. A fixture on Roanoke's social scene during the era of beehive hairdos and endless cocktail hours, Wilhelm was so tied to her signature dish, it was actually mentioned in her obituary.
Her mid-century party trick was to serve cheese slaw in a hollowed-out cabbage accompanied by corn chip scoops, but that was just the start for this delicious dip. Prepared cheese slaw would eventually be sold by specialty grocers in Roanoke and become a fixture on holiday tables and local restaurant menus. To this day, you can get hot dogs, burgers, and salads topped with a scoop of cheese slaw at two local bistros, Fork in the Market and Fork in the Alley.
Despite having "slaw" in the name, cheese slaw does not contain cabbage, and therefore it is not remotely related to coleslaw. Certain internet search results will try to persuade you that cheese slaw should contain shredded carrots, cheddar, and (God forbid) blue cheese. Don't listen to them. The point of cheese slaw is not to gussy it up with fancy blue cheese crumbles or to healthify it with carrots. No, the point is to follow the basic, party-pleasing recipe.
How you serve it, though, is entirely up for grabs. You can go old-school like Wilhelm and present your cheese slaw in a hollowed-out cabbage with corn chips. You can get highbrow and create some New Year's Eve party bites by spooning cheese slaw onto potato chips and topping them with a dollop of caviar. You can even use cheese slaw as a sandwich spread. (Pro tip: cheese slaw makes the perfect hangover-busting grilled cheese.)
Whatever you do with it, just take a moment to lift your chip, cracker, or sandwich toward Wilhelm in heaven because, Lord knows, that's exactly where the woman behind this divine dip belongs.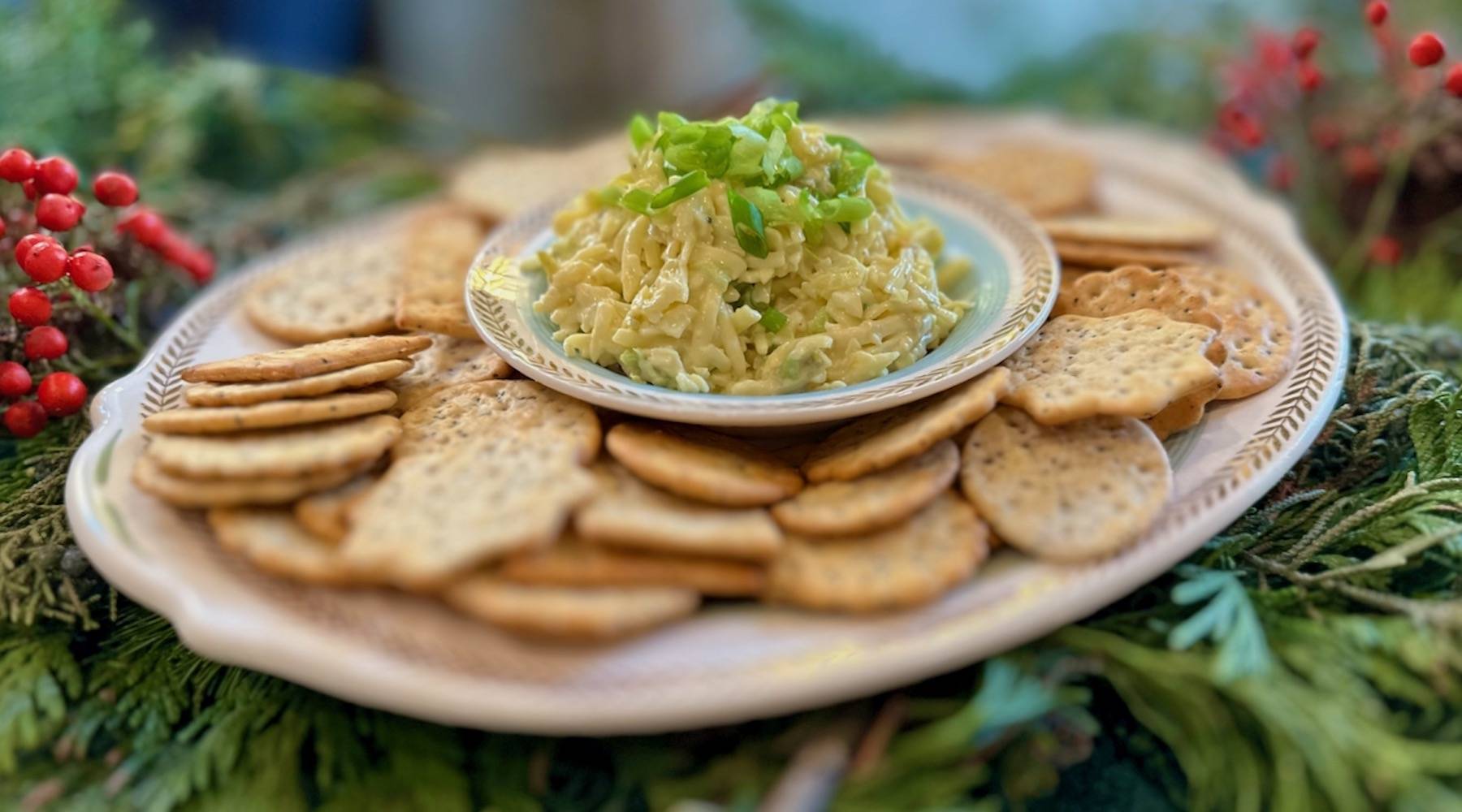 Lib Wilhelm's Cheese Slaw
Serves 16
1-pound Swiss cheese, coarsely shredded
1 bunch green onions with tops, chopped
½ cup chopped mild banana peppers
½ finely chopped jalapeño peppers
Mayonnaise
1 head cabbage
Combine the cheese, green onions, banana peppers, and jalapeño peppers in a bowl. Add enough mayonnaise to bind and mix well. Store in the refrigerator for up to one week. Add additional mayonnaise if needed at serving.
Hollow out the center of the cabbage and fold back the outer leaves. Spoon the cheese mixture into the center. Serve with corn chip scoops.
Lib Wilhelm's Cheese Slaw recipe appears courtesy of a now out-of-print cookbook, "Oh My Stars! Recipes that Shine" created by the Junior League of Roanoke Valley.
---
Layla Khoury-Hanold is a freelance journalist and has written for Food Network, Food52, the Chicago Tribune, and The Roanoker, among others. She's working on her debut memoir.