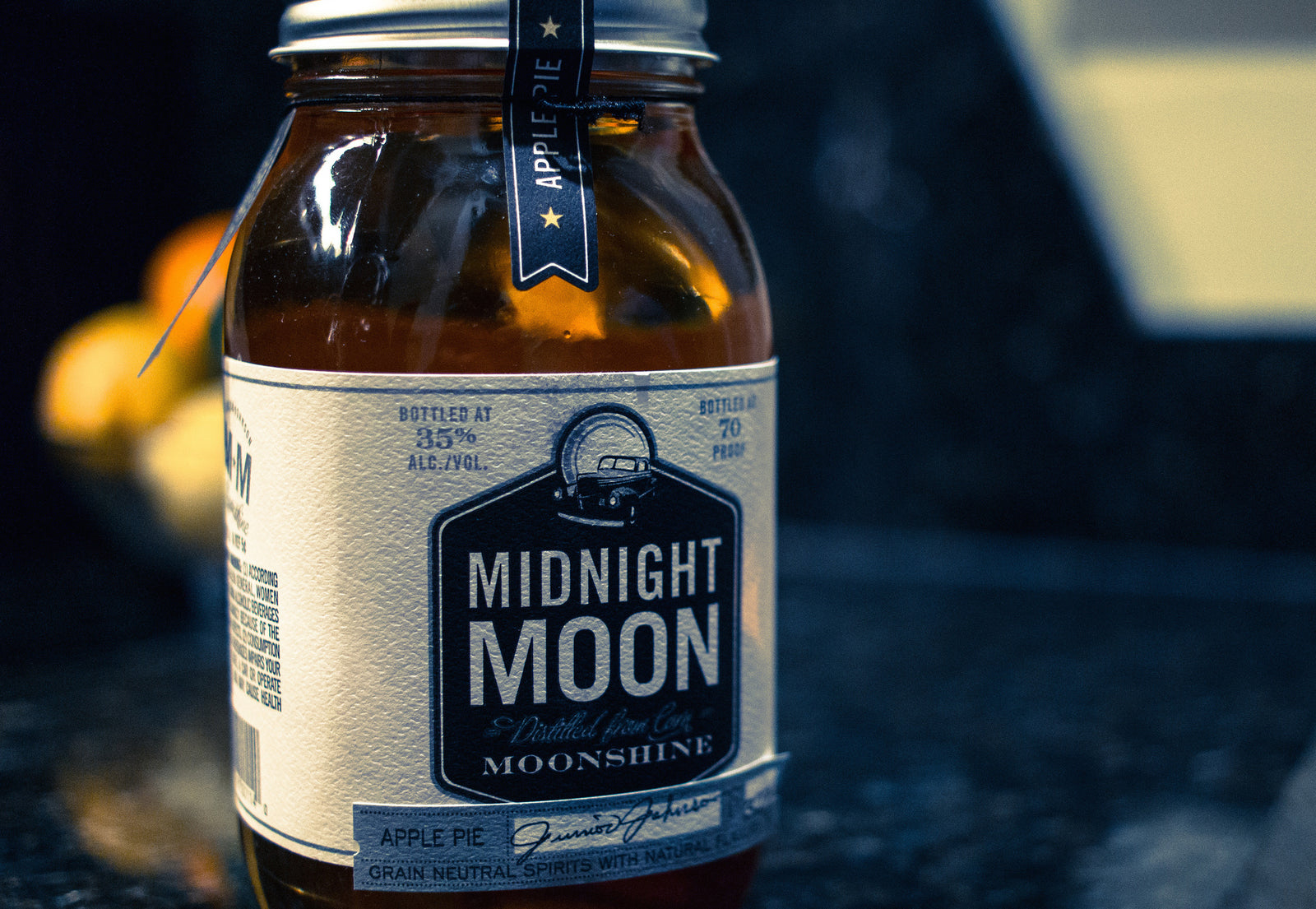 When leaves get crunchy and temperatures drop, hand me just one thing. I don't need a jacket or wool socks. You can keep the gloves and mittens. Heck, I'm not even sure I have to wear pants after a few sips from my one fall requisite—a big jar of apple pie moonshine.
For me, this is the flavor of autumn. Spiced yet sweet and warm all the way down, the apple version of Appalachia's most famous export brings to mind so many things I love. It tastes of creek water from hidden hollows; crisp, country air; and driving fast around hard mountain bends.
Unfortunately, where I live in Washington, DC, it's easier to find an honest politician than a jar of homemade moonshine, so lately, I've been drinking the legal stuff.
I know. I know. All you hardcore mountaineers are shaking your heads and thinking, "This feller's just a bit too citified," but before y'all judge, know that my favorite brand comes from a certified ridge runner.
Junior Johnson was arrested in 1957, right as he was lighting a fire under his daddy's still. Yes, that is NASCAR legend Junior Johnson. This is before he won fifty races and owned a team all his own. He was just a country boy with a lead foot back then, one who ended up on the wrong side of the law.
Junior's got a great story, but don't take my word for it. Appalachian journalist and professor Fred Sauceman thinks pretty highly of him too. Fred included the below essay in his book  
Buttermilk & Bible Burgers: More Stories from the Kitchens of Appalachia. 
It's an outlaw-to-entrepreneur tale that could only happen in Southern mountains, and it comes complete with recipes for using Junior's spirits.
Now I'm wondering—who else has tried the legal stuff? How do you think it measures up to homemade moonshine? And wherever you get yours, how do you like to drink your white lightning?
*
Once a symbol of mountain rebellion and law-breaking abandon, moonshine is becoming, well, almost genteel.
[caption id="attachment_10425" align="alignright" width="175"]
Old Fashioned Apple Pie made with Junior's moonshine.[/caption]
NASCAR legend Junior Johnson, who served eleven months of a two-year sentence for running illegal liquor in the mid-1950s, is co-owner of a completely legal and legitimate distillery in Madison, North Carolina, not far from where he once evaded law enforcement officers through wheel-screeching, middle-of-the-road U-turns in a car loaded with his daddy's moonshine.
Piedmont Distillers opened in 2005, and Junior joined as a partner two years later. The craft distillery's moonshine recipe,
Midnight Moon
, is one Junior learned from his father, Robert Lynn Johnson Sr.
"We triple-distill it, and it's got a real soft taste and not a burny taste," Junior tells me, over a plate of barbecue and beans in a Tennessee hollow, where he has stopped to eat before an appearance at nearby Bristol Motor Speedway. "My daddy always run 100 proof. Ours is eighty.
"We go up against them big-name vodkas and beat the fire out of them," says Junior, who grew up about ten miles outside North Wilkesboro, North Carolina. "We work them over now, I'll tell you. We've not come out with anything yet that didn't sell to the top of our expectations."
In February of 2011, Piedmont introduced a line of "fruit inclusion spirits." Cherry, strawberry, and apple pie are the new flavors. Mason jars are hand-filled with fruit and Midnight Moon corn liquor.
[caption id="attachment_10431" align="alignleft" width="175"]
Moonshine Martini.[/caption]
"The ladies really like the apple pie," Junior tells me. "We're in thirty-seven states now, and people up north, they're just drinking these products like the devil."
When Junior and his colleagues were in the market for a still, they visited Jack Daniel's in Tennessee and Jim Beam in Kentucky for ideas.
"Then we contacted a manufacturer, and three days later they called back and told us there was a still available in North Carolina, just like what we wanted. And built in 1930. And we went and hunted it down, and it was all copper. It didn't have no rust on it or nothing. We cleaned that booger up and set our fire and went to making liquor."
Junior Johnson was one of five inductees in the NASCAR Hall of Fame's inaugural class. He received a presidential pardon from Ronald Reagan in 1986 for his 1956 moonshining conviction.
Old Fashioned Apple Pie
1 1/2 oz.Midnight Moon Apple Pie
1 1/2 oz.Rye Whisky
Orange Slice
5 dashes Boker's Bitters
Muddle orange slice in glass. Fill glass with ice and add all other ingredients. Stir gently.
Moonshine Martini
1 1/2 oz. Midnight Moon Original
Splash of Dry Vermouth
Pour Midnight Moon Original and Dry Vermouth into a shaker and shake over ice. Strain into a martini glass and garnish with an olive.
Splitdog Fitz
11/2 oz. Midnight Moon Strawberry
1/2 oz. Simple Syrup
3/4 oz. Fresh Lemon Juice
5 dashes of Kansas City Smoked Bitters
Boulevard Wheat (KS Craft Beer)
Pour Midnight Moon Strawberry, Simple Syrup, Fresh Lemon Juice, and Bitters into a shaker and shake. Strain over ice and top with Boulevard Wheat Beer. Garnish with a mint sprig and a strawberry.