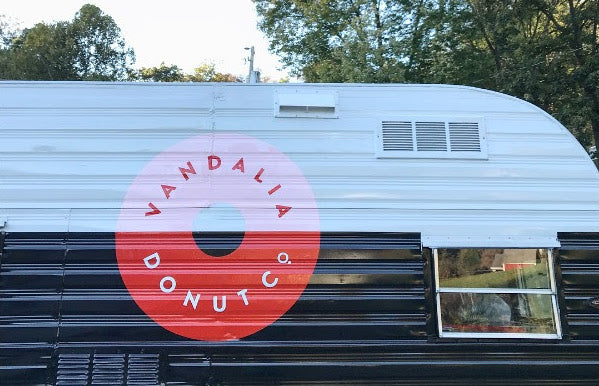 How would you make an "Appalachian doughnut"? Maybe top it with moonshine glaze or fill it with pawpaw puree?
One family has taken up the challenge. In Charleston, West Virginia, they're selling fried dough that reflects local food traditions and, at the same time, builds community. This piece is from guest blogger Jennifer Gardner, who originally wrote it for
Charleston Gazette-Mail
. Thanks to them both for agreeing to share it here!
***
Is it presumptuous to say a couple selling doughnuts out of a 1960s trailer can grow the local economy?
Probably.
But Charleston natives Stephanie and Josh Woody might be on to something. Last week, the couple debuted "Vandalia Donut Company" — a 6-foot-by-10-foot hyper local bakery on wheels that prominently features ingredients from the Mountain State and surrounding areas.
"I wanted it to be a business that we could take to Chicago and they would know that it's from the Appalachian region," Stephanie said. "We're really proud of where we live, and we want people to know that really good things come from here."
By "really good things," she doesn't only mean her fresh homemade donuts.
"Our goal is to use this as a community builder," Josh said. "Community is our goal, and we're just using doughnuts to get there."
It's easy to sugarcoat things when you're talking doughnuts. In fact, launching their company has been far more challenging than either of them thought it would be. For starters, neither has extensive experience in the food world; Stephanie is an interior designer and stay-at-home mom, and Josh is an engineer.
But they had an idea, which became a dream. Turning it into reality meant relying on a whole community of supporters.
The idea came about while the couple was visiting Stephanie's family in Roanoke, Virginia. They stumbled upon an Amish family selling fresh doughnuts at a farmers market, which sparked the idea of opening a doughnut trailer.
"We thought it looked easy and like something we could handle on the side," Josh said.
They mulled it over without really committing until May, when Stephanie spotted a 1963 camping trailer for sale in Charlotte, North Carolina, on Facebook. The next day, the two hopped in their car and traveled to pick up the $500 fixer-upper, hoping this might be their pot of gold.
"It had been sitting in a field for who knows how many years," Stephanie said. "It was a disaster. It was awful."
But they have a love for do-it-yourself handy work — and some relevant experience. The two had fixed up a camper the previous summer for their family, using Stephanie's background in interior design and Josh's experience flipping houses.
"They're just kind of their own animal," Stephanie said. "They're tiny and they have a lot of specialized parts and pieces. There are no square corners."
They dragged the trailer to an auto shop in Charlotte to have new tires put on, and then towed it home to West Virginia, where it sat for the summer until they began renovations in late August. By then, they were "all in."
It became a family project for the couple and their three kids. They tore the trailer down to its metal frame and started to rebuild. Neighbors, friends and family were part of the process, from helping build the trailer to taste-testing the doughnuts.
Along the way, they put in as much of Appalachia as they could. Hundred-year-old pieces from Bear Wood Company in Hurricane were used to build shelves, and local artist Kayleigh Phillips painted the logo. Elk City's MESH Design and Development helped them develop the branding and come up with the name "Vandalia Donut Company."
Vandalia was the chosen title of a proposed early British colony located in what is now West Virginia and northeastern Kentucky. It never came to be used as the state's name, but it is still used throughout the Appalachian region.
"We both grew up going to the Vandalia Gathering and loved it," Stephanie said. "It's such a family-oriented event that is all about West Virginia culture. Any association I have with that name is positive."
As for the ingredients: the eggs are from Lincoln County, the apples were grown in Jackson County and the salt is from J.Q. Dickinson Salt-Works in Malden. The couple is also selling hot coffee custom-roasted by a man in Roanoke.
"We've just had such a good time interacting with Charleston businesses, we wanted to try to support as many local businesses as we could," Stephanie said. "It's more expensive, but I feel like people will appreciate supporting the local economy."
Making doughnuts in a tiny trailer poses its challenges — namely, space. So they make just a few flavors at a time. Each doughnut is made from scratch. The batter must be a perfect 71 degrees to achieve the right texture. Then the doughy rings are fried in a commercial doughnut machine Stephanie found at an apple orchard in Winchester, Virginia.
Vandalia Donut Company's signature doughnut, Number 42, is the 42nd iteration of Stephanie's original recipe. The doughnut is flavored with cinnamon, nutmeg and vanilla.
"I knew I wanted it to be a buttermilk doughnut so it would have a little more fat and be a little more tender," she said. "I knew I wanted it to be just the most basic, real ingredients. I didn't want it to have any preservatives or anything you couldn't make yourself at home."
Once the signature recipe was down pat, the family began to test seasonal flavors. They decided to feature two specialty doughnuts each season. In honor of fall, they are currently featuring pumpkin and apple doughnuts.
The Great Pumpkin doughnut is the Number 42 recipe rolled in cinnamon sugar, topped with pumpkin pie and brown sugar vanilla bean cream, then drizzled with J.Q. Dickinson salted caramel.
The Apple Orchard doughnut is a Number 42 doughnut covered in an apple cider glaze, topped with fried apples and brown sugar vanilla bean cream, then sprinkled with brown sugar.
"The quality is as high as it's going to get; we're not cutting any corners," Stephanie said. "For the apple cider glaze, I have to boil the apple cider for five hours. I wouldn't do that if we had 10 different varieties."
The signature and seasonal doughnuts debuted at Bible Center Church's Trunk or Treat on Oct. 29. The truck was also set up at the George Washington high school football game on Friday.
Next, the bakery will be at the Clay Center's grand opening of its new exhibits from 10 a.m. to 5 p.m. on Nov. 18. Josh and Stephanie are also seeking a location where they could set up regularly in downtown Charleston, and plan to attend local events, including FestivALL. One day, Stephanie said the company might consider more varieties and even opening up a brick-and-mortar bakery on the West Side.
"Even if we don't do anything past right now, the relationships that we've made with the people who we've worked with on this project so far have been so rewarding and so encouraging that it would be worth it for that," she said.
"We've made some great connections with people who love our city and love our state and who value the vision that people have for what we can be."