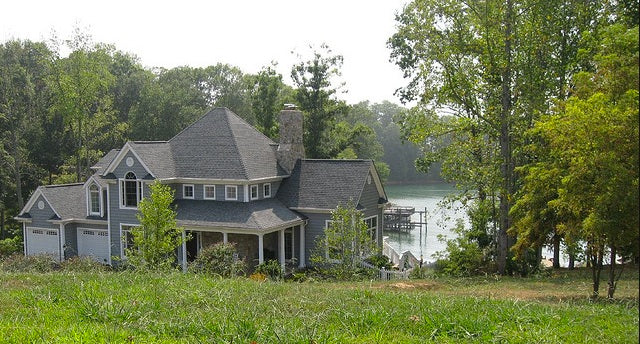 I remember sitting in my Daddy's johnnyboat as morning fog burnt off Smith Mountain Lake. The plop of fishing lure and landing loons were the only sounds. Trees and rippling water were the only sights. This was twenty years after the lake was made by a hydroelectric dam, and we still found unspoiled spots.
Now you can't spit on the shoreline without hitting a McMansion. They loom over the water. Big and cheap, the houses are spaced too close to retain a rural identity but not close enough to remotely resemble smart growth. They are sprawling lakeside suburbs, and in my opinion, the perfect waste of a special place.
I've only seen two positives come of the growth around Smith Mountain Lake. First, it's been an economic boon for a couple of counties that have never seen such a thing. Second, it seems to have inspired a beautiful short story.
In "The Weight of Water," Michael Chitwood personifies the tension between developers and old timers at James Mountain Lake, a fictitious body of water that bears a striking resemblance to the one outside my hometown. It is man-made, named after a nearby mountain, and experiencing explosive growth.
Chitwood builds his stories around two characters, both symbolic but believable. Maude Thurman, a crotchety loaner, remembers the river and fields that lie under the lake. Walter Lyon, a devout Baptist, bought large tracks of land as the lake was being built; now he builds sub-developments on them. Their conflict over Maude's property reveals something surprising--a depth of faith that you might not expect from either character.
Have you seen somewhere you loved change so much that you hardly recognize it? Are we doing enough to protect precious places? And, what about the other part of this story; how does faith shape our physical world--what we build and what we save?
*
The Weight of Water
by Michael Chitwood
Maude Thurman had never prayed in her life and she wasn't about to start. Walter Lyon could chat with the clouds all he wanted, like a God would care if Walter built another subdivision or not. In fact, if Maude would consider praying for anything it would be that a hole would open up under this lake and it would drain like a bath tub when the stopper is pulled.
That was a good thought. Fish flopping in the mud. All those houses and barns the water had covered up rising again into the air. The old landscape returning and the river flowing again under the cliffs across the way.
She would miss her visitor. Actually she didn't know if the visitor was singular or plural. It was usually dark so she couldn't see "him" or "them." The sound of the water being moved could be a "the m." But he was part of the lake and she'd let him go if she could be shed of the weight of all that water.
But the lake wasn't going anywhere. One of the things that Maude did best was face facts and that was a fact—the lake was here to stay. Too many people like Walter had way too much invested to let anything happen to the lake.
For a moment she remembered the tug of the river when she and Tanner waded there in the late afternoon. A river is a living thing, she thought. It has moods and changes its look. It can be angry. It can dwindle and seem lovelorn, wistful. They killed her river, drowned it, to make this lake.
CONTINUE READING