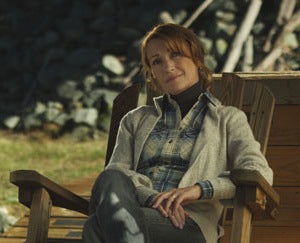 [caption id="" align="alignleft" width="282"]
Photo Provided by Bill Meador[/caption]
I'm not going to lie. I have mixed feelings about Smith Mountain Lake. It's a 20,600 acre, man-made creation that engulfed towns, farms, and forests when it rose from the banks of the Roanoke River in 1963. Since then, it's generated miles of McMansions and attracted an influx of Jersey transplants.
It's not exactly the land of local culture or ecological responsibility, but still, it can be awfully pretty. A summertime sunset behind green mountains shimmering on the lake's still surface--it's a scene that melts away the tension. Toss in a cold beer and some grilled meat and you can see why Yankee's have bought every square foot of shoreline.
It's this side of Smith Mountain Lake--the slow moving, hammock loving, lake life--that inspired Sarah Elizabeth Timmins to make her indie film. "It all began three years ago, she says, "When a personal soul-searching journey and a reflective walk along Smith Mountain Lake awakened my soul."
Timmins, a long time film producer, didn't conceive the film 
Lake Effect
around a plot line or character. She was inspired by a place, by the lake itself. "With simply an idea and location, yet neither script nor money, I committed to starting my own film company and jumped into
Lake Effects
."
[caption id="attachment_5601" align="alignright" width="240"]
Vivian Tisdale played by Jane Seymour[/caption]
She shopped the film to hundreds of funders and with writer Scott Winters began crafting a family story that was as moving as its location. In the film, Los Angeles attorney, Sarah Tisdale (played by Richmond native Scottie Thompson), is called home to Virginia when her father dies in a sudden accident. In the midst of grief, she and her sister come to understand why their father thought it was so important for them to be raised on the lake.
Their mother, who goes through her own journey of loss and reflection, is played by Jane Seymour. The most notable name in the cast, Seymour brings seasoned acting chops and star power to the film, but if you ask Timmins, the
real
stars are area locals.
"From day one, over two years ago, Smith Mountain Lake residents and businesses embraced the film," Timmins explains in her press kit, "Individuals offered us the use of their boats, cars, trucks, and even a helicopter. Amazingly, these donations were made with sincere generosity, without any expectations of remuneration."
To express her gratitude, Timmins is donating a portion of the films proceeds to cleanup efforts at the lake. Having already won recognition at the Omaha and Appalachian Film Festival,
Lake Effects
premieres tonight on
Hallmark Movie Channel
at  8:00 PM eastern/7:00 central.
If you watch the movie, tell us what you think. If you live at the lake, did you have any celeb sightings while
Lake Effects
was being filmed or did you help out with the movie?
We'd love to hear your stories.
[youtube]t6ZOtAiK37s&feature[/youtube]