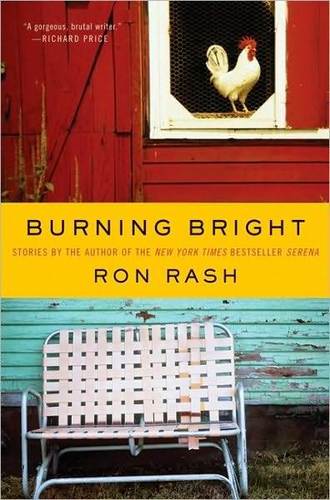 I don't post about books that I've not finished. That's largely because I'd hate to talk up a book only to find that it tanks after the first one hundred pages.
I'm on page seventy-five of
Burning Bright
, and I can't hold back any longer. I'm about to burst over Ron Rash's collection of North Carolina stories.
The first three of them, the ones that I have read, are set in a dim Appalachia, where light never seems to rise above a twilight glow. In spite of the book's beaming title, Rash establishes this gloomy reality right off. In the book's opening paragraph, a character can see dawn shining from the other side of a ridge, but in his holler it is still dark. We are told a simple saying that was uttered by his father...
This cove's so damn dark a man about has to break light with a crowbar.
It's a crisp expression, isn't it?
It conveys a matter-of-fact violence. Rash writes about this hard blow almost like it's a morning chore, like these people have to repeat it every day of their lives.
Even in a single sentence, you can taste Rash's secret sauce. He delivers words sparingly, but not like he's withholding them from you. He's just patient. It's like he has a bag of bread and you, the reader, are a duck. He feeds you slowly, not to watch you beg but because he's giving you time to digest your first morsel before tossing you a second.
With another writer, you might give up and walk away, but Rash isn't feeding you bland, old white bread. From the beginning, he infuses his stories with flavor, foreboding, a dark allure that moves you from page to page. Take for instance, the opening paragraph from "Dead Confederates:"
I never cared for Wesley Davidson when he was alive and seeing him beside me laid out dead didn't much change that. Knowing a man for years and feeling hardly anything in his passing might make you think poorly of me, but the hard truth is had you known Wesley you'd probably feel the same. You might do what I done--shovel dirt on him with not so much as a mumble of a prayer. Bury him under a tombstone with another man's name on it, another man's birth and dying day chipped in the marble, me and an old man all the living ever to know that was where Wesley Davidson laid in the ground.
You know what's coming next. You're going to find out how this fellow got in this predicament. Rash doesn't try to surprise you. After this gruesome set up, he goes back to begining and lets the events unfold. Again, his writing is simple and clear, but knowing that this story ends with Wesley Davidson buried in another man's grave, how can you not keep reading?
One reader calls Rash's writing "country noir." Many others have compared him to Raymond Carver. (I'm curious who all remembers him.) In the 1960s, 70s and 80s, Carver revived interest in short stories by delivering simple, accessible gems. They were dark and clean, well written pieces about working class people. You would not be surprised to find them in Readers Digest or 
Best American Short Stories
.
[caption id="attachment_4553" align="alignleft" width="150"]
Ron Rash[/caption]
I suspect that Rash would be honored to appear in either of these publications. In his bio, he seems to be as humble as his writing. He says that his literary career was inspired by a man who could neither read nor write:
It was a warm summer evening and my grandfather, still dressed in his work clothes, was smoking a Camel cigarette as he lingered at the kitchen table after a hard day's work. When I handed my grandfather the red and blue book ("The Cat and the Hat") and asked him to read to me, he did not offer any excuse, not even the most obvious one. Instead, he laid the open book on the table before us, peering over my shoulder as he turned the pages with his work-and-nicotine-stained fingers, and I heard the story of a talking cat and his high, blue-striped hat.
What he had done was make up a story to fit the pictures that lay on the pages before us. Not surprisingly, I quickly realized that the story he was reading was very different from the one my mother had read from the same book.
The effectiveness of my grandfather's performance was verified by my begging him to read "The Cat and the Hat" again the following Sunday. His story was different this time. The cat got into more trouble, and out of it less easily. At every opportunity in the following weeks, I ambushed my grandfather so I might hear what new events might occur in this cat's ever-changing life. How could I not grow up believing words were magical? How could I not want to be a writer?
That's a hopeful start for a man who'd later build his career around illicit burials and (in the below story) meth addicts, but it worked for Rash. He not only became a writer, but a
successful
one to boot. His acclaimed 2008 novel "Serena"--described as a gothic tale of greed, corruption, and revenge--was named to the Publishers Weekly "Best Books of the Year" list, and it was rated No. 7 on Amazon's list of the 100 best books of 2008.
With three collections of poetry, three short story collections, and four novels, there's no doubt about it. Ron Rash has become an Appalachian mainstay. You can see why in "Back of Beyond," a story about an aging pawn shop owner who's trade with meth addicts eventually hits home.
When you finish reading it, post a comment. Tell us what you think of the story and if you agree that Ron Rash is, in fact, burning bright.
*
BACK OF BEYOND
BY RON RASH
CONTINUE READING