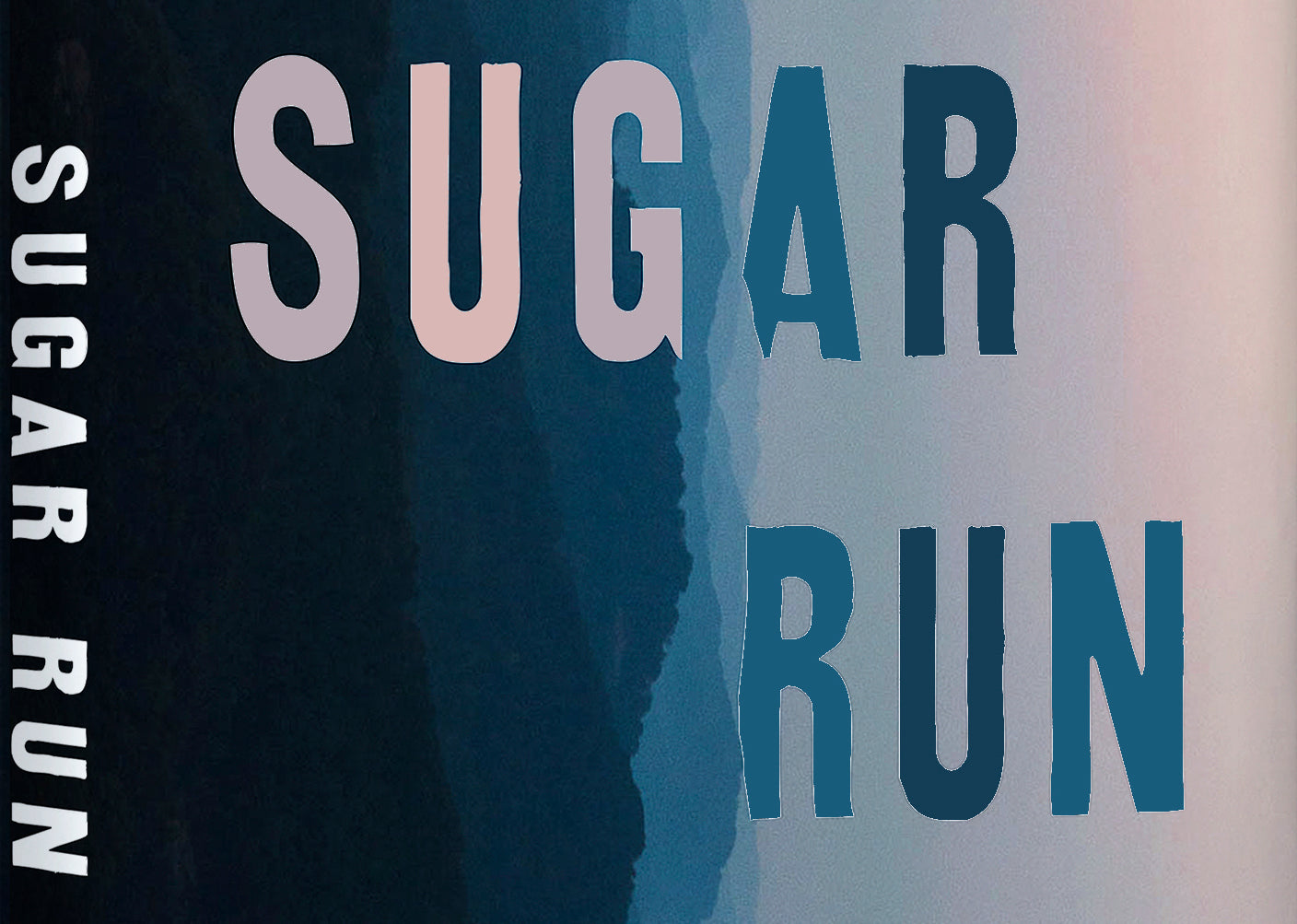 Author Mesha Maren wants to give you a snake spine. It's one of many gifts and prizes she's offering anyone who pre-orders her forthcoming Appalachian novel Sugar Run.Here's how Mesha explains it:
I know it can be kinda weird to pay for a book a few months before you are going to receive it, so I've cooked up a few thank-you gifts. If you preorder Sugar Run now and then message me a screenshot of your purchase and your address, I will mail you a very special gift (while supplies last)! You will receive either a penny that was flattened by a CSX train in Alderson, WV or a piece of pure all-natural Appalachian glitter, i.e. mica! Additionally, if you share a post about the book and let me know that you shared it, I will send you BOTH gifts! You will also be entered to win a very special letterpressed broadside with text and illustrations from Sugar Run made by hand by the extremely talented Leslie Smith. And if you are super duper lucky you might also win a snake spine or a cow's tooth from Muddy Creek Mountain, West Virginia.
Freebies aside, this book is worth pre-ordering...in hardback... and maybe buying extra copies for all your friends. I was lucky enough to workshop parts of Sugar Runfive years ago. When I first read it, I was stunned by how effortlessly Mesha brought both grace and grit to the page. Now, the rest of the world is discovering her remarkable talents. Everyone from Lauren Groff, author of Fates and Furies, to Daniel Woodrell, author of Winter's Bone, have lauded the book.
Below you can see why. In this passage, the book's protagonist Jodi McCarty returns home to Render, West Virginia after eighteen years in prison. Her first stop is her grandmother's long neglected cabin, where she finds the three objects that mattered most to her grandmother. Her second stop is the South Central Regional Parole office, where she's reminded that life as a parolee comes with strings.
What do you think of the excerpt? And what would you do with a snake's spine if you won one?
***
            "M
iss Jodi,
" Ricky's voice licked up out of the darkness of the back seat. "I gotta to take a leak."
            Jodi glanced in the rearview mirror. The boys were piled on top of Ricky, Kaleb's head resting on his shoulder while Donnie and Ross lay stretched across his lap. It was impossible to tell where one brother ended and the other began. The World's Strangest Family.
           "Okay," Jodi said. "I'll stop here in just a minute."
            The sky was beginning to lighten, a slate-gray fade across the mountain peaks, and the headlights sketched a weak trail through the greenery. Vines and tree branches crowded thick on both banks of the road, and just ahead, half hidden amongst the bushes, a sign flashed by.
Monongah County, West Virginia
Render  12 mi
Painter Creek  16 mi
Salt Sulphur  23 mi
            The words repeated themselves in a flash of reflective paint, over and over behind Jodi's eyelids as she blinked. Render 12 Miles. This was it. This here, and there and there. The turnaround where the school bus always stopped and looped back towards Painter Creek, the junkyard there where the Weinshotzer kids lived, all of them wearing knit hats, even in the summer heat, hiding the shame of lice-shaved heads. The little brick house that belonged to that princess, Mallory Estep, the doctor's daughter, her ankle socks adorned with white lace all through elementary, and in high school, her hair attended to, in the back of the bus, by no less than three handmaids, a cloud of Aquanet hairspray perpetually frosting the air around them.
           Render was still sleeping, just a few bare bulbs glowing above front porch swings and strings of Christmas lights in the windows. Jodi sped through town, ignoring the Exxon station and Ricky's need, headed instead for Bethlehem Mountain Road, a one-lane track that jutted up between limestone boulders as pale and exposed as sun-bleached bones, and then wound on into the green immensity of oak and hickory. But just before the turnoff for Bethlehem, a neon sign caught her eye, the yellow letters arched above an arrow pointing downriver. Slattery's Girl, it read, Open 24 Hours. Beer. Music. Booze.
            Jodi slowed the car and stared at the sign. Through most of her childhood Monongah County had been dry. It was only in '86 that they began to sell gas station beer and even then there were no bars. If you wanted to drink you did it at home or on back roads in half-wrecked cars.
            The mountain showed other changes too: a new gravel road, cut hastily through the old Jessup apple orchard, spread out across a shale cliff, giving way to a perfect bird's-eye view of the town below. A tower rose there now, a tall metal grid looming over the trees, and as she slowed for the steep turn, Jodi caught sight of a huge mud-splattered truck moving like some giant dinosauric creature down the ruts of the new-made road and on a tree, there beside the entrance, a hand-painted sign that read: Fracking = Permanent Threat and Danger = Our Water is Our Life!
            "Miss Jodi," Ricky called from the back seat. "I can't hold it much longer."
            "Shit, sorry." Jodi stopped the car. "You can just piss in the ditch here."
            The boys whined as Ricky unearthed himself from under them, and Miranda stirred too, blinking awake. Jodi reached over and brushed away the blonde hair matted against her sweaty cheek. "We're almost there," she said, and then as Ricky climbed back in she turned and she smiled at him too and said, "Just call me Jodi, okay? I don't need the Miss."
            Effie's land was ripe with disuse. The Chevette could barely fit into the mouth of the lane, clogged as it was with multi-flora rose and goldenrod.
            "We'll walk from here," Jodi said, opening the car door to the smell of honeysuckle and a darker fungus scent.
            Up ahead the contours of the road were visible in a ghostly way under the swells of jimsonweed—it was a little like looking back and forth between a much younger photograph of a woman and her now aging face; the bone structure was still there but the surface had all but completely changed.
            "Watch out for snakes." Ricky's voice boomed at Jodi's back.
            "I wanna see a snake," Donnie said.
            Jodi quickened her pace, her head buzzing with worry as she came around the bend.
            And then there it was: the little off-kilter cabin with the metal roof curling up from the frame. Jodi didn't realize she'd been holding her breath until she let it out and took off running, greenbrier vines snatching at her jeans as she rushed forward, expecting every moment for it to all ghost off into a dream.
            Time did not separate here. The past ran parallel and you could catch a glimpse if you turned quick enough. Nineteen years ago she left the cabin, in the paling light of gray-green storm clouds, receding through the dirt-smudged glass of a rear windshield. For eighteen years the hologram danced. But now it was real: the porch creaking under her feet, the front door open and a slice of light pointing across the pine floorboards straight to the cast iron woodstove. The window above the sink was shattered, triangles of glass still clinging to the frame, and on the back wall a rack of copper pots hung untouched.
            Jodi stepped inside, dry leaves and acorns crunching underfoot. She moved slowly towards the kitchen table, that unforgettable oak slab with the heart of the tree running down the center in a single stripe. Three chairs were set on each side, pushed back at an angle, as if a card party had just ended.
            She opened the china cabinet and pale moths lifted up from amongst the cups and flapped blindly against her face. A calendar hung on the wall. December 2002— Jodi's thirteenth year in Jaxton— it featured a blonde girl with boobs bursting out of a camo hunting shirt. This was the only sign that anyone had been inside since Effie died back in '88.
            Jodi moved over to the sealed-off fireplace where there sat, on the mantle, a Mason jar of tiny bones and fingernail clippings.
            These, Effie had explained to ten-year-old Jodi, these are the three important things.
           The first was her Smith & Wesson .38 with a smooth wooden handle and the words Lady Smith engraved in cursive on the side, the second a Remington 721, and the third, the Mason jar with the remains of Granddaddy McCarty's right hand.
            The Ladysmith .38 had been a wedding gift from Granddaddy to his bride, and the best thing, Effie said, she ever got out of that marriage. The Remington was an inheritance from the uncle who took Effie in, and the bits of bone and fingernail were the result of Granddaddy's affair with a lady, or two, from town. When Effie had heard about it she'd turned her wedding gift on him and he lost the hand before he got out of their cabin. Their oldest son, Phillip, went with his father, following the blood trail down the rutted lane, leaving Effie and Andy, Jodi's daddy, with the land to themselves.
            "He's telling you to be careful." Kaleb's voice carried up the porch steps.
            Jodi turned to see Donnie burst into the cabin, carrying a tall stick, jabbing it out in front of himself and pulling his way across the room.
            The others crowded in the doorway, Ricky eyeing the log walls, Miranda on tiptoe, peering over his shoulder, and Kaleb pressed in behind her.
            "It really is like Little House on the Prairie," Miranda said.
            Jodi laughed and shook her head but she was relieved to see Miranda smiling.
            The trip to Beckley took an hour and Jodi drove it alone, leaving Miranda, Ricky and the boys at the cabin. Half a block from the South Central Regional Parole office she realized she didn't quite have a license yet and probably shouldn't be seen driving and so she stashed the Chevette in the shade of a white pine and approached the redbrick building on foot, preparing on her face a look of earnest compliance.
            Officer Ballard hardly glanced at her though. He was sleeping at his desk when the young receptionist cleared her throat and called out Benny twice before he finally stirred and looked up at Jodi.
            "You've got a new supervised release here," the receptionist said and left quickly.
            Benny Ballard's head was too big for his neck and his face was stamped with an expression of deep annoyance. He ran his hand through his graying hair and then turned in his swivel chair and reached for the coffeepot that sat, burning, on the hotplate behind him, filling the office with a dry bittersweet smell.
            "Now I suppose you expect me to shake your little hand and do the whole how-gee-do-gee bit," he said, pouring the dregs of the coffee into a mug that read Sarcasm: My Generous Gift to the Universe. "But let's cut that crap and see if we can't get this over with and get me out of here a little early today."
            Jodi sat down quietly in the folding chair. This wouldn't be hard, she thought, she knew the type. There were the ones who took their jobs too seriously, believing they were personally responsible for helping reform criminals, and then there were the ones like this who only counted the hours until they were back home in front of the T.V. As long as you gave them the proper respect, they ignored you ninety-nine percent of the time.
            Ballard sat his coffee mug on a stack of papers and pulled out a manila folder. "You must be Jodi McCarty, 611 Murdock Street, Render?"
            "Yes sir."
            "Alright, then, here we go." He let his eyes slide halfway closed and stared over Jodi's shoulder, rattling off a litany of regulations, fast and breathless, his rote voice reminding Jodi of Ricky's tour guide shtick. "You shall notleave the geographic limits fixed by the certificate of release without written permission from your Supervision Officer. You shallmake a complete and truthful written report to your Supervision Officer between the first and third day of each month, and on the final day of parole. You shall alsoreport to your Supervision Officer at other times as your Supervision Officer directs, providing complete and truthful information. You shall notviolate any law. You shall notassociate with persons engaged in criminal activity. You shallwork regularly unless excused by your Supervision Officer and support your legal dependents, if any, to the best of your ability." Ballard looked up at Jodi. "In other words get a job and keep it."
            Jodi nodded and looked away towards the pea green bookshelf with a dead plant on top. In prison you were never really allowed to be an individual human being, responsible for your own life decisions, but once they'd released you it was like you were suddenly supposed to know how to do it all effortlessly.
            "There ain't much in the way of jobs in Render," Jodi said.
            Ballard cracked the knuckles of his left hand.
            Jodi took a deep breath and glanced back at him. He raised his eyebrows.
            "I was thinking," she said, looking not at Ballard but at a fly that had landed and was now cleaning its wings on the rim of his coffee cup. "I'd like to raise some yearlings, build up to a little cow-calf operation eventually."
            Ballard lifted his cup and the fly moved to his hand. He did not seem to notice. "Gotta be legitimately employed." He put the cup down and the fly returned to it. "Where you planning on raising 'em anyhow? In the back yard in Render?"
            "Oh, no." Jodi squeezed here eyes shut. Shit, fuck.  How could she have come so close to admitting to this man that she didn't plan to live at her official given address, that she would instead be squatting on land she owed who knows how much taxes on? Shit, fuck. "No, I guess I didn't think that one through."
            Ballard barked out a laugh. "You gotta be employedand paidby somebody."
            Jodi looked up at him. "Who's gonna hire me when they see the Class B felony?"
            Ballard shrugged.
            "Some of the girls inside said even McDonald's won't take felons."
            "Mmm-hmm, well, yeah." Ballard cracked the knuckles of his right hand. "What do your parents do for work?"
            "Disability." Jodi looked down at her lap. "Before that Daddy was a guard over at the prison. Federal prison camp's about the only place in Render that's got steady jobs."
            Ballard laughed again. "Well, shit," he said. "Alright, well, you prove to me that you're looking. You don't find nothing after awhile and you might consider getting a CDL. Long haul trucking companies'll sometimes hire on felons."
              Jodi stared at him. He raised his eyebrows and then the corners of his mouth turned up into a small mocking smile. "You submit to me a written report between the first and third of each month. If I'm not here, you leave it with the secretary. You report punctual and factual and we should have no problems but you cause troubles for me and I will make your life hell."
            He blinked at Jodi.
            "Is that clear?"
            Jodi met his eyes. "Yes, sir."
            "Alright, that's it, that's my side of the responsibility." He tossed her folder onto the desk amongst the other papers, all those other typed reports of crumpled, bruised-up lives. "You are officially a supervised release parolee. Now get the fuck outa my sight."