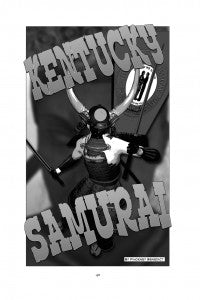 [caption id="attachment_7611" align="alignleft" width="180"]
Photo Credit: G. P. Cooper[/caption]
Kentuckians beware! The Terrible Crickenburger Twins of Cabell County and the Disturbing Goat Man of Milton have sprung to life. Pinckney Benedict, author of the classic short story collection 
Town Smokes
and co-founder of Tinker Mountain Writers' Workshop, has birthed something new and wonderfully strange about your state.
Kentucky Samurai
is a graphic novel, the first few pages of which are featured in the latest edition of
Appalachian Heritage
.
It seems to center around one Cumberland Samurai, a young discontent who tears down I-64 in his 1967 Shelby Cobra GT500 and who has apparently beheaded a chieftain at the legendary battle at Kingdom Come State Park.
It is a gory, nonsensical, cultural mismatch, a fantastic slice of revisionist history that so far, doesn't make a lick of sense. I love it!
Sadly, I don't know where to find the rest. According to George Brosi, Editor of Appalachian Heritage, it may not yet have a publisher. If you catch sight of the full graphic novel, by all means drop a line.