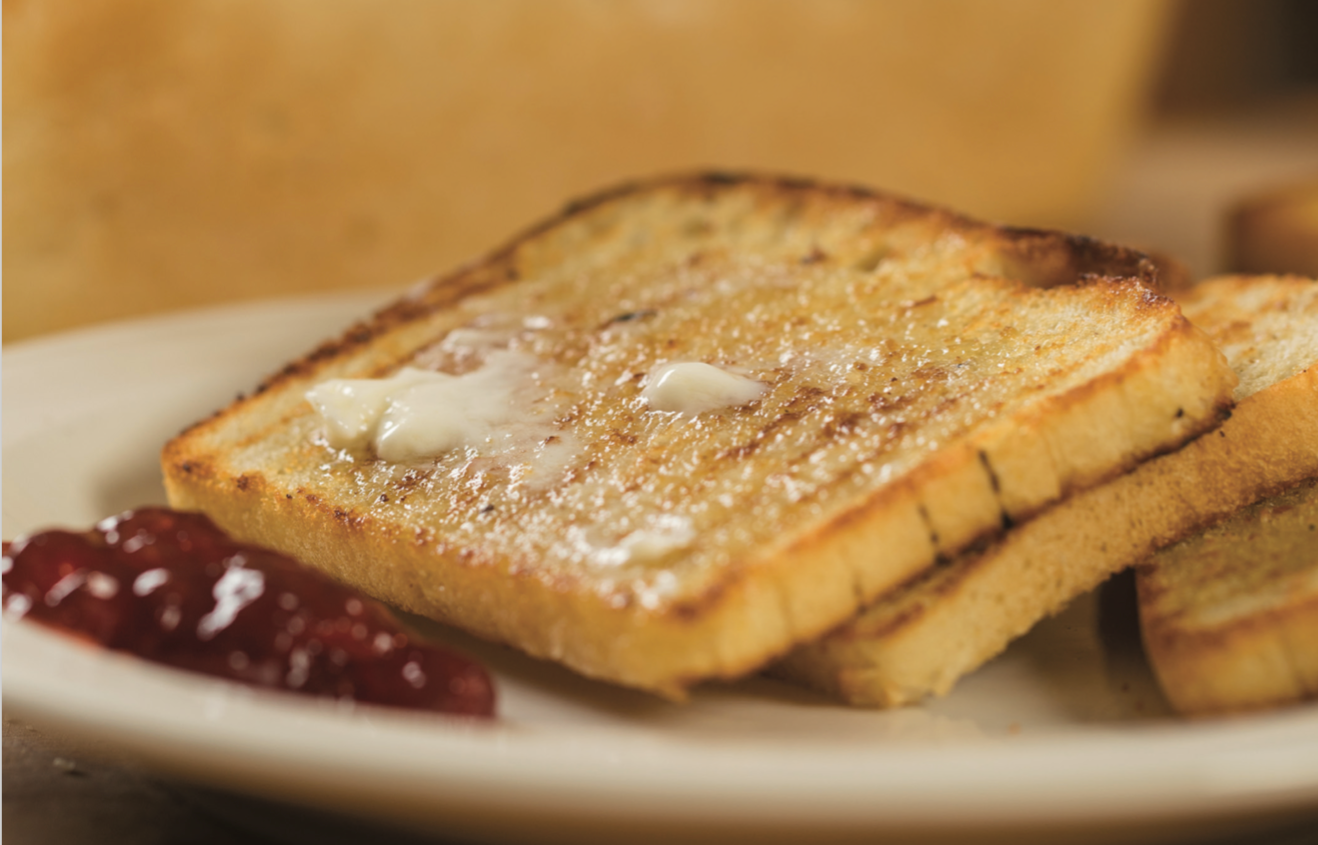 Pearl Haines was making soap with her daughter, a kettle of hog's fat boiling in the yard and autumn leaves swirling behind them, when Jenny Bardwell stopped to say hello. She remembers the duo inviting her to help and stay for a bite to eat. A professional baker in the heart of this Pennsylvania mountain community, Jenny was happy to join, and years later, she is so glad she did. There in Pearl's country kitchen, with the smell of homemade soap in air, she discovered a bread like none she had ever eaten. It was called salt rising, and it had been made in Appalachia as long as anyone could remember.
The recipe for Tomato Gravy on Salt Rising Bread can be found in Jenny and Susan's book.
Likely a product of necessity, this unique bread is dense like a pound cake and rises in an almost magical way. No yeast or sourdough starter is involved. Cornmeal and flour do all the work. As pioneering Europeans discovered centuries ago, these grains have natural microbes all their own. When they're mixed with liquid and held to the right temperature, the microbes grow, generating enough gas to make a loaf of bread rise.
They also produce a noxious odor, one that led to the nickname "stinky bread," which many old folks use to this day. While the smell is tough at the outset, the final product is delicious and unique. In
Salt Rising Bread
, the book Jenny recently co-authored with longtime friend Susan Ray Brown, the taste is described as "if a delicately reared, unsweetened plain cake had had an affair with a Pont l'Eveque cheese."
Since it's simple to make and tasty, it's no wonder salt risen bread was popular with mountaineers. While researching the baked good's origins, Jenny and Susan found recipes dating back to the 1700s, and all of the earliest originated in Appalachian states, both northern and southern.
Some people enjoy cream and brown sugar on the bread.
"We contacted food historians, hoping to discover how the bread came to America in the first place, and found only speculation," they explain, "wherever we inquired about salt rising bread – in Ireland, Scotland, Germany, and across other continents – we came up empty handed. No one we have encountered seems to know about it outside the United States. The elusive origins of salt rising bread seem to be centered in and around the Appalachians."

With westward expansion, this uniquely Appalachian creation spread, and later became an American dish, popular from New York to California. Nationwide, fans agreed that the bread was delicious, but they didn't agree on how it was best eaten, which leads us back to Pearl in the Pennsylvania mountains. In the below excerpt, she explained how her family preferred to eat salt rising bread, and Jenny and Susan generously share Pearl's time-tested recipe.

Now we'd love to hear from you—does this recipe look familiar? Have you ever had salt rising bread? And if so, what's your favorite way to eat it?
Please leave a comment below.
Excerpt from
"My family ate salt raisin' bread hot from the oven with a thick layer of butter on it. We also toasted it on a wood fire, sometimes purposely dropping it in the ashes, or steamed it over a kettle of boiling water, which we called smoked bread. By far, however, our favorite way to eat salt raisin' bread was to place a fresh slice on a pie plate, pour coffee over the slice, sprinkle it with brown sugar, and then pour real cow's cream, thick and sweet, over it all."

Like Pearl's family, other lovers of salt rising bread describe their favorite way of eating this memorable bread, and most often it is as toast. In a survey of a hundred customers at the Rising Creek Bakery, we found that the overwhelming majority prefer to eat their salt rising bread toasted with butter. Another favorite way to eat it is as grilled cheese sandwiches, or as a fresh tomato-cucumber sandwich. Others enjoy their salt rising bread with coffee and sugar poured over it, while some like to eat it sliced with gravy on top.
*
Pearl is gone now. We will never forget her, and we will be forever grateful for the many hours we sat in her home while she so willingly and proudly answered every question we could possibly ask her about salt rising bread...Pearl made sure that she taught her daughters and granddaughters to make salt rising bread, and one of Pearl's great-grandchildren is now making salt rising bread in the same wooden bowl made in 1869. Here is the recipe that the family still uses today and that Pearl lovingly passed on to so many people who continue to help keep this tradition alive.
Pearl Haines's Salt Rising Bread Recipe
INGREDIENTS
1⁄2 cup scalded milk
3 tsp. cornmeal
1 tsp. flour
1/8 tsp. baking soda


PREPARATION
Pour milk onto the dry ingredients and stir.
Keep warm overnight until foamy.
After the raisin' has foamed and has a rotten cheese smell, in a medium-sized bowl add 2 cups of warm water to mixture, then enough our (about 1 1⁄2 cups) to make like a thin pancake batter. Stir and allow to rise again until it becomes foamy. This usually takes about 2 hours.
Next, add 1 cup of warm water for each loaf of bread you want to make, up to 6 loaves (e.g., 6 cups of water makes 6 loaves of bread). Add enough our (20 cups for 6 loaves or about one 5 pound bag of our plus 1/3 bag of flour). Form into loaves and grease tops. Let loaves rise in greased pans for 1.5 to 3 hours – sometimes longer if it is a cold day.
Bake at 350° F (180° C) for 35 to 45 minutes or until loaves sound hollow when tapped.