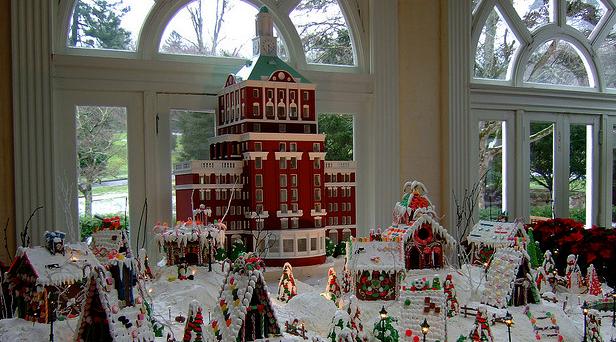 I am hopelessly behind. I'm just now figuring out what I'll be cooking for Thanksgiving, and already gingerbread-themed, Christmas time events are popping up all over the region. While they're starting on the early side for my taste, they all sound delicious.
Houses in every shape and size, some complete with little streets, and even entire villages are being constructed of gingerbread rectangles and gum drops and candy canes and gallons of warm, dripping icing. Yum.
If you visit any of these palatable properties, be sure to eat lunch first. We don't need anyone dragged out of a fancy resort for gnawing off licorice gutters.
And post your comments/photos here, letting us know what you think.
Gingerbread Village at The Homestead Resort, Hot Spring, Virginia
The Homestead
goes all out for the holidays. There's the ice skating rink in front of the hotel, a ginormous Christmas tree in lobby, and an entire village made of gingerbread. Right about now, the resort's expert pastry team led by Executive Pastry Chef, Michel Finel are hard at work creating this amazing display. A resort tradition, the village will be pieced together from more than 80 pounds of gingerbread, 110 pounds of candy, and 260 pounds of sugar.
National Gingerbread House Competition at Grove Park Inn, Asheville, North Carolina
On its Website,
The Grove Park Inn
declares "bring us your tired, your grouchy, your hum, your drum." They'll cheer them all up with edible art pieces submitted from across the country. The contest winners will be on display November 16-January 1, and you can go behind the scenes with a guided tour that provides details about the houses' construction.
Also, be sure to watch Good Morning America on the morning of Friday, December 23. Several of this year's entries will be featured.
Gingerbread Festival at Longwood Park, Salem, Virginia 
I have many happy memories of sitting on a curb in Salem, Virginia with hot chocolate smeared across my upper lip, while I watched high school bands go by along with floats made by realtors, giant walking versions of my favorite cartoon characters, and eventually, after a long, cold wait, Santa Claus himself riding the back of a red firetruck. The legendary Salem Christmas Parade has been a tradition in the Roanoke area for years, and the town has built off of its reputation for holiday fun by adding the
Gingerbread Festival
. It's an entire day, December 3, of food, music, arts and crafts, all culminating in a gingerbread house competition.