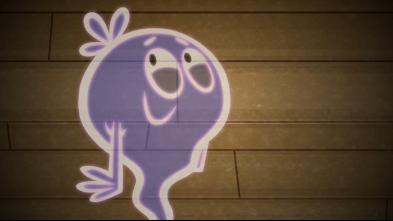 What would you do if a specter started bustin' up your moonshine? Chase him with your musket and blow your hillside shack apart, of course!
Fashioned after Loony Tunes cartoons,
County Ghost
is a four part series of shorts. It opens with the above clip set on a ramshackle cattle farm. While this isn't definitively Appalachia,
Mike Geiger
, the series animator, explained to me that it could be:
- Where does your moonshiner live? Have a state or area in mind?
He lives in the town 20 miles south from wherever you are viewing the shorts from.
If that place happens to be Miami...I guess he lives in Cuba.
- What was the inspiration?
I've been making kids cartoon for the past ten years. It's been really fun and rewarding, but definitely felt it was the time in my career that I wanted to showcase my own ideas.
The inspiration for County Ghost was to simply create an animated show that I could have fun with. Ghosts, Moonshine, and Muskets seemed to be a winning combination of ideas to do so with.
- Are more episodes on the way?

There are a few ideas floating around for more, but for the time being the first four episodes make up the complete set. I have started working on a new series entitled "The Smile and Penny Show" which I'm hoping will allow me take what I've learned from the "County Ghost" series and push it even further.
- Has this series been featured anywhere or received any recognitions?
The first 4 episodes of the show have been picked up by MondoMedia ( a larger web content distributor ), so I'm hopeful it will soon be airing on their channel and pick up some additional interest and viewership.
If not, and the show does a quick crash and burn...it was still a blast to make.