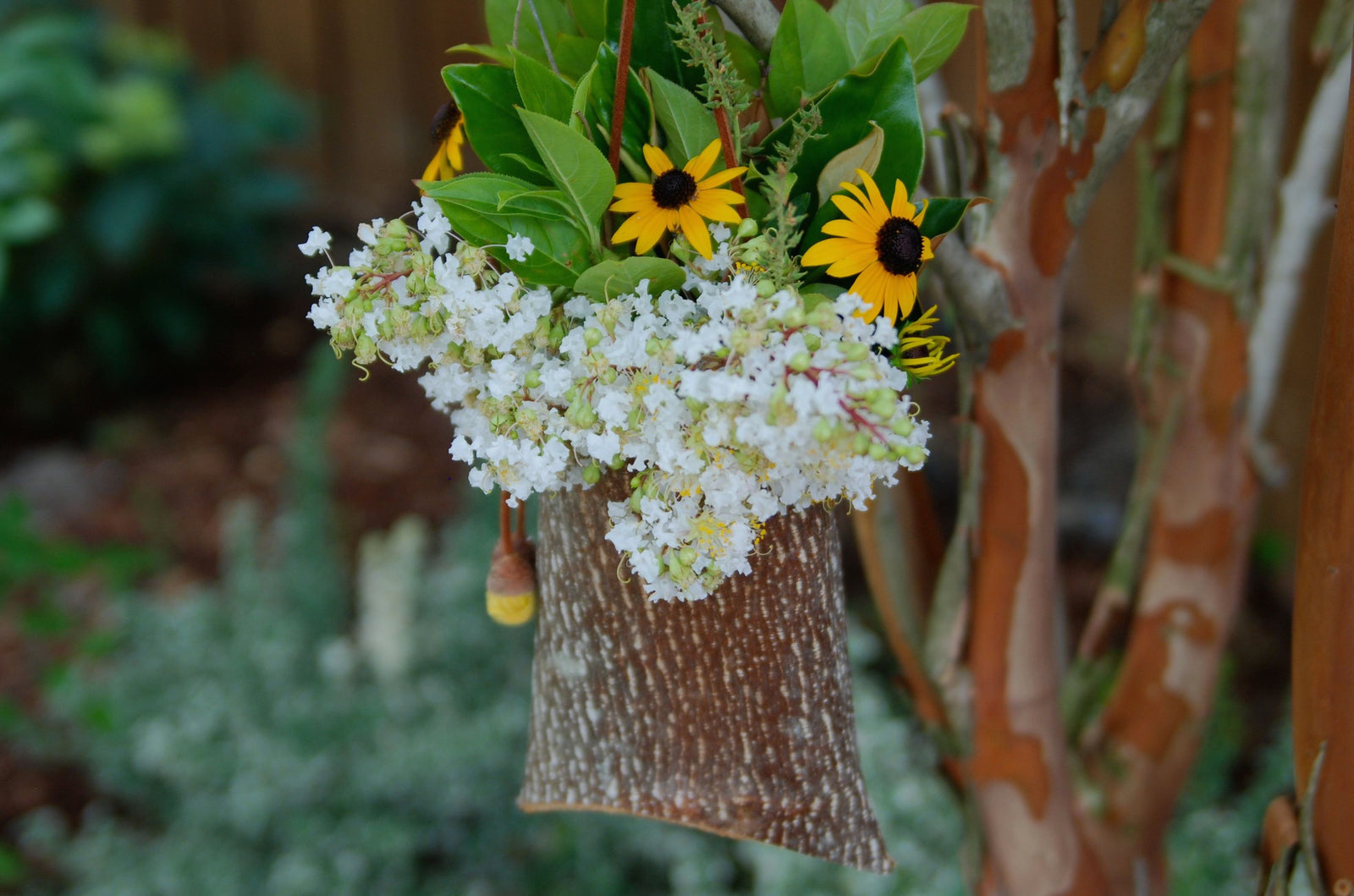 When Mark Green was nine years old, he needed to carry nuts and berries in something. That's not an issue most of us encounter these days, but in Mark's family, it made perfect sense. His Cherokee father and Irish-American mother valued traditional living. That meant no plastic toys, no running water, no phones, no car, and it meant a lot of foraging.
Luckily, his grandfather had an old-time solution to the berry and nut problem—simply peel bark from a tulip poplar limb, fold it half, and bind it with a reed. Boom, an instant basket!
[caption id="attachment_10002" align="alignright" width="244"]
Handmade acorns are included on each of Mark Green's baskets.[/caption]
Nobody knows how long Cherokee folk have been making these handy vessels, mostly because they were as common as dirt. Bark baskets weren't art-pieces but instead utilitarian tools. More often than not, they ended up as kindling when they were done being used.
Today, we look at them a little differently. In an era of Rubbermaid and vacuum sealing, these natural containers—devoid of glue and chemicals—take on a special meaning. They connect us with our Appalachian heritage and remind us that not everything useful has to be made by a machine.
According to Mark's wife Kimberly, bark baskets have a hundred uses. "We have one on the spinning wheel for tools. Tooth brush holder. Needle holder," she says. "There is one in the Jeep tied to the air vent for pencils. One in the craft room for scissors and, of course, anytime we need a basket in the woods for blueberries, blackberries, or flowers."
I don't know about you, but there's something about seeing an old Cherokee craft alive and well that makes me smile. It also made me want a basket of my own. Mine is now holding dish towels and I guess I will buy more
organization boxes and baskets
. If you were to pick one up, how would you use it?
*
You can purchase Mark Green's handmade baskets online at
Gallery of the Mountains
(just email or call to place the order) or in the company's store inside Asheville's Grove Park Inn. They're also available at the store Chifferobe in Black Mountain, North Carolina and make appearances at select festivals, including the Southeastern Animal Fiber Fair, Townsend Fall Heritage Festival, Tennessee Fiber Festival, and Carolina FiberFest.