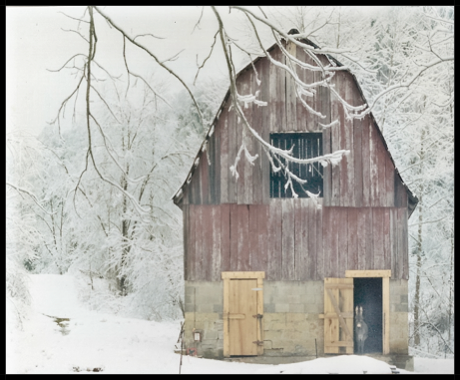 Steve Alberts is a retiree, and he might be busier now than he was when he was working. He acts; he takes photos; he's working on a novel; and he writes charming blog posts at 
OnStevesMountain.com
.
I was browsing Steve's site the other day, and one post caught my eye -- The Burro in the Barn Door. I'm a sucker for alliteration, so the title hooked me. It was the photo, though, that kept me glued to the post. It's deceptively simple. If you look at it fast, you might miss the long eared animal in the doorway, waiting, watching, like it knew you'd come back home.
Thanks to Steve for sharing it here.
*
One snowy morning in West Virginia I left our little garage apartment out in the country and drove the back roads for several hours just looking for that special photograph that might be hiding in the next hollow, on the next hillside, or around the next curve.
Yes, I took several pictures that morning and I thought a lot of them were good.
But, here is the best one and it was waiting right at the end of my driveway when I returned home that morning.
Life is often that way.
We go out into the world to find some special thing, later to discover that, often
the best is…
right at home…
just like the burro in the barn door…
[caption id="attachment_5034" align="alignnone" width="377"]
Photo by Steve Alberts. Used with Permission.[/caption] 
You might also like Mountain Sized Muse: A Year of  Blue Ridge Paintings