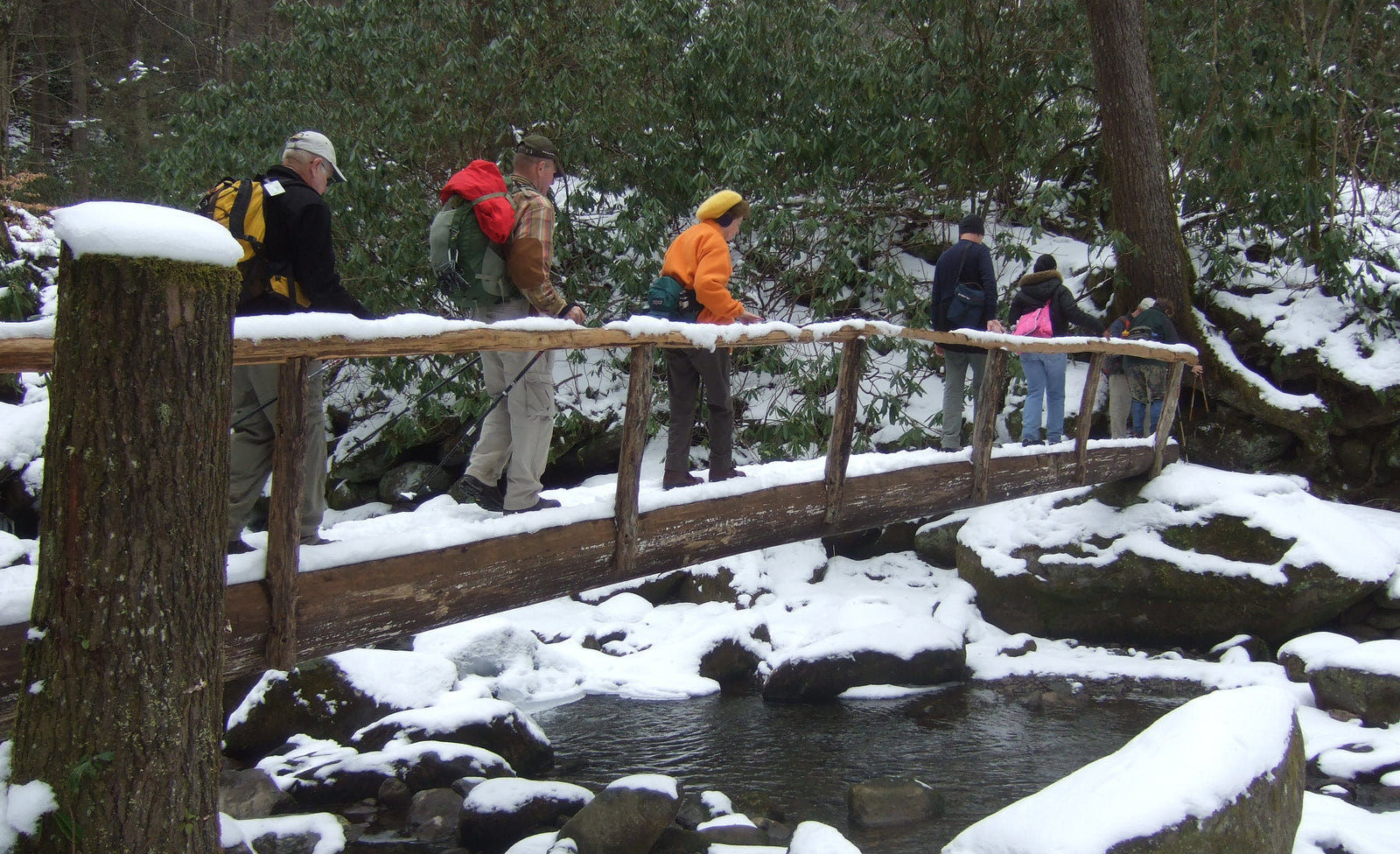 I can't lie. I've never gone to Pigeon Forge. I love me some Dolly, but the sprawling mess of fun centers, wax museums, and chain restaurants that sprung up near her park has always sounded like the third rung of Hell to me.
[caption id="attachment_9115" align="alignright" width="168"]
A feathered friend helps with an outdoor session.[/caption]
Given that, you can imagine my surprise when I stumbled upon
Wilderness Wildlife Week
, eight days of hikes and outdoorsy workshops smack dab in the middle of Pigeon Forge, 
and
 I found myself thinking, "Man, I wanna go!"
I mean—outdoor owl prowls, a photo trek in Cades Cove, a strenuous 11-mile hike to Mt. Cammerer,
and
 a four-mile walk through the Elkmont historic district—it has me second guessing my longstanding angst towards this town.
Turns out, these excursions are just the start. Between January 25 and February 1, the city's LeConte Center, an event venue modeled after a Smoky Mountain lodge (
that
 even I admit is pretty), will host indoor workshops that cover every imaginable topic for outdoor lovers—wildlife folklore, songs of the Carter Family, learning to use a map and compass, taking great cell phone photos. Fly fishing alone has an
entire suite
of sessions devoted to it.  
As if the event's 300+ workshops weren't enough, I stumbled upon this quote from Leon Downey, executive director of the Pigeon Forge Department of Tourism:
[caption id="attachment_9118" align="alignleft" width="222"]
Pigeon Forge's new LeConte Center.[/caption]
"Wilderness Wildlife Week
is a time for people to learn about many aspects of the outdoor world, 
about the culture of the Southern Appalachians and about the people who make this area special."
Leon, you wooer you. You had me at "culture of the Southern Appalachians."
I swear, if I didn't already have plans to visit Roanoke next week, I'd be on a plane to Tennessee. 
 While I can't make it  this year, I would love to hear from anyone who has gone. 
How were the hikes? Which workshops did you attend? And do you think it's time for me to adjust my attitude about Pigeon Forge?