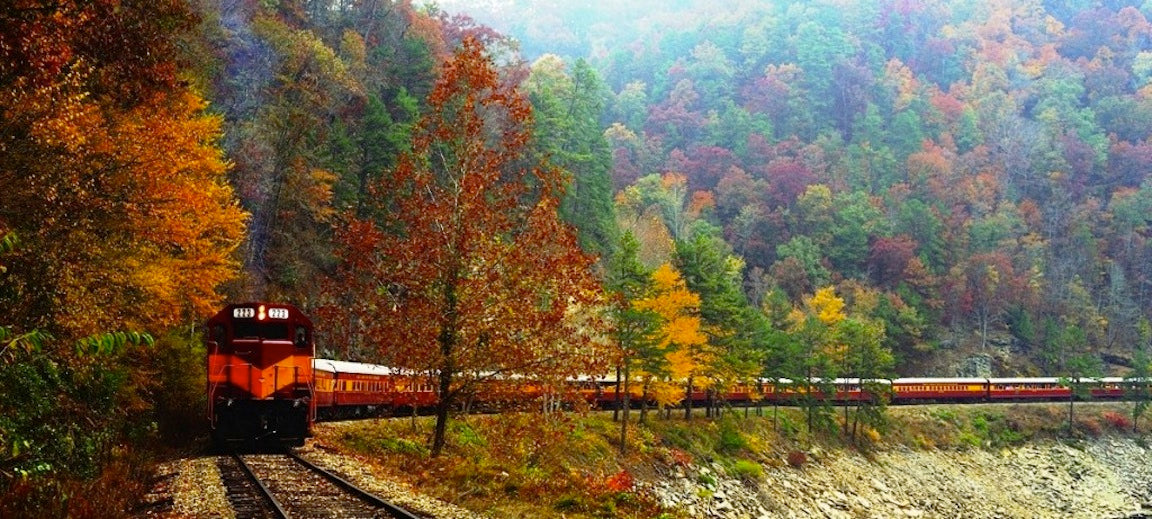 According to forestry and travel sites, this is the peak week for fall leaves in the southern Appalachians. If you're not already perched on a mountainside, run, do not walk, to your car. Now is the perfect time to cruise along a ridge line, peering over the guard rail to a swaying orange and red canopy that climbs the mountains like it's trying to reach the sky.
The only thing that can make your fall mountain ride any better is not having a guard rail block your view and not worrying with roads at all. That's possible with the 
Great Smoky Mountains Railroad
. In an antique car with giant windows or even open air views, you can cruise through the most remote parts of the Smoky Mountains National Park. These are areas that can only be accessed by rail or on one very, very, long hike.
This week, Sarah Conley, the railroad's marketing manager, took some time to tell us what you'll see there.
TR: Sarah, thanks for getting together. What can riders expect to see during your Fall Foliage trip?
SC: The fall foliage trip is one of a kind, the best thing about it is every day is something different. A new color, new wildlife, and new faces of on-board staff. We really sit in a key area for fall leaf season, our elevation sits just below the highest point in North Carolina and allows our fall to change a bit more slowly. We can almost bet that each season we will have at least 2 weeks of vibrant leaf foliage.
I always describe the Smoky Mountains during the fall as one large canvas and each day it's just being added to by different colors different shades…rich auburns and buttery yellows. It has a way of enveloping you when you arrive, the season is embracing you. It's one big masterpiece of natural beauty.
People can expect relaxation and peace of mind. We do the driving for you.
Ride in first class and you really get the extra special treatment. Your meals and drinks are taken care of and you even have a wait staff there to assist you with anything. This year we have the brand new Open Air First Class car. It really is fantastic--panoramic views, open air, the scents and sounds all with first class style. For a true train enthusiast, open air is the way to go. You're up close and personal with the train. You feel the grit of the railroad.
TR: The Great Pumpkin is one of my favorite cartoons. What awaits fans on the Peanuts Pumpkin Patch Express?
SC: The Pumpkin Patch Express is one of my favorite events! If you have ever read the book "It's The Great Pumpkin Charlie Brown" that will give you a feel for what we do.
Its family fun at the heart, and we like to throw in some history. Younger kids are growing up in a society where railroading is not a mode of transportation, and we are losing that history. Our founder Al Harper, is intent on giving kids these opportunities to mix fun with learning.
Once you board the train to the pumpkin patch you are on about a 25 minute ride, and as you pull into the pumpkin patch The PEANUTS Gang is there to greet you! There are bouncy houses and a giant slide, temporary tattoos, wagon rides, music, games, snacks, coloring and of course trick-or-treating in our Trick or Treat street. And before you leave don't forget to pick out you pumpkin from the patch. Kids are encouraged to wear their costumes; that's the only way to trick or treat.
TR: Ever see anything spooky on a train ride?
SC: I am sure if you ask one of our engineers or conductors they will tell you plenty, but I do know of the legend the Cowee Tunnel on the Tuckasegee River Route. They say it is haunted by the spirits of the convicts who worked by hand to dig the tunnel out. They were camping across the river at night and hide to ride a man made ferry across the river to get to the tunnel. These were convicts sentenced to do manual labor, and they were all shackled together. One morning they were all crossing the river on this ferry, and it tipped over spilling the convicts and two guards into the rushing river. Their shackles did their job; they kept them together, even until death by drowning. Legend has it that the convicts' bodies are buried right above the tunnel, and the reason the tunnel drips water year round is because they are weeping at their fate. Inside the tunnel, you can still hear their pic axes digging away.
TR: The Revivalist has a lot of Blue Ridge Parkway fans. Tell us why riding the train through the mountains beats driving through the mountains?
SC: There are some spots where you can access the same views the train provides by car, but most spots are only accessible by train. Its true you can take a car and drive through Western North Carolina and see some fantastic things, but actually stepping foot on a vintage train and letting us show you around, that beats the heck out of being cramped in a car. Trains are a symbol of a pioneer spirit. The Murphy Branch line was dug out, carved out, and formed by thousands of men who were committed to moving West North Carolina forward in time. How amazing that this symbol of longevity is still alive and is accessible to anyone who wants it.
The train ride really sets your mind to a pace of steady comfort. Nothing to worry about, no seatbelt, no gas gage, GPS, speed limit….it's just...ride.
TR: What's the best part of riding the train for you?
SC: I really enjoy seeing my guys (engineers, brakemen, conductors) work. These are true train fans. They love their job and they love to be able to provide this experience for others. There is nothing more uplifting for me than to see a engineer in overhauls covered head to toe in grease and sweat, hot as fire, putting in countless hours on the line, but smiling from ear to ear, and taking the time for a photo with a little boy or helping a lady off the train. That's railroading, that's the spirit of
Great Smoky Mountains Railroad
!