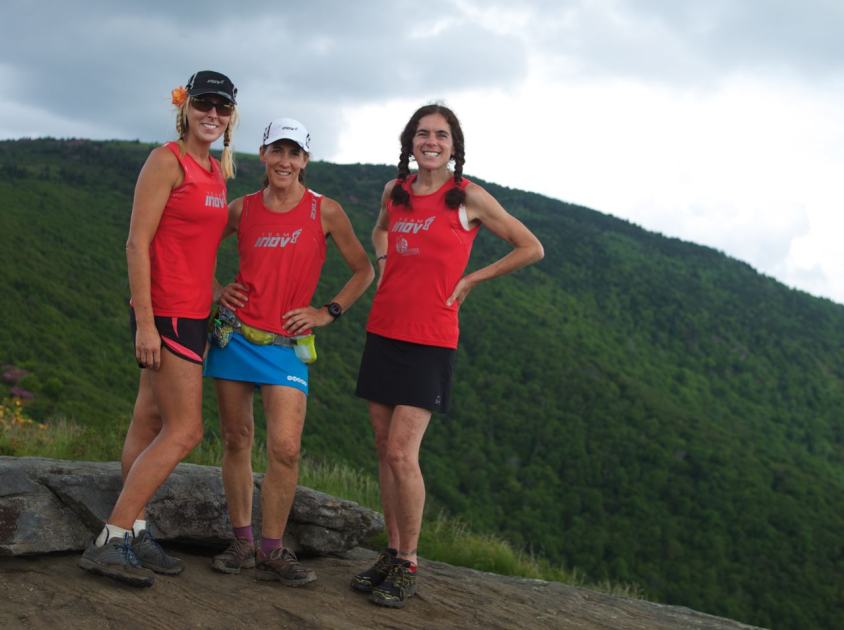 Up above 6000 feet, the oxygen can get mighty thin, but that hasn't stopped more than 160 people from completing the South Beyond 6000 challenge. Conceived in 1968, SB6K challenges serious hikers (i.e. not me) to climb 40 peaks that exceed 6000 feet in the Southern Appalachians.
These are daunting hikes. Fifteen of them are unmarked and untrailed. On many, hikers must bushwhack their way to the top.
Carolina Mountain Club
, the challenge's lead sponsor, writes, "The peakbagger confronts a thick and difficult vegetation to struggle through to obscure and often almost invisible summits, only guessing where the true summit lies. Knowledge of map and compass, long sleeve shirts and long pants, and gloves are a must."
Among the hikers who have braved the peaks is a remarkable team of women from the Asheville area. All athletes ranging in age from 35 to 42, they upped the SB2K ante last year and attempted to climb 40 mountains in just seven days. Friends and significant others helped them 
blog
about the adventure. In one post, they wrote:
[caption id="attachment_1815" align="alignright" width="194"]
One hiker's wound[/caption]
"Spoke with Rebekah a couple of minutes ago and to say she is tired would be an understatement. They spent a large portion of the day today on a nasty trail along a ridge. The rocks were really bad. One portion had to be repelled down. Permanent ropes are in place so they did not have to haul in equipment. Anne apparently had a nasty fall and is bruised pretty bad. Rebekah's knees and shins are hurting pretty bad especially on the downhill at the end."
In spite of the physical abuse and unforgiving terrain, the ladies averaged 42 miles of up and downhill climbs each day. They finished all forty peaks in 6 days, 13 hours, and 31 minutes.
In an
interview
about the experience, one of the hikers Jenny Anderson said, "We learned a tremendous amount about our own physical and mental capabilities but, most importantly, we learned about being patient with ourselves, with each other and working as a team. The views, the sights, the rains, the heat, the crew, the wildflowers, the mountains, the bushwhacking, each and every one of the forty peaks, the trails, the laughs will be forever engrained in my memory."
Have you climbed any of the SB2K peaks? Is it crazy to try all forty in seven days or inspiring? Post a comment and let us know what you think.
[caption id="attachment_1820" align="aligncenter" width="354"]
Women of SB6K at the finish[/caption]