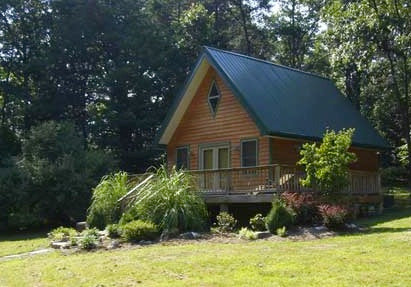 The Lost River Valley is long and narrow, a peninsula of farmland flanked by steep mountains. It lies between George Washington National Forest and the lush, low range that ripples off to its West. There are cattle, old houses, and a meandering creek that locals call a river.
Driving down State Road 259 yesterday, I was struck that no one element dominates this scene. Even the rolling Allegheny ridges blend into it, balanced against the farm valley, which is symmetrically peppered with barns and chicken coops.  The proportions looked planned, as if they could appear on a Courier & Ives plate.
My partner Ryan and I came to Lost River for the holiday weekend. We were drawn by the promise of vast woods and cool creeks. Both are here, but to be honest, we've not experienced much of either. In the last two months, we have been caught in a vortex of house hunting, buying, and moving. This is our first weekend away in a long time. Though I had envisioned us tackling the great outdoors, hiking and kayaking, maybe riding horses up precariously steep inclines, we've mostly just been sitting.
[caption id="attachment_1144" align="alignleft" width="300"]
Rose Cottage[/caption]
A while ago, I sat in the yard of the little house that we're renting, watching my dog pry at a root. Right now, I'm sitting on the porch, overlooking treetops to a cliff framed by full grown pines. We're staying at
Rose Cottage
, which is newer than the hundred year old cabins I usually seek out. This weekend, though, air conditioned convenience has its appeal.  The place has a spacious wrap around porch, a cozy loft, and an ice maker. Three different kinds of tea are provided. There's no complaining.
When we've had a enough of sitting here, we've gone to a nearby inn to do the same.
The Guest House at Lost River
has been providing gay friendly accommodations since the 1980s when it was a two story log cabin. Today, it has grown to four connected buildings and several stand alone cottages. They're all thoughtfully aligned to create a balance of intimate nooks, courtyards, and open spaces. The Guest House even boasts a full service restaurant, which attracted us the first night, and it hosts poolside get togethers, which brought us back the next day.
[caption id="attachment_1145" align="alignright" width="300"]
The Guest House at Lost River[/caption]
Like the valley, everything at The Guest House is well balanced. The hosts, Bob Dillard and his partner David Mickow, are fun and attentive but not intrusive. Upbeat music is piped throughout the inn, but it's not too loud. The food isn't quite gourmet, but it is very, very good. Think tender, sweet pulled pork; country style mac and cheese; and moist cupcakes, chocolate and vanilla. Even the crowd was balanced. Most guests were gay, but there were enough straight couples (who seemed to be both locals and overnighters) to keep it from being a Fire Island parody.
While writing this, I've moved inside to the loft at Rose Cottage. The dog is curled up beside me snoozing. My feet are propped on a stool. Between pecks at the computer keys, I'm watching bluejays dart through tree limbs outside.
There's a lot of talk about West Virginia being "wild and wonderful." Maybe when you're rafting the New River Gorge or climbing Spruce Knob it is. Here in Lost River, though, there's no need for the superlatives. It's a good place to sit and read, sit and eat, or sit and stare blankly at the ridge line, appreciating it's beauty but not feeling any particular need to get up.