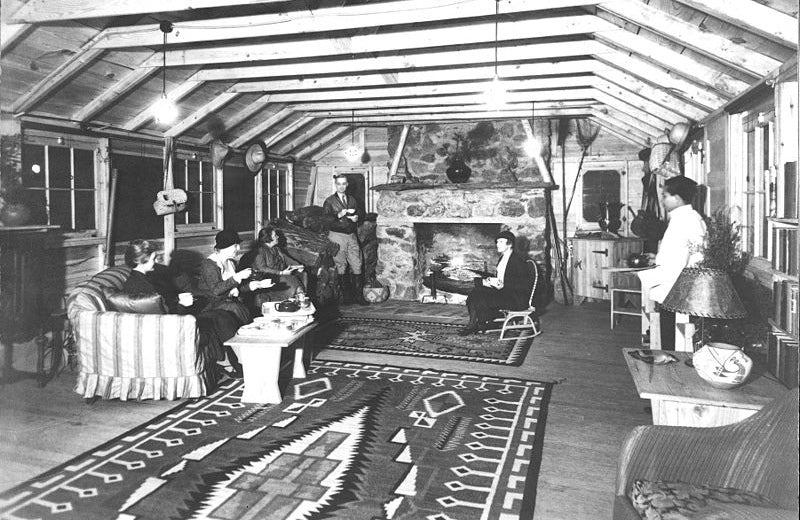 This month, tens of thousands of people will cruise Skyline Drive, the famous 105-mile-long parkway that winds atop Shenandoah National Park. The views right now are breathtaking, red and orange leaves on every mountain, but the traffic can be too. During the height of leaf season, peepers cause actual traffic jams right there in the middle of the forest.
Smart park visitors, though, know how to escape. They ditch their cars and hop a shuttle or hit a trail, making their way to one of America's quirkiest pieces of presidential history.
[caption id="attachment_8819" align="alignright" width="236"]
Rapidan Camp today. Photo provided by sfgamchick on Flickr.[/caption]
Completed in 1929, just as the Great Depression took hold,
Camp Rapidan
was built under President Herbert Hoover. Not surprisingly, government spending was being scrutinized at the time, so the camp was constructed on the cheap, with labor provided at no additional cost by U.S. Marines.
Unlike its successor, Camp David, Rapidan has no helipad or driving range. There's no paved access road or even insulation in the walls of the main cabin, which was affectionately called the Brown House in contrast to The White House. Slats of German siding nailed directly to studs were the only things that stood between President Hoover and the elements, and that was fine by him.
Hoover and his wife Lou Henry had spent a decade in mining camps. They knew the value of backwoods living, and they knew how to catch their own food. The president was an avid fisherman. He had nearby rivers and streams stocked with trout, and he was thrilled whenever he could slip away from the Secret Service to fish on his own. As the story goes, he would find a secluded bluff during these solo adventures and watch search parties hunt for him.
The First Lady, who often drove her own car to Rapidan, once contrasted the rustic camp against peculiar amenities that only a president could command. "[It is] at the end of nowhere, with a road that in wet weather lets you sink to your hubs in slushy mush and while there bump over the most amazing boulders…[it] has electric lights and a telephone and its morning papers. The mail is dropped from an airplane!"
[caption id="attachment_8826" align="alignleft" width="191"]
President Hoover fishing at Rapidan Camp.[/caption]
This strange combination of rustic charm and presidential touches attracted some of the biggest names of the day. Charles and Anne Morrow Lindbergh visited. In fact, according to the humorist Will Rogers, Lindbergh helped the president build dams along Mill Prong to form trout pools. Mrs. Thomas A. Edison, the Edsel Fords, Henry Luce, and Mr. and Mrs. Theodore Roosevelt, Jr. were also guests.
Eighty-four years ago this month, British Prime Minister Ramsay MacDonald spent a week at the camp. His visit included a history-making discussion on a downed tree. It is said that he and the president sat on opposite ends of a log and devised a strategy for limiting naval armament worldwide.
While the camp fit the Hoovers perfectly, subsequent presidents ignored it. The terrain was too bumpy for Franklin Roosevelt's wheelchair, and no other president bothered to visit until Carter took a trip decades later. Over time, the buildings decayed and many had to be torn down. Of the thirteen original structures, which included lodging for servants, secretaries, and the Secret Service, only three remain. Two of those however—the president's Brown House and a guest house aptly called The Prime Minister—have been restored to their 193o's-era glory.
You can see for yourself with a visit to Rapidan Camp. If you're feeling adventurous
the hike
is about four miles each way and begins at the Milam Gap Overlook. You can also hop a shuttle from the visitor's center at Big Meadows. The fifteen minute ride is bumpy, but I guarantee that you won't get stuck behind a mini-van full of leaf peepers on the way.
http://www.youtube.com/watch?v=o2rVJebw9eU&app=desktop