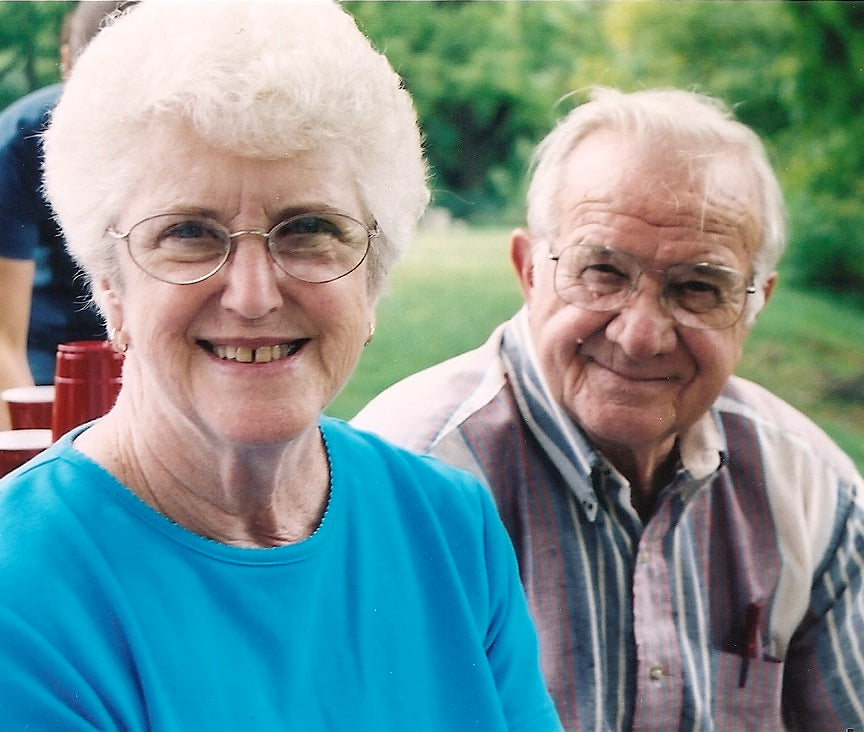 Grannie is wiping down her folding tables and counting the days until the
Hillsville Flea Market
. She and her partner Jim are known for what they call "junking"--finding and selling furniture, antique tools, old guns, and oddities like a handmade knife I once bought from them. Made of jagged metal and bone, it looks like it was used to carve fresh-killed mammoth.
[caption id="attachment_1587" align="alignleft" width="180"]
Granny and Jim[/caption]
They trade their quirky wares from a booth at
Chic's Antiques
in Floyd, Virginia and from two wood-sided sheds that abut their house. Granny and Jim are the go-to source for interesting finds and fair deals. Their business stays brisk all year long, but nothing tops Hillsville Flea Market weekend. Which is remarkable because they don't even go.
The event is some forty-five miles away from their house on Route 221, but they don't bother to pack, load or haul a thing. They sit up a few signs and from the comfort of their yard, pick up sales from the 500,000+ eager shoppers that stream towards Hillsville over Labor Day weekend.
In the course of four days, the event attracts as many people as 
ten
sold-out Virginia Tech football games. It's a huge boon to the region's economy. Hotels and restaurants rely on the spike in customers. Local "junk" dealers like Grannie and Jim piggyback on the event. Residents even sell parking spaces in their yards and rent out guest bedrooms, but no one benefits like the local VFW.
"Honor the dead by helping the living." In the below clip, one member says that's the mission of the VFW and that's what's happening with the flea market. Since the 1960s, all of the proceeds from the ever-expanding event have benefited the local veteran's group. According to the market's website, "Money realized from the show keep the Post in operation for the entire year, and a lot of the money that is taken in is returned to the Community in the form of donations to many civic groups and individuals in need."
Where else can you help the needy while loading up on every imaginable knick-knack and doo-dad known to human kind?
That's exactly what you'll find in Hillsville, according to Mary who blogs at
SimplyForties
. She attended last year's event and describes the selection this way...
"I saw pitch men hawking the ShamWow chamois, knives, vegetable choppers and various cleaning products. I saw purses and shoes, socks and bird houses, t-shirts and feather boas, confederate flags, cds, leather goods, key chains, wind chimes and decorative license plates. I saw funnel cakes and hot dogs, ice creams and apple cider. I saw Chinese food, Italian food, German and Greek food. There were beautiful antiques including furniture, glassware, crockery, cast iron, stoneware and cutlery. Everything you could imagine was for sale in Hillsville that weekend."
It's all happening again this Labor Day weekend. Drive on over and check it out for yourself. If you pass through Copper Hill on the way, watch for yard sale signs. Granny and Jim won't charge you to park, and you might just find that mammoth carving knife you've been needing.
[youtube]MxuglIwlhVQ[/youtube]
(Related: Call
Southern Rubbish Junk Removal of Roswell GA
to get rid of all the junk on your property)