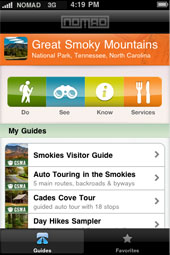 Want to shed a couple pounds from your pack? Ditch the guidebook and try one of the digital versions now available for the iPhone. Apps are popping up left and right for the two national parks in the Appalachians. Here are two of my favorites: 
Great Smoky Mountains National Park
The folks at Nomad Mobile Guides have mastered their trade. They're guide to the Great Smoky Mountains is user friendly, chock full of handy info, and most importantly, available without a mobile signal. Developed in partnership with the Great Smoky Mountains Association, it covers a lot--restrooms, hiking trails, camping spots, historic structures, horseback riding, even family-friendly activities like carriage rides.
[caption id="attachment_1206" align="alignleft" width="170"]
Nomad App for Great Smoky Mountains[/caption]
What's more, you can win a $200 REI gift card or a Ken Burns DVD collection by reviewing the app. The contest is only open to the first 250 reviewers so tap on over to the App Store and get yours today.
Shenandoah National Park
For all you armchair naturalists and historians out there, there's the Shenandoah National Park App from NaturePods.
Authored by renowned nature photographers, Ann and Rob Simpson whose work has appeared in National Geographic and other leading publications, the app provides wonderful detail on the natural and cultural history of the park. Learn about 29 wildflower species, eight of the park's most notable mammals, tribes native to the park's land and the geologic origins of these world famous mountains.
Ann and Rob taught me that white tailed deer were nearly extinct within Virginia. (Hard to imagine now, isn't it?) Check out the below clip from the app for more deer facts.
After you take these digital guides for a spin, leave a comment here letting us all know what you think.
[youtube]bPOUWC9GZnI&feature[/youtube]