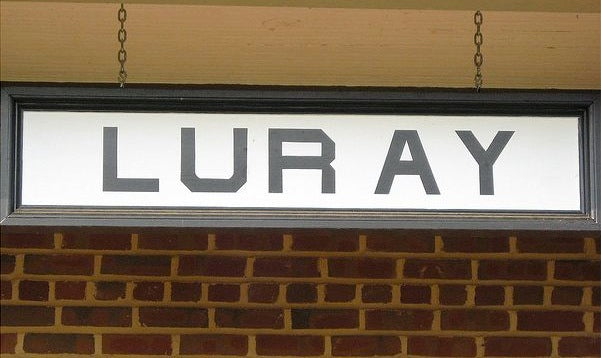 If you've driven within sixty miles of Luray, you know the town. Its most noted feature, Luray Caverns, dominates roadside advertising with bright yellow billboard signs, drawing thousands of tourists annually.
I'm afraid, though, that most folks head underground, tour the caves, and get back on the road. Having spent
the better part of a week
here, I've been surprised at how few tourists I've seen downtown. In fact, I'm about ready to drive over to the cavern's parking lot and tell people to stick around. Luray and the surrounding countryside have some great stuff going on. Here are a few of our favorites:
Gathering Grounds
This downtown coffee shop and cafe has been our second home. We've spent hours here feeding our internet habits and also our bellies with snickerdoodles and delicious smoothies. The wait staff is happy to tell you about local sights or just chat. We've covered everything from the best dishes on the menu to horrific computer crash stories.
Luray Fitness Center
If you try to stay in shape when you travel, you're probably used to the $20 guest workout fee. When the fit, tan lady behind the counter at Luray Fitness Center told me that I only needed to pay $5, I was ready to hug her. Then she set up my niece and nephew on comfy couches with a TV. At that point, I was ready to buy a year-long membership even though I lived a hundred miles away. While this gym's equipment is older, it's in pristine shape, and there was plenty of it. No need for sign-up sheets to use the elliptical here.
Shenandoah River Outfitters
One of my favorite outfitters is just outside of town. I thought it would a great spot for the kid's first kayak adventure, and I was right. The staff was friendly. The boats were in good shape. They had showers on-site (which was a Godsend after bathing for a few days in an old tub). Most importantly, the scenery was beautiful--farmland interspersed with soaring cliffs on one side and George Washington National Forest on the other. As you can see in the pics below, it was a great ride.
Warehouse Art Gallery
The other day we were dropping mail at the town's historic post office (which itself is worth a peek), and we spied a big, bug eyed statue across the street. Turns out his name is SlugBoy, and he greets folks at The Warehouse Art Gallery. Inside, there are more than 7,000 square feet of art displayed in beautiful open, warehouse studios, and we're not just talking the typical landscapes and fruit still lives. The gallery has beautiful examples of those but also a lot of clever, thoughtful, and sometimes downright challenging pieces. Check out our favorites below, along with other miscellaneous photos from our week in Luray.
[nggallery id=friday-at-patc-cabin]