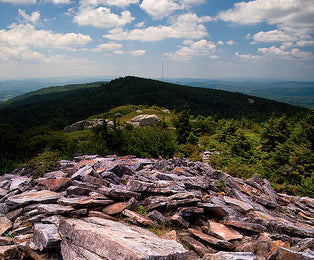 [caption id="" align="alignleft" width="324"]
View of potential park land from Seneca Rocks area[/caption]
Over on the outdoorsy blogs, the long standing debate over a new national park in Maine has been upstaged by one humdinger of a proposal for West Virginia. It would merge three protected areas along with some privately owned land into a single mega-park, covering half a million acres or more. Most folks are calling it High Allegheny National Park. Some call it High Allegheny Park and Preserve. Still others are just calling it a bad idea.
Championed by conservationists, the park would unite parts of Monongahela National Forest, Canaan Valley National Wildlife Refuge, and Blackwater Falls State Park. If it encompassed all of these, it would include some of West Virginia's most extraordinary natural features. In one park, you could hike through Dolly Sods, a boggy ecosystem that is typical of Canada and formed here by uniquely high winds and cold temperatures; stand atop Spruce Knob, the highest point in West Virginia and one of the few in the Southeast that is described as having an alpine feel; cool off in the breathtaking falls found along the eighteen miles of Blackwater Canyon; and traverse Seneca Rocks, a 900 foot outcrop that is legendary in the rock climbing world.
[caption id="" align="alignleft" width="207"]
Dolly Sods[/caption]
Every national park should have a mix of attractions, and this one would claim them in spades. What's more, most of the land in question is already publicly owned and protected. The portion that isn't-- about 3000 acres in Blackwater Canyon--is said to be owned by a ready seller.
Great destinations-check.  A previously existing base of visitors-check. Simple land-ownership transfers-check.
So what's the hold up? Why wouldn't we want to order up those wide-rimmed national park hats tomorrow?
Well, readers on the outdoorsy blogs have been keeping comment boxes hot with their reservations about High Allegheny National Park:
I see nothing wrong with the current mixed configuration of National Forest, National Rec Area, and State Parks. These designations have provided the area with a high degree of environmental protection will still allowing the public to freely access these areas. In my experience, the creation of a National Park only ramps of development and marketing of particular areas, while restricting the use of others. Leave it, I say!
WVA on
National Parks Traveler
...when I spread out my Monongahela NF map out, I see that about half of this area is private land. It includes towns, villages, farms and major developments. How do you propose to deal with this fact? Are you proposing for the feds to condemn and purchase all that land? Or are you proposing a spotty, Swiss-cheese park riddled with inholdings? Wouldn't the latter be a travesty of a national park, considering that elsewhere, great efforts are made to acquire inholdings to prevent the kind of development that already exists in the proposed High Allegheny Park?
Helen on 
National Parks Traveler
Just a thought. Do they allow hunting in National Parks?
Robin on
The Charleston Gazette
[caption id="" align="alignright" width="177"]
Spruce Knob[/caption]
That last one--the simple, little question about hunting--caught everyone's attention. It sparked a series of hunting-themed blog posts on
The Charleston Gazette
's site
and, eventually, a reply from the office of U.S. Sen. Joe Manchin (D-WV), who has initiated a formal Federal survey of the area. Manchin's press secretary was quick to explain that "Senator Manchin is a lifelong hunting enthusiast and is committed to making sure that the Alleghany Highlands remain open to hunting if the area receives a new designation from the National Parks Service."
Park advocates have dodged the hunting bullet for now (yes, pun intended), but there's clearly still a lot to consider. Starting this month and through most of 2012, the National Park Service will survey the area to determine whether it meets the criteria for being designated as a unit of the National Park System, and folks will continue to debate.
Will High Allegheny National Park be an economic boom or bust? Would it be a plus if new development sprung up around the edges of the park? What is the ecological impact? What about the companies logging some of these lands now; how will they figure in?
What am I missing? What issues concern you most? Are you ready for High Allegheny National Park or do you think the current mix of protected and private land works best?
Get in on the conversation by posting your thoughts here.