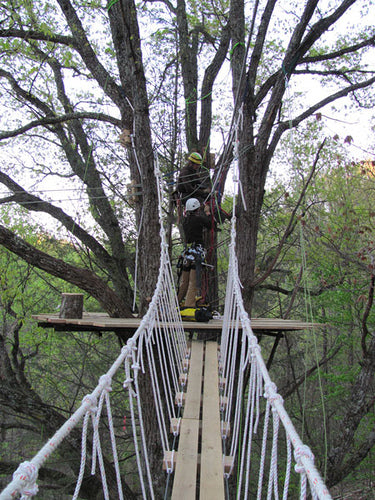 Ever watch forest squirrels bounce from limb to limb and wonder what the world looks like from up there?
Starting next Saturday, you can find out. A company called Navitat is opening a new
canopy tour in the Asheville area
. Riding on zip lines, visitors traverse from one forest tree to another.
According to the screeching and whooping folks in the below video, it's thrilling. One guy can't stand still long enough to be unhooked from the line. He does a little jig in place, laughing uncontrollably while saying, "That was crazy. It was fast!"
Navitat's tagline is "where exhilaration meets contemplation." They slow things down enough for guests to take in the view and be immersed in their surroundings.
Located in Moody Cove, a biologically diverse area with century year old trees, Navitat engaged an environmentalist to develop its interpretive program. A recent guest said, "You see it in a different way when you're actually up in it, rather than just looking up at it."
If Asheville is too far flung for you,  check out this robust
list of canopy tours
. More than forty have sprung up all around the country.
navitat Canopy Adventures
from
kurt mann, americangreen.tv
on
Vimeo
.