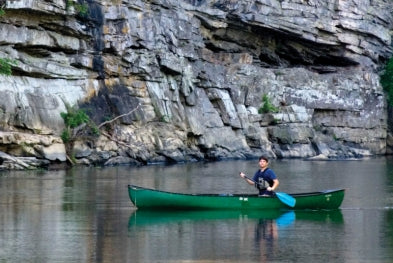 Wilderness is a privilege, not a right. If you ever doubt it, look at Southern Environmental Law Center's (SELC) 2010 list of Top Ten Endangered Places. From whale calving grounds off Georgia's coast to coal decimated tracts in the Appalachians, the South's most pristine places are under threat.
Coal damage is, of course, legendary. SELC named one specific affected area, Alabama's Black Warrior River, but it also included a sweeping listing for VA/TN Mountains.
The problem is that big. Mountain top removal has now taken more than 500 mountains and damaged or destroyed more than 1,500 miles of Appalachian streams, according to Federal estimates. While everyone supports the hard working folks who feed their families by mining, this destruction must be stopped. It's creating a wasteland out of some of the most biologically diverse and scenic land in the world.
As if coal wasn't enough of a problem, we also have to fight asphalt. The Ocoee Region in Tennessee is well known to whitewater buffs. Its gorge was home to whitewater slalom events in the 1996 Summer Olympics. It is surrounded by pristine wilderness that apparently wouldn't be complete without a highway.
Since God was a boy, there's been talk of linking Chattanooga and Asheville with an unbroken chain of four-lane highways. Tennessee's transportation department is taking another look at the plan, which would run right through the Ocoee Region. According to SELC, it would "devastate wildlife habitat, send polluted runoff into clear-running streams, and take a huge and unnecessary bite out of taxpayers' pocketbooks." Alternate routes are being considered, but they aren't much better. One lays miles of asphalt through the middle Cherokee National Forest. Another would cut almost 3,000 feet of tunnel under the Snowbird Mountains. SELC is taking a bold stance, suggesting that the road's economic and environmental damage might outweigh its return.
ROI really is the measure. Government, big business, whoever makes decisions about wilderness areas, they want to know the return. That is their responsibility. Our responsibility as concerned citizens, as stewards, is to expand what ROI means. It is not the fast profit, the short term gain. True ROI accounts for economic opportunities that are lost, not just the ones created; health risks to ourselves and our loved ones; and also the impact we make on living creatures that can't speak for themselves.
Luckily, you can speak, and I hope you do. Support the work of SELC and keep the lines to your elected reps hot. Your action really does influence what happens to Dixie's most endangered places.