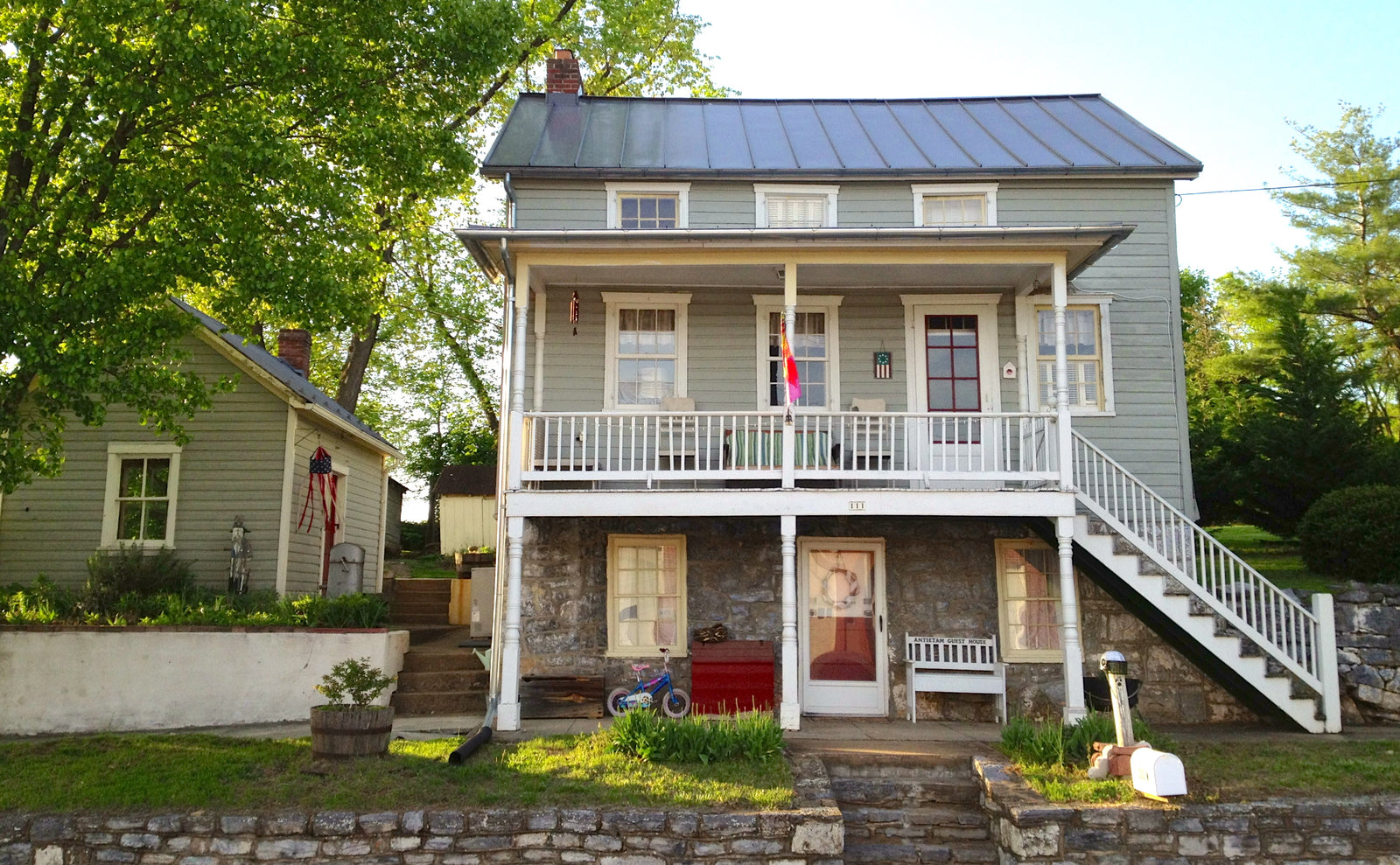 When I can't find anything nice to say about DC--and there are those days--I tell people that it's a great city to escape. Within a two hour drive, we have funky towns like Baltimore and Richmond; the broad, crab-filled waters of the Chesapeake Bay; and, of course, the hills and hollers of my homeland.
With all these options, it's sometimes tough to pick a getaway. (I know--such a first world problem.) But when it came to our anniversary weekend, we knew exactly where we wanted to go.
Ryan and I had been to Shepherdstown just once together. It was four years back, but ever since, we've talked about meandering through West Virginia's oldest town and an outstanding pancake breakfast we had there.
We thought our fifth anniversary was the perfect excuse to go back, and I figured that, since a historic university all but defines the town, we'd find a slew of B&B and rental cottage options.
Click. Click. Click. 
It's amazing how quickly you can discover you're wrong these days. A Web search revealed that people who own houses in this charming hamlet have little interest in renting them to come-and-go weekenders, and there's just one B&B. It was fully booked.
[caption id="attachment_8224" align="alignright" width="244"]
A Potomac View from the C&O Canal.[/caption]
While shaking my fist at the town's property owners, I expanded my search and, within minutes, was glad I did. Just four miles away, the
Antietam Guest House
, an 1856 beauty named after the nearby battlefield, was ready and waiting.
When we pulled into the house's lot, the first thing I noticed was that it backed against a cow pasture. This wouldn't be so unusual, except that it was also just one block from the town's main street. You can't find a better balance of town and country, I'd say.
We entered through the house's back door and inside, discovered charm galore. The transom over the front door was filled with old, brightly colored glass. A stone outcropping, presumably a natural part of the landscape, defined one wall of the finished basement. And at the top of the steep Victorian stairs, waited an intimate sitting area full of local books.
[caption id="attachment_8226" align="alignleft" width="232"]
Crab cake at Captain Bender's.[/caption]
It was tempting to wile the entire weekend at Antietam Guest House, but we had a town to explore...two actually. Over the course of the next few days we kept the four miles between Sharpsburg and Shepherdstown hot, running back and forth, holding our noses when we passed what we believed to be a pig farm, stopping at an estate sale, and finding new favorites places that we're excited to share with you. If you've been to either of these towns, we hope you'll to tell us your favorites too!
*
Captain Bender's Tavern
: Our first night started with an hour and a half drive from DC, and we didn't feel like getting back behind the wheel. For dinner, we walked through sleepy Sharpsburg to a local eatery, picked largely because I liked the old-time sign out front. Inside, the bar was quiet, a few locals talked low at their tables, and as it turned out, the sign was the most interesting part of the decor. We settled in an understated dining room, sure they had bourbon and Coke. Beyond that, our expectations were low.
[caption id="attachment_8227" align="alignright" width="222"]
Mecklenburg Inn.[/caption]
We ordered clam chowder to start. After living for eight years in Boston, I know a little about this dish. If it's too soupy, it's broth not chowder. If it's short on clams, then you just feel cheated. Imagine my surprise when a mug of thick chowder landed in front of me with clams literally poking from the top. It was pipping hot and seasoned with something I still can't place--Old Bay maybe. Whatever it was, it gave the chowder just the perfect bite, a new flavor and something I never experienced in New England. This followed by more surprises--perfectly fried pickle chips, a crab crake with a lot more crab than filler, and crispy, golden onion rings. All told, it was an easy, tasty inaugural meal.
Click here to read the full report.
Nutter's Ice Cream
: A block away from Bender's Tavern, we stumbled across the local ice cream parlor. Like Bender's, there was zero pretense at Nutter's, just good ice cream and happy locals eating it. After plates filled with deep fried goodness, I figured some light peach yogurt was the way to go. Though guilt free, it was creamy and really peachy, and the "small" scoop was big enough to go in the freezer and last for two nights.
Mecklenburg Inn
: Best known for its live music and nighttime scene, we stopped at Mecklenburg Inn (affectionately known as The Meck) for lunch one sunny afternoon. It was quiet at mid-day, and, at points, we had its picture perfect back patio all to ourselves. Our basic bar food--grilled cheese for Ryan and a hot dog for me--couldn't have tasted better than it did in our garden nook, surrounded by an array of plants and big trees. The largest of them, in the far back, had a two-seater swing hanging from a massive limb. While we didn't make it back after dark, I imagine this is the perfect spot to snuggle with your honey, a beer in hand and live bluegrass wafting through the leaves.
[caption id="attachment_8228" align="alignleft" width="160"]
Trestle over the Potomac.[/caption]
C & O Canal
: Did I mention that the Potomac River runs alongside Shepherdstown? Wide and slow flowing, it defines the line between West Virginia and Maryland, and it's bordered by another channel, the now dry C&O Canal. Opened in 1831, this 184 mile waterway was constructed between Washington, DC and Cumberland, Maryland to transport goods upstream. Today, the canal is a national park. A flat, even trail runs along the old towpath, which mules walked while pulling specially outfitted boats. Thankfully, all we had to pull was our dog. From time to time Beasley tried to chase squirrels down into the dry canal bed. Otherwise, it was a tranquil walk. From the path, we had a great view of the river. Old bridge pilings and languid trees gave my inner-shutterbug plenty to shoot.
Four Seasons Books
: Shepherdstown has dozens of charming shops. You can find  everything from honey made down the road to fly fishing gear to dust pans fashioned from old license plates. (Yes, you read that right.) Perhaps my favorite of these offbeat stores is Four Seasons Books. It has two stories of new and used finds, along with an outstanding magazine selection. Ryan and I spent a solid hour perusing its shelves and could have easily lingered for two more. I walked out with a copy of
Crapalachia
, which you might remember sparked great discussion on The Revivalist a while back.
Blue Moon Cafe
: After lunch at Mecklenburg Inn, we figured we'd already hit the pinnacle in patios. Imagine our surprise when we spotted the natural creek that runs through the patio at Blue Moon Cafe. Walled on both sides, the water gurgles past diners as they enjoy locally brewed beer and great eats. We took our pup with us, and the waitress was quick to bring him his own water bowl. He lapped away while we enjoyed a hot-but-not-too-hot buffalo chicken wrap and moist, flavorful meatloaf that would even get your mama's seal of approval.
[caption id="attachment_8223" align="alignnone" width="574"]
The patio at Blue Moon Cafe.[/caption]
[nggallery id=shepherdstown]