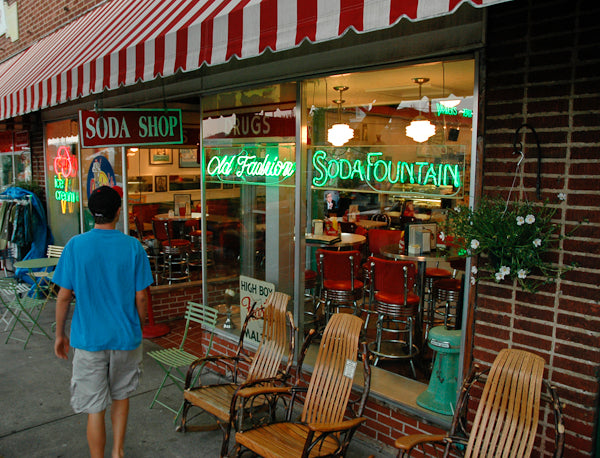 Budget Travel wants to know
the coolest small towns in America
, and our mountain brethren in Brevard, North Carolina have made the short list. Competing against twenty other towns, Brevard is currently in second place. Only Ely, Minnesota has more votes.
[caption id="attachment_775" align="alignright" width="240"]
Rocky's Grill and Soda Shop[/caption]
Never been to Brevard?
Me neither, but thanks to Google Maps and Carolina" href="http://brevardnc.org/" target="_blank">Heart of Brevard, I feel like I have. The adorable downtown is chock full of quirky establishments--an old theater called the
Co-Ed
, an
arts cooperative
, 
a gallery in a fire station
.
Its town maskot is even a little odd. The locally celebrated white squirrel has inspired
a store full of chachkies
and
an annual festival
.
Budget Travel says that it wants to highlight edgy towns--"think avant-garde galleries, not country stores." Brevard's got that covered and then some. In addition to its burgeoning arts scene, it also abuts the
Pisgah National Forest
. Just minutes from the town center, the park boasts 250 waterfalls and some of the largest swaths of old growth forest in the South. Take that Ely, Minnesota!
It's time we show the nation that mountain people actually do know how to use computers and that we stick together.
Vote now!