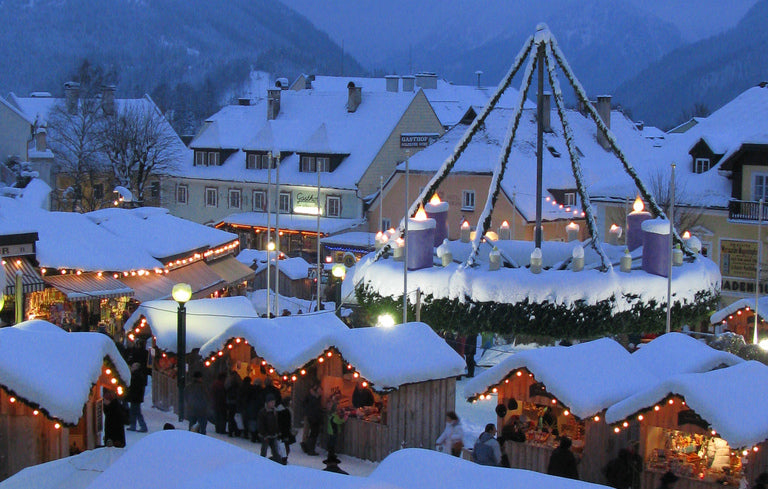 The end of November is a great time to go to Europe. Flights are cheap. Tourists are scant. And one of the continent's best traditions—Christmas markets—are in full swing. From Hamburg to Zürich, town squares are transformed into winter wonderlands with every imaginable ball and bauble on display in greenery draped stalls and the Euro-version of state fair food making everything smell truly scrumptious.
Sidenote: At a Christmas festival in southern Germany, I once ate some kind of sausage patty on a bun that still infiltrates my dreams. If you can find one for me, I'll declare you my new best friend.
With Germanic origins, you'd think these kriskindlmarkts, as they're called in their motherland, might have made their way to Appalachia. Germans poured into the region throughout the 17th and 18th centuries, settling in Virginia's Shenandoah Valley and further south in North Carolina. In fact, the first European known to have seen Virginia's longest valley was John Lederer, a German who, at the behest of the colony's governor, crested the Blue Ridge Mountains in March of 1669.
While German immigrants aren't as well-remembered as their Scots-Irish neighbors, they did leave their mark on local culture. Anyone who has seen a v-notch in an Appalachian cabin or listened to a dulcimer can attest to their influence, and now German-Appalachians can add their beloved kriskindlmarkts to the list.
In November of each year, a lumber mill in Clifton Forge, Virginia is transformed into a traditional kriskindlmarkt, complete with Christmas wares — everything from handmade gifts to holiday decor — and German food.
If you're in the area, swing by. While browsing the stalls you can swig a little gluhwein, a traditional mix of red wine and cider with spices, and get some quality time with Father Christmas, who will be decked out in old world garb to entertain the kiddies.