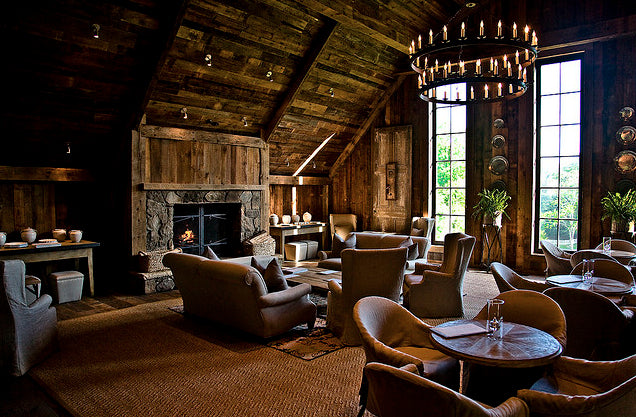 Thank heaven for Appalachia's hillside cabins and backwoods B&Bs. I've spent many happy weekends on their creaky porches, gazing across working farms or tree covered parkland with flip-flops on my feet and a sweating glass of iced tea in my hand.
These everyday rentals are a regional mainstay and perfect for a moderately priced getaway. At some point, though, we all want to splurge. Maybe you're celebrating an anniversary, a promotion, or a birth, or maybe you just love someone to pieces and want him or her to feel special. You need a luxury experience, and luckily, you don't have to look far to find one.
Right in the Appalachians, we have world class resorts and hotels that merge the unsurpassed beauty of our mountains with first-rate amenities, like five-star dining, palatial grounds, and globally recognized design.
Here are my top hotels and resorts in the region. Some are stalwarts that harken back several centuries. Others are upstarts that take their cues from the locavore movement. Together, they remind us that you can have your mountains and a little pampering too.
Blackberry Farm is a simple name. It could work equally well for a working farm or a company that makes jelly in small batches. It's an unlikely name, however, for the number one resort in the Continental U.S. and Canada. Travel & Leisure bestowed this honor on Blackberry Farm last year, rating it higher than many older, better known competitors.
Photo provided by Dieter Weinelt.
It's easy to see why. It has 4200 pristine acres, a chef, a master gardener, a baker, a cheese maker, a forger, a butcher, a chocolatier, and a sommelier. In spite of all of that, Blackberry Farm remains down to earth. It serves dinner in a converted barn and tweets things you'd expect to hear from a neighbor down the road:
"Storm took out our phones last night. Send us a message, post here or email...if you need us!"
This blending of down-home and upscale works. In fact, it's a very timely kind of elegance--the elegance of simple living.
There are no chaise lounges here. Guests relax on ladder-back rockers and many help in the garden during their stay. While the grounds are beautifully kept, this is a functioning farm, the kind of place where you can get dirt under your nails in the afternoon and have someone help you clean it out in the evening.
The Inn at Little Washington is steeped in history. It is the centerpiece of a village that dates to 1749 and boasts a street pattern laid out by George Washington.
The inn's kitchen. Photo provided by Wally Gobetz.
Though founded in the 1970s, the inn feels much older due to an inspired mix of antiques and new furnishings. It was decorated by British set designer Joyce Evans. Her flare for the sumptuous shines in every room and in quotes like this--"Never use one William Morris print in a room when five will do."
More than its history or decor, The Inn at Little Washington is known for its food. Patrick O'Connell, the inn's co-founder, likens every meal to a performance, full of surprises, subtle turns, and emotion.
His sensuous feasts and a twenty-five year commitment to local products have earned the restaurant a heap of accolades, including five-star ratings from Mobile Travel Guides and AAA.
When speaking of O'Connell, former Virginia Governor Mark Warner has said, "Not since Thomas Jefferson first brought tomatoes to Virginia and the New World has one man created such interest in the culinary arts."
The grand dame of mountain resorts, the Greenbrier opened it doors in 1778 and has hosted distinguished guests from around the world. The Washington Post says that its palatial white exterior "rears up like a Federal Reserve bank in the rough foothills of the Allegheny."


A Greenbrier carriage. Photo courtesy of The Greenbrier.
While the building is in the mountains, there's nothing country about it. From its soaring columns to its ten exquisit lobbies, The Greenbrier is the definition of elegance. It offers every amenity you can imagine and maybe even a few that you can't.
In addition to the requisites--an 18 hole golf course, a world-class spa, and skeet shooting--you can learn falconry, go on a carriage ride, tour the resort's legendary cold war bunker, shop at it's twenty-nine onsite stores, dine at one of its thirteen eateries, or play games at what The New York Post calls "the most beautiful casino in the word."
When you register at the Greenbrier, you gain access to a private village that celebrates its own storied past and meets your every need. Soon you'll be able to get there in unsurpassed comfort. This summer, the Greenbrier Presidential Express will begin running rail service from DC's Union Station to the resort.
The train's vintage cars have been outfitted by Dorothy Draper, the renowned designer behind the resort's signature interiors. According to an article in Washington Life Magazine, tickets will start at about $650 round trip and the excursion will feature valets and a wet bar in every car, a hotline to the resort's concierge, and an onboard nurse should the overload of elegance give you palpitations during your six hour ride.
Across the border from the Greenbrier, you'll find its predecessor in mountain gentility, the Homestead. This Virginia gem was established in 1766. It grew up around the area's famed sulfur springs, which were popular with Native Americans for thousands of years before Europeans arrives. The springs' medicinal properties have attracted a string of famous names.

In the President's Lounge, you can view portraits of the twenty-two U.S. Presidents who have visited the resort, starting with George Washington and running through Bill Clinton; if you're a fellow, you can soak in the same historic pool house as Thomas Jefferson (ladies have a separate house); and you can learn this venerable resort's full story by taking its signature history tour.
Today, The Homestead is emerging as a premiere spot for family vacations. It already has a family game center and The Homestead KidsClub, which offers supervised activities for children ages 3 to 12. This summer it will unveil an 18 hole mini-golf course and Allegheny Springs, a two acre water feature that includes three large water slides and a 400 foot manmade river bordered by sandy beaches, a gazebo, and impeccably designed sitting areas.
If only for a weekend, you can live like the New World gentry. At Keswick Hall, you're invited to walk with the hounds, play a spirited round of croquet, and enjoy an Orvis-branded fly fishing excursion. What's more, you'll do it on the grounds of an 8000 square foot Italianate mansion.


Keswick Hall Entrance. Photo provided by Keith Jenkins.
Built as a private home in 1912, the house has passed hands many times. By the late 1940s, it had been converted into a country club, and later, it was deserted. It stood derelict with broken windows for many years. Referencing this period, a local author called it "Charlottesville's pre-eminent haunted house."
That's far from the case today. After an astounding restoration and expansion, it is now a premiere hotel with an Arnold Palmer Signature 18-hole golf course and a luxurious spa. In 2011, it was named one of the "Number 1 Top Small Resorts in the Mainland USA" by Condé Nast Traveler.
If you visit Keswick Hall, be sure to pick up a copy of the new book The Story of Keswick Hall. It chronicles the manor's history and will be the perfect accompaniment to afternoon tea in Villa Crawford, the original residence and heart of this grand estate.
Bonus Getaways
While these other first-rate destinations didn't fit in the top five, they're just too good to leave out entirely.