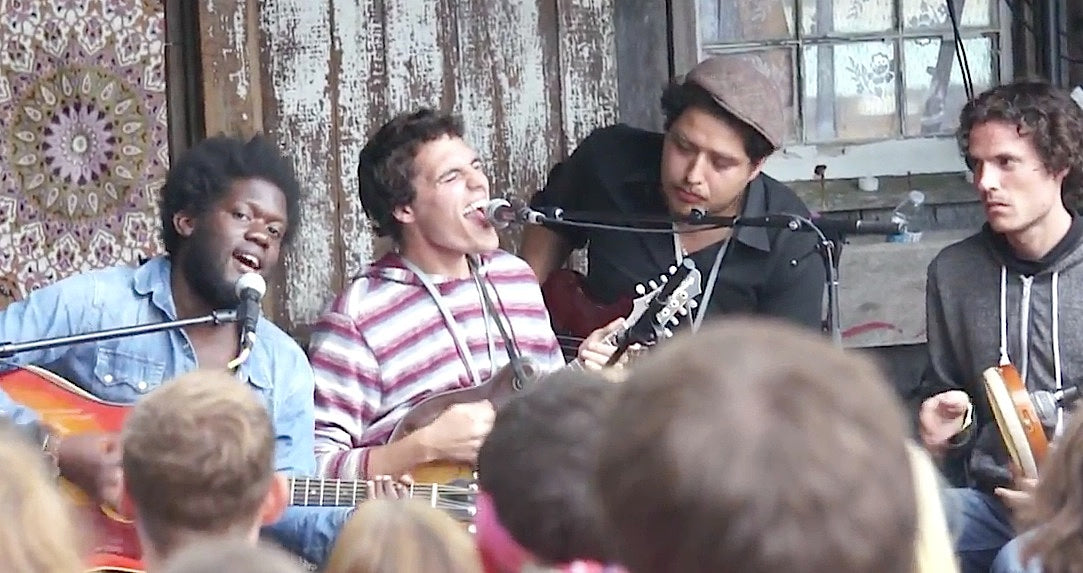 In the heart of bluegrass country, a super-sized festival has taken root. Centered around the arts and music haven of Floyd, Virginia, the aptly named FloydFest is now in its twelfth year, and it's drawing some of the biggest names in the unplugged scene.
Edward Sharpe and the Magnetic Zeros. Old Crow Medicine Show. Rising Appalachia. They all steered their tour buses to Southwest Virginia a week ago and were greeted by somewhere near 20,000 fans. (Organizers are still counting.)
Given my druthers, I would have been right there in the throng with my folding chair and beer cozy, but alas, I have a finite number of vacation days. While music lovers were jamming in the Blue Ridge, I was manning the office 5-x-5 and listening to my own little honkfest from traffic outside my window.
I suspect I'm in good company. If you didn't make FloydFest either, don't despair. You can still catch the best of the event thanks to the interwebs. YouTube has surfaced some downright amazing tunes. Which is your favorite? And what would it take to get you to FloydFest next year?
*
Old Crow Medicine Show, "Wagon Wheel": The only song I know that mentions my hometown of Roanoke. Fittingly, it's rhymed with "toke."
http://www.youtube.com/watch?v=MbEyIvKKUxc&feature=related&nomobile=1
Edward Sharpe and the Magnetic Zeros, "Home": Lead singer Alex Ebert drums up some of the best audience interaction I've ever seen.
http://www.youtube.com/watch?v=rZO_xafpz4w&nomobile=1
Rising Appalachia, "Swoon": The gals from Asheville woo the crowd with their sensual world beat.
http://www.youtube.com/watch?v=VhgmRQ2pUDg&feature=relmfu&nomobile=1
Michael Kiwanuka with The Boston Boys, "Sitting on the Dock of the Bay": Never heard of these fellas, but they do Otis Redding proud.
http://www.youtube.com/watch?feature=related&v=7iva-vQhDkw&nomobile=1