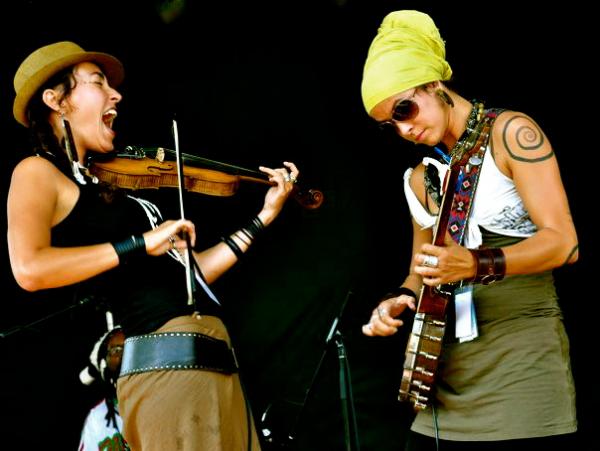 You better watch out. Sisters Leah and Chloe Smith have turned music into a weapon. Under the moniker
Rising Appalachia
, they are tearing across the country and around the globe in a bio-fueled bus, schooling everyone they meet in the ways of progressive mountain music.
With banjos, fiddles, and washboards in tow, they have travelled from their home base in Asheville to Italy, to Scotland, through the Caribbean, and across Latin America. Everywhere they play, they raise awareness of Appalachian culture and, at the same time, pick up musical tid-bits that they add to their melodic stew.
Check out this clip:
[youtube]L-16VK4dwuI&feature=related[/youtube]
Notice how their Appalachian core is clear from the start. Then the Smith sisters and their friends layer in African rhythms, performance art, tribal adornment, and lyrics in a language that I can't quite name. It all comes together to make this swooning mountain worldbeat hybrid, a truly original mash-up.
Let it be known, that their inclusive sensibility doesn't end with music. These women have a broader social mission. They teach it in schools, share it in workshops, and name it on their Website:
"Rising Appalachia is a genre-bending force of sound that uses vocal harmony, lyrical prowess and diverse artistic collaborations to defy cultural clichés and ignite a musical revolution..."
Make no mistake about it, homogeny is the enemy, and we should all be warned; Rising Appalachia isn't taking prisoners.