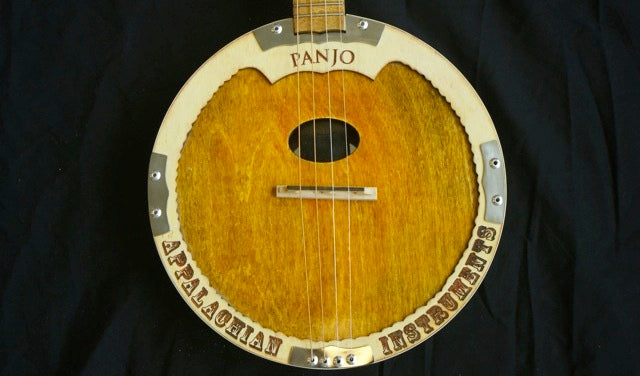 You might want to lock the cupboards if Lanny and Barry Smith visit your town. This father son duo is hunting down good cake pans and turning them into old time mountain instruments. Their creations--
the Panjo and the Pandolin
--are beautiful and handmade. They draw on father Lanny's experience as an expert woodworker and son Barry's skills as a bass musician.
They created the first versions of the Panjo about a year ago, says Lanny. "We refined it probably ten times since then," he adds.
In his Chattanooga workshop, the 75 year old Lanny crafts each instrument, hand carving the headstock and neck, assembling all of the pieces, and even manually adding the company's signature stamp onto each cake pan. He emphasizes, "No machines are used."
The Smith's products are quirky, but they aren't just novelties. The instruments produce a beautiful, old-time mountain sound, and they are being road-tested by none other than country music star Brad Paisley. While Paisley hasn't officially endorsed the Panjo or Pandolin, Lanny says that he and his son provided several custom instruments for the musician's current tour.
Want a Panjo or Pandolin of your own?
You're in luck. Just last week, the Smith's launched a
website
where you can see more images of their kitchen-raiding custom creations and contact them with your order. The going rate for Panjos is $395. Pandolins run a bit more at $495.
Alright musicians, what do you think? Are you ready to play a cake pan in front of a crowd? Have you ever turned household objects into musical instruments? if so, tell us about your favorites.