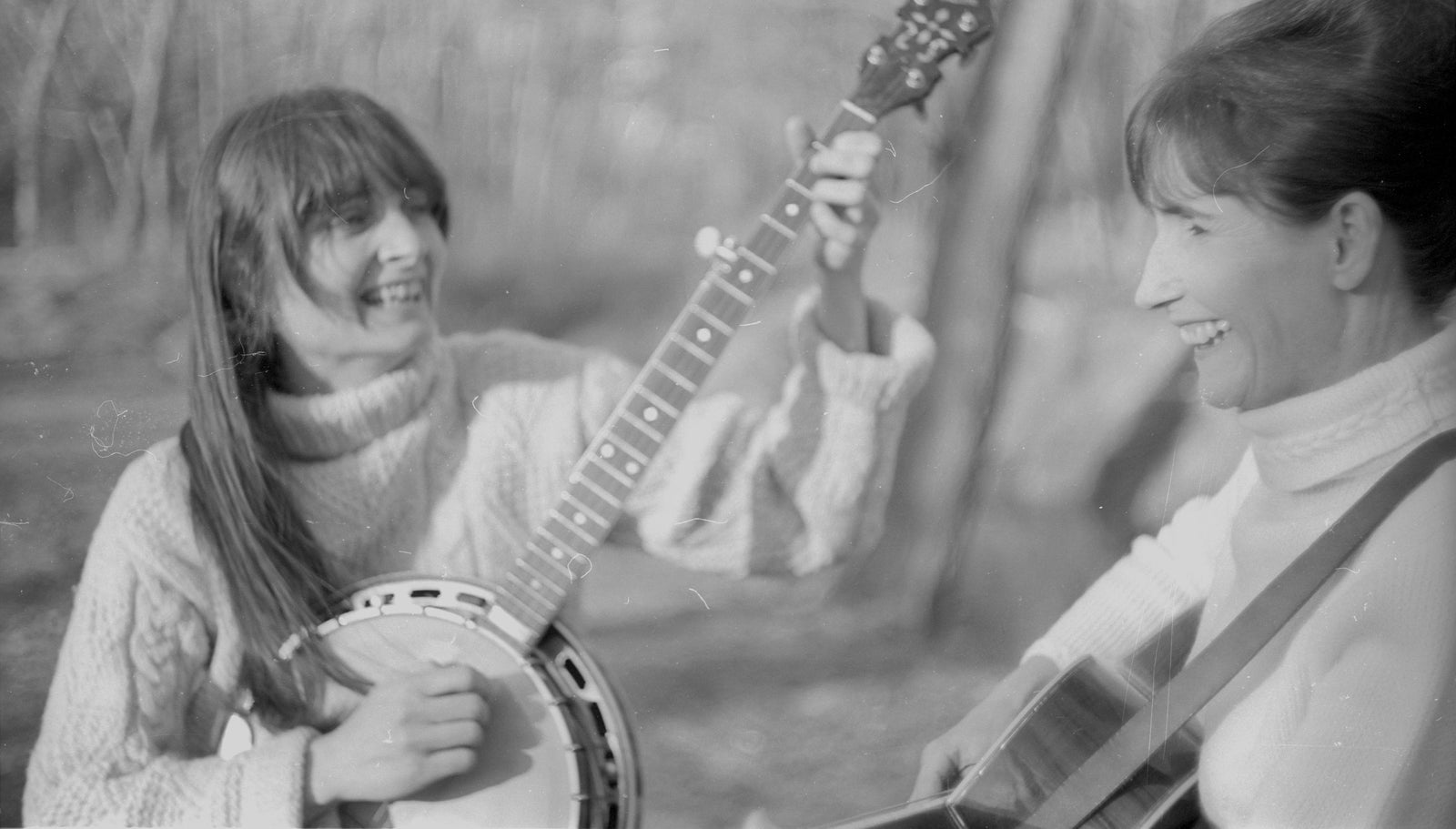 Musical legends Hazel Dickens and Alice Gerrard are revered as pioneering women in bluegrass. Their partnership directly inspired Naomi Judd, Emmylou Harris, Tim O'Brien, and even Bob Dylan. But in Baltimore and Washington, D.C. in the 1960s, they were just two women with prodigious musical talent and a shared love for the old songs of the Appalachian countryside.
The joy Hazel and Alice found playing together is captured on newly unearthed recordings—Sing Me Back Home: The DC Tapes, 1965-1969 (iTunes|Amazon), out September 21, 2018 on Free Dirt Records. Across 19 tracks, the duo sings the classic country of The Carter Family, The Louvin Brothers, and Jimmie Rodgers and even contemporary hits from the period penned by Dolly Parton and Merle Haggard.
Among them is this unique rendition of a gospel classic, sung in a way I've never quite heard.
Alice shared the below reflection on this formative period—when she was a single mother of four and Hazel was still working retail. It's so lovely, I've shared it below in its entirety.
Also, if you're near the Washington D.C. metro, you can hear more from Alice and see her perform during the album's release show on September 22 at 7:30 P.M. The event will be at my former church—All Souls Unitarian Church, 1500 Harvard Street N.W.!
Reflections on Sing Me Back Home: The DC Tapes, 1965-1969
By Alice Gerrard
"Recently, in the process of trying to clear up and get rid of some of my 'stuff,' donating it to the Southern Folklife Collection at UNC, I ran across, in the depths of a closet, a box of 7" reel to reel acetate tapes, some labeled and dated, some not. Among them were several practice tapes of Hazel and myself from roughly around 1966 when we were trying out new material. I've moved a lot since 1966 and I carried these boxes with me. Probably for a while I consciously knew I had them, and then at some point they became just a couple more boxes to move without paying attention to the contents. They did not live in temperature controlled climates, they had to endure the heat and cold, and probably the best that can be said is that I didn't play them so the acetate remained fairly intact. Until I ran across them a few months ago and decided to give a listen. Memories came flooding back, it was so many years ago, so much water under the bridge…I was surprised at how good we sounded even back then. It was a time of experimentation and creativity for us."
"These songs were recorded in my living room, probably with the old Tandberg that I still have. Lots of throat clearing, kids running in and out,  page turning, mistakes, some out-of-tuneness, both vocal and instrumental (we never used tuners back then), we stopped, we began again—we were practicing amid some chaos most of the time. At that point I was a single mom with 4 children, and Hazel was working a full time job in a retail shop."
"These recordings are not pretending to be studio quality and were certainly not meant to be distributed to the general public. I wasn't even thinking then in terms of documentation. The recordings were meant for Hazel and me to listen back to, to see how we were doing. But with encouragement from a number of friends including Hazel's nephew Arnold Lee Dickens, Laurie Lewis, Cathy Fink and Joe Dejarnette in particular, I decided there might be some interest in the music and these particular few moments in time. So take off your stereo hi-fi, pitch corrected, no-background-noise-or-distortion listening ears and give a listen. It's Hazel & Alice unplugged, un-produced, unaccompanied (except by ourselves), warts and all, wailing our hearts out."