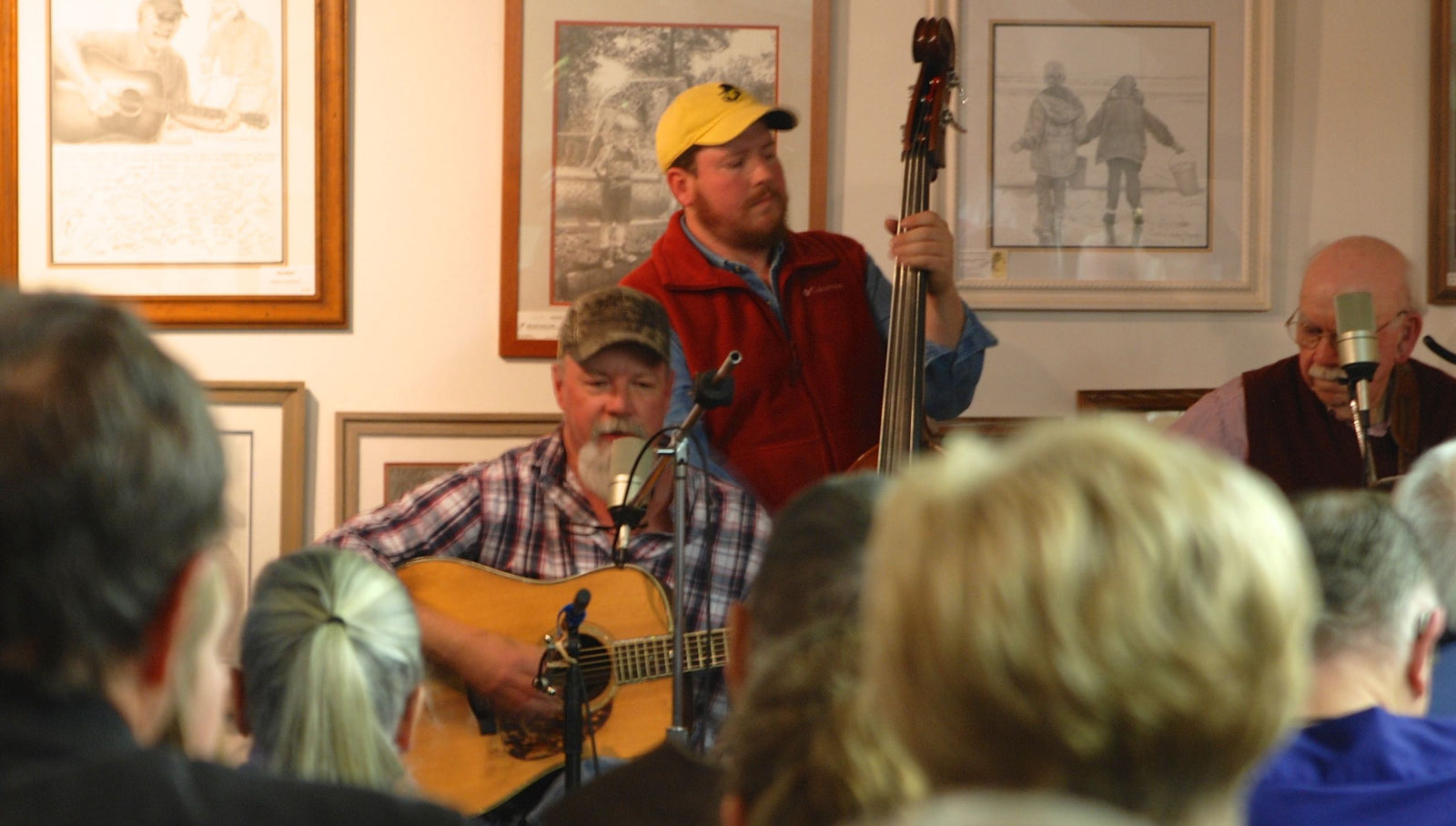 If you're an old time music fan, you know Galax, Virginia. It's no bigger than my thumb—just a few thousand residents—but home to more musical talent than five Nashville's rolled together. 
I drove down there last week, and before I even hit the town's limits, I began to see signs for performances. There was the "special preacher's choir" at Galax Pentecostal Holiness Church; gospel singing on Tuesday nights at the local Bojangles (yes, the biscuit place); and a live radio broadcast of Blue Ridge Backroads from the historic Rex Theater.
Picking and choosing would have been tough were I not visiting with one of the area's foremost guides. Joe Wilson is a self-taught folklorist, activist, and advocate for traditional arts. In future posts I'll tell you all about his amazing work, which includes leading the nearby Blue Ridge Music Center and literally writing the book on Virginia's heritage music trail. For now, suffice it to say that Joe wouldn't steer me wrong.
Our night started at County Line Cafe, a classic, roadside eatery with an overflowing parking lot and rocking chairs out front. My simple dinner was good—soft green beans, mac and cheese, and potatoes mashed thin. Desert was great—blackberry cobbler. But what really stood out was the crowd. It looked like everyone knew everyone, country folk slapping backs and traded corny jokes, and I was reminded just how sweet small town life can be.
I left the cafe in a Galax frame of mind, which was fitting since our next stop was at America's most peculiar picture frame shop. Founded some twenty years ago, The Front Porch Gallery and Frame Shop redefines multipurpose. It provides custom picture frames, of course, but that's just the start. This little shop off Route 221 also showcases the owner Willard Gayheart's sketches. Inspired by mountain music scenes, Willard, a spry octogenarian, brings legends like Doc Watson and Ralph Stanley to life on the page. His hyper-realistic drawings have won him the nickname "Norman Rockwell of Appalachia." Art, as it turns out, is just one of Willard's talents. He also plays some mean guitar, usually alongside his son-in-law Scott Freeman. Now Freeman, being from Galax where town codes seemingly prevents a building from serving just one use, uses one corner of the frame shop to teaches music students, and he converts that same space into a stage for public performances every Friday night.
(Yes, that is four uses for one tiny store. Should we pause and call Guinness Book of Records?)
By the time Joe and I arrived at the frame shop, things were hopping. Twenty plus locals had packed into the room, all sitting on folding chairs softened by rough cut foam wedges. Willard was tuning his guitar on one side of the stage while his son-in-law did the same to a mandolin on the other. Between them, local picker Steve Lewis was looking the part of a backwoods professor, complete with glasses dangling from his neck and a camo cap. As he fiddled with his instrument, a fine guitar made by luthier Wayne Henderson, Steve told yet more corny jokes:
"Why don't you ever see hippopotamuses hiding in trees? Because they're really good at it!"
The crowd howled until the music started, and then everyone leaned in, tapping their toes and bobbing their heads to expertly wraught old time and bluegrass tunes. Over the next two hours, the musicians led the kind of give and take that only works in a small space, bantering with audience members, welcoming playful jabs from the crowd mid-show, and calling friends to the stage, right up from their folding chairs, to play a tune or two.
All the while, I snapped photos. A few are below. I can't say they represent life in this Appalachian hamlet. After all, I was only there for about six hours. But I do hope they show how charming one night in Galax can be.