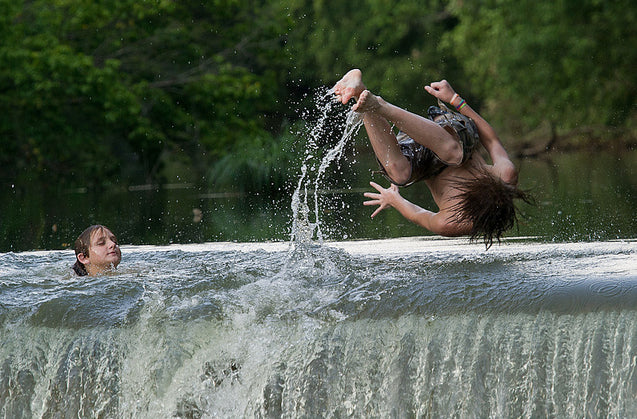 While the celestial calendar tells us otherwise, it sure seems like summer starts on Memorial Day and ends on Labor Day. These long weekends are like bookends. Between them, you find volumes. Entire stories set on front porch swings. Adventures in forests and fields. Intrigue at public pools. Love among the laurels.
Each tale has its own pacing. Some are as slow as sweat beads edging down an icy glass. Others tear through the months like a hotrod on hazy asphalt. This pace create a rhythm, and, inevitably, the rhythm begs for a song.
I think this is the essence of summer music. It should make your heart race as if you're spinning two hundred feet above a fairground, panicked about ride inspections. It should remind you of floating in the river with your eyes half shut and only the wash of green treetops in sight. It should brings back memories.
Since this is July, your summer stories and soundtracks are still taking shape. Now is the perfect time for an infusion of new tunes, music to play in the background while you're holding hands in the grass, churning ice cream, or skinny dipping; songs that will help you remember summer adventures long after January's snowdrifts set in.
*
Old Crow Medicine Show - Bootleggers' Boy
Discovered by Doc Watson some time back, Old Crow has been riling up audiences for more than a decade now. This spirited ditty is from the band's new album,
Carry Me Back
, due out on July 17.
[youtube]dxrrswX12dE[/youtube] 
Rising Appalachia - Filthy, Dirty South
Leaving it to the beguiling ladies of Rising Appalachia to break your heart sweetly and deliver an important message at the same time. Seriously, has a political song has ever sounded so pretty?
[youtube]U7rh8A-SLJI[/youtube] 
Avett Brothers - Live and Die
North Carolina based Avett Brothers will release a new album in September, but you can hear one of its peppier tunes now. The sound quality in the live video is a little rocky, but it's fun to watch. A 
studio version
is also available, and it's all spiffy and clean.
[youtube]-q6csQ762yw[/youtube] 
Whiskey Shivers - Gimme' All Your Lovin'
The mountain-kitsch band Whiskey Shivers has a new album called
Rampa Head
. This song's not on it, but I couldn't resist. It sure does capture summertime fun.
[youtube]wC6DuckeJUM[/youtube]