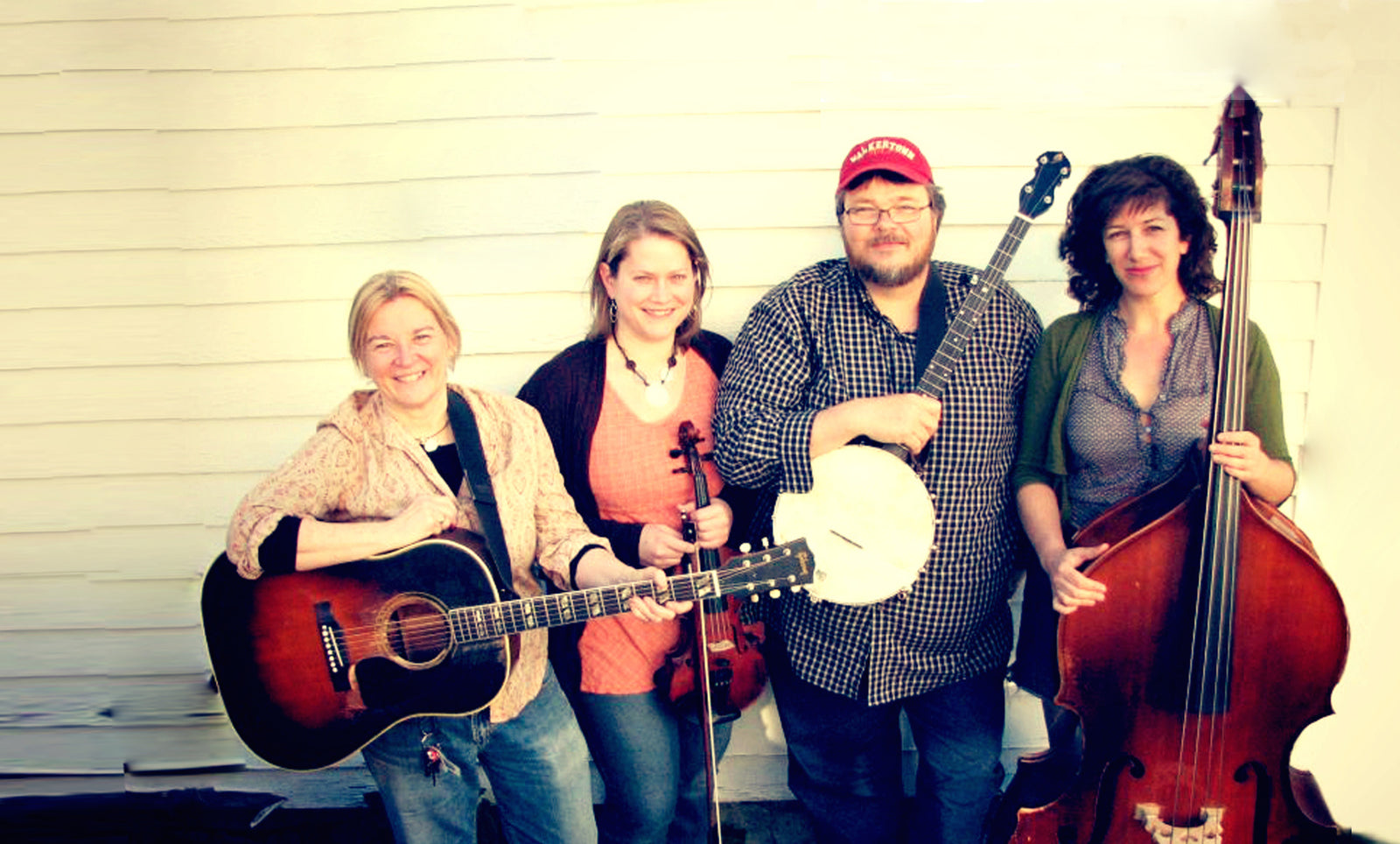 With a band name that sounds like it could be somebody's kindly uncle,
Old Buck
eased its way onto the Appalachian music scene last August, and it felt like it had always been there.  Maybe that's because the quartet blends old time and bluegrass traditions in a way that just feels right.
Collectively, band members Riley Baugus
, 
Debra Clifford
, 
Sabra Guzmán, and Emily Schaad have about a century of experience coaxing mountain tunes from string instruments. They came together at one of those edge-of-your-seat, time-of-your-life jam sessions that took flight and never quite came back down, and now, they're pouring all their skill and passion into a collection of classic tunes and a touring schedule that keeps the roads hot.
This week, Riley Baugus took time to chat with me about Old Buck and his work with music legends. A featured musician in the film
Cold Mountain
and a favorite performer for super-producer T-Bone Burnett, Riley has worked with some of Nashville's biggest names. (Hints: One has won more Grammy's than any other living artist, and another is a true
outlaw
, having been arrested for pot possession multiple times.)
Read on to learn about Riley's famous friends and how old-time music continues to inspire a sense of wonder in him.
*
TR: Riley, thanks for taking time to talk. Your band has a great sound. It's traditional old-time music but with little tinges of other stuff. What else am I hearing in there?
RB: Well, there is of course blues, which certainly makes its way into old-time music traditionally, but you probably hear smatterings of classic country, some ever so slight bits of Cajun and zydeco and perhaps some bits of Scots-Irish influence.
We, as modern players, have been exposed to many musical influences in our lives but choose to play traditional old-time music, while allowing it to breath and live and expand naturally. I, personally, am not interested in copying someone's performance of a fiddle tune exactly. The music is strong enough to stand on its own without having to copy exactly note for note, scratch for scratch, what another player has already done.
That's not to say that the influence of the older players we learned from doesn't stay with the tunes as they are passed on. On the contrary, the passion and flavor of what made you love a tune in the first place always stay with you and hopefully come out in your playing.
TR: I want to talk more about Old Buck, but first, I have to ask about Allison Krauss, Robert Plant, and Willie Nelson. I've heard you played with them and that you're T-Bone Burnett's key sideman. You even sang on the Cold Mountain soundtrack. What took you from being a North Carolina welder playing music on the weekends to being a favorite bandmate to all of these headliners?
RB: It was a wonderful experience for me each time, working with Alison, Robert and Willie. I wouldn't say that I am T-Bone's key sideman, but I do appreciate the fact that he has seemed to enjoy working with me.
It all started with
Cold Mountain
. Dirk Powell was the musical coordinator for that project, and he and I have played together since we were teenagers. Dirk had told Anthony Minghella and T-Bone how cool it would be to have banjos from North Carolina in this film. He asked if I could send them one to look at.
TR: Send them a banjo you crafted by hand? You make them right?
RB: I do make some of my own instruments. I make primarily banjos. They ordered three, exactly alike, circa 1850, with a home made sort of look. Before I was finished, Dirk called and said they needed someone to be Pangle's singing voice.
TR: And Pangle was a character in the film who played banjo. That's fitting!
RB: Right, so I sent them a CD, and they called back saying that I had the part. I went out to Nashville to the recording sessions. In one, Anthony Minghella said that there was a rumor on the internet that I was playing banjo for the
Cold Mountain
soundtrack and that we shouldn't have it be a rumor. He got me to play on some of the underscoring in the film too.
Until this point, I was a weldor/blacksmith in North Carolina, playing music on weekends and making banjos in the shed out behind the house. Once
Cold Mountain
came out, there was touring and TV specials and great publicity.
T-Bone called me back after the Great High Mountain Tour—the tour of music for
Cold Mountain
and
Oh Brother Where Art Thou
—and asked me to be part of the Alison Krauss/Robert Plant recording
Raising Sand
. That too was a really fun experience. It was great to get to work with Alison again after doing
Cold Mountain
and getting to spend so much time with her. Robert was a pleasure to work with as well. He was a great fan of traditional music.
A little while later, T-Bone was starting a project with Willie Nelson—a recording of classic country songs from the 40s, 50s and 60s. T-Bone again asked me to play banjo. We ended up touring for a bit with Willie. It was a great band of all Nashville bluegrass/Americana players. I learned more about music in the short time I worked with Willie and T-Bone on this project than I had learned in the 20 years prior.
TR: What an amazingly rich set of experiences, and I'm just floored that you make your own instruments. Do we hear any of them on the Old Buck album?
RB: Yes, on the Old Buck album, I play number 006, which I made back in 1996. It has been with me for quite a while now and is my favorite instruments to play.
TR: Since the album was released last summer, how has it been received?
RB: Old Buck seems to have become a quite well received band. We have been doing as much touring as our schedules allow, and we continue to get hundreds of requests for the recording.
TR: What is the band up to nowadays? Any upcoming shows that folks can catch?
RB: We recently did a tour, starting in Cambridge, Massachusetts and worked our way down to Rockville, Maryland, to the Institute of Musical Traditions. We are scheduled to be at
Pickathon
in Oregon this summer, as well as at the
Ashokan Southern Music Week
in Olivebridge, New York, and we are building other touring dates as well. We're always putting together new music, drawing from our musical love and knowledge. We're looking forward to more touring and perhaps even another CD sometime soon.
TR: Before we finish, I know you're a mountain boy by birth, and I have to ask—what first drew you to old-time music?
My father and mother came from Alleghany and Surry Counties in the Blue Ridge Mountains of North Carolina. They are country people who lived simply, and the music they enjoyed was country. At around 15 years old, I went to visit Tommy Jarrell up in Mount Airy. Tommy was in his 80s and a great old-time fiddle and banjo player and singer. It was a Saturday afternoon, and there was a gathering of people at Tommy's house, all there to play music with this wonderful and fascinating old man. I knew then that I had found the music that was to be my focus, the music that would transport me to ancient times. Traditional ballads and old modal tunes always made me imagine what the world was like one or two centuries earlier. Just talking about it now, I get that same feeling of mystery and wonder and hopeful optimism.
https://www.youtube.com/watch?v=CRrrYcoNHz4#t=11