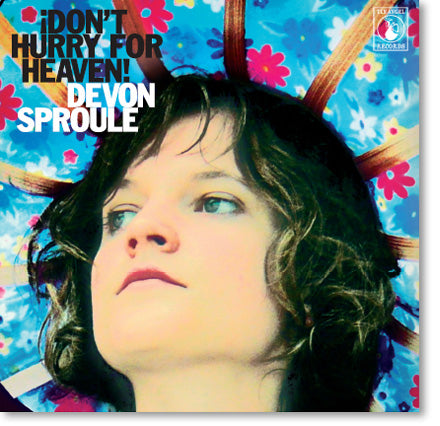 Have you ever been walking in a tall grass field, looked down and had to blink over and over because you'resurprised to see a new copper penny half buried in the soil?
That's what it's like when you first see
Devon Sproule
. She is a glimmering young songstress, a stunner from Charlottesville.
[caption id="attachment_1361" align="alignleft" width="264"]
Sproule's latest album: ¡Don't Hurry For Heaven![/caption]
Check out the below clip to see what I mean. Watch how Sproule's head tips back while she sings. Her face shows bright and clear as she lilts through her ode to the Blue Ridge--"Old Virginia Block". She bounces and scrunches her nose, uninhibited, happy, clearly loving her song. Even on stage, she looks like she's awash with warm summer sunshine.
Maybe it's because she was raised on a Virginia commune with an extended open family of 100 people or so. Maybe it's because she met her soul mate, fellow musician Paul Curreri, when she was eighteen years old and he jumped on stage during her live performance. Whatever inspires Sproule, she creates songs that are filled with melody, image drenched lyrics, and an unabiding love for her home state.
She slips in references like "Blue Ridge brick in an almond shade" and creates lovely countryside imagery, including a line about apples that are "rosy from just the weather". In the final track of her new album--
¡Don't Hurry for Heaven!
-- she even declares "I can't live any place but Virginia".
Sproule casts our shared homestate in a fresh light. It is young and hopeful, maybe a little romanticized, but isn't that what home is all about?
For her, it's clearly a place worth missing. She recently spent more than a year recording and touring in the U.K. On "Ain't That the Way" she sings...
I asked God for a good job.
He put me on a plane.
All the people that I love,
the people that I'm from,
are far away.
Listening to those lyrics, it sounds as if the Blue Ridge might be Sproule's penny in the field.
Do you like Sproule's tunes? Have you had a chance to see her live? Comment below and let us know what you think.
[youtube]XsjWSHj6YQc&feature[/youtube]