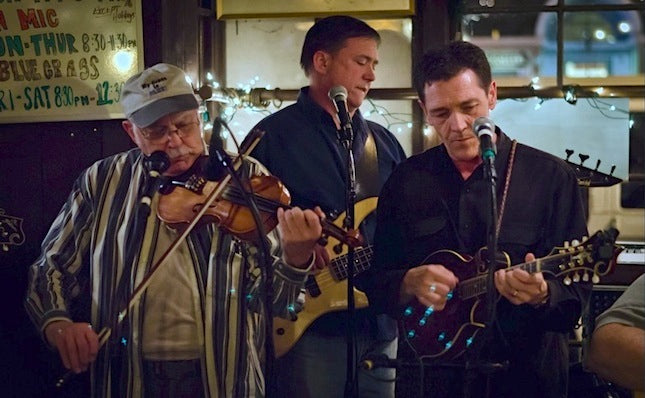 What do you picture when you think about Washington, DC? Out of touch politicos? Conniving K Street lobbyists? CIA operatives coming up with wacky plans to free hostages in Iran?
As a DC resident, I'm here to tell you, yup, yup and (much to Ben Affleck's delight) yup. We manage to fulfill every political stereotype and movie plot line ever thought up, but DC is also a functioning city where real people live. We shop at Costco, struggle with our bills, go bowling—all the normal stuff—and a surprising number of us really dig bluegrass.
You wouldn't picture it would you? A bunch of bureaucrats sitting on hay bales, clapping along to The Seldom Scene?
But it happens. I've heard that bluegrass got its start here when migrants swarmed the District post World War II. Seeking jobs, people moved from surrounding areas, including the nearby Blue Ridge Mountains. Those that had them, brought albums from Bill Monroe & His Blue Grass Boys, which was a new band then, and the seed was planted. Over the next thirty years, bluegrass grew by leaps and bounds.
The Washington Post
says that, by the 1970's, DC. was arguably the center of the bluegrass world.
Living here, I'm not too surprised. Every club seems to have a bluegrass night, and many restaurants host a bluegrass brunch. We even have our own 24/7 radio station dedicated to the genre, which makes it easy to stay in touch with your mountain roots when you're in our nation's capital.
Below are some of my favorite bluegrass haunts, but I'm sure I've missed something good. Leave a comment below about your preferred bluegrass venues, bands, picking sessions, or players in and around DC.
*
Bluegrass Country 105.5 FM
: Since I listen to it daily, I have to start the list with this homegrown radio gem. Operated by WAMU, a public station out of American University, 105.5 plays bluegrass and old time music 24/7. The best part is that you don't have to live in DC to hear it. You can listen online from anywhere in the world.
[caption id="attachment_7401" align="alignright" width="232"]
Poster for 2012 Kingman Island Festival.[/caption]
Tiffany Tavern
: The Washington Post has called it "the area's best bluegrass venue." I used to call it my neighborhood watering hole. I lived around the corner from Tiffany Tavern for years and would meander down after 9 pm on Fridays or Saturdays. That's when the bluegrass bands get started. If you go, order a slice of their tasty apple pie and try to snag a seat upfront. You can get within two feet of the lead singer and munch while people of all ages tap their toes and sing along.
FireFlies
: With a permanent stage and upright piano right in its front window, this restaurant is committed to music, and it should be. The house band, Big Hillbilly Bluegrass, has put this off-the-beaten path eatery on the map. Fans flock to the charming Del Ray neighborhood every Sunday for FireFlies famed bluegrass brunch.
Kingman Island Bluegrass and Folk Festival
: Held on one of DC's lesser known nature preserves--Kingman Island--this annual event attracts both bluegrass bands and a bevy of food trucks, serving everything from lobster rolls to Dogfish Head beer. While the 2013 list hasn't been released yet, last year's line up included King Street Bluegrass, Patuxent Partners, Split String Soup, Hollertown, and By and By.
Everything Else
: You can find out when bluegrass is coming to dozens of other venues by clicking on DC Bluegrass Union's calendar. (Yes, the town has its own bluegrass union. I told you it was big here!) On the site, you'll also find a list of local bands, event photos, and membership info.
*
For more stories on Appalachia's influence beyond the region's borders check out the "Appalachian Influence" series on the right.