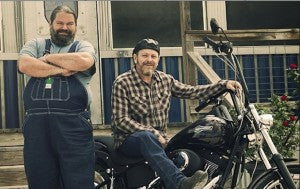 [caption id="attachment_6610" align="alignleft" width="310"]
Katie MacIntosh developed "Hairy Bikers" for HISTORY.[/caption]
Have you ever told your more peculiar friends or relatives "you should have your own show"?
Well, here's your chance to help them out. Katie MacIntosh, casting director at the agency
Mac Worldwide
, is looking to build a new documentary series around interesting mountain folk. She needs people who march to their own Appalachian beat. Maybe they live way off the grid. Maybe they're part of a quirky family. Maybe they run an unusual business.
"Our goal is to show the diverse and unique world of Appalachia," Katie explained to me. "The pride and flavor of a people."
She went on to compare her concept to what she sees when she reads The Revivalist. "I love how you mentioned in your blog that Appalachians have their own language, their own food...that's exactly what we want to tap into. Those who almost live by their own code."
Now, we all know that there've been wide ranging portrayals of mountain people--everything from crazed hillbillies in movies like
Deliverance
to attempts at real authenticity in HISTORY's recent series
Hatfields and McCoys.
[caption id="attachment_6616" align="alignright" width="141"]
Katie MacIntosh, casting director at Mac Worldwide.[/caption]
When emailing with Katie, I pointed this out and explained that stereotypes about our region have a real impact. I asked, point blank, where she fell on this spectrum.
Here's how she responded--"I absolutely understand where you are coming from regarding the media...We are not out to reinforce any undue stereotypes. We respect the Appalachian region and its people and hope to be able to peel back the layers of the fascinating lives that many of the people lead."
As points of reference, she noted other shows she's developed. Her series
Lovetown USA
airs on The Oprah Winfrey Network. It unites the entire town of Kingsland, Georgia behind a single goal--to help eight singles find true love in their own backyard. She also developed
Hairy Bikers
for HISTORY, in which two food-obsessed, wooly-faced bikers take viewers on a backroads eating tour of America.
After watching a few clips from these hits, I was convinced. Sounds like Katie MacIntosh is good people. Which brings me back to my original question. Who in our extended mountain clan is entertaining enough to deserve their own show? Who would do the region proud and hold viewers' attention? Who should be put on national TV to represent Appalachia?
Share your ideas below, and be sure to include your email address. It won't be publicly visible, but it will allow Katie to contact you if she'd like to follow-up.