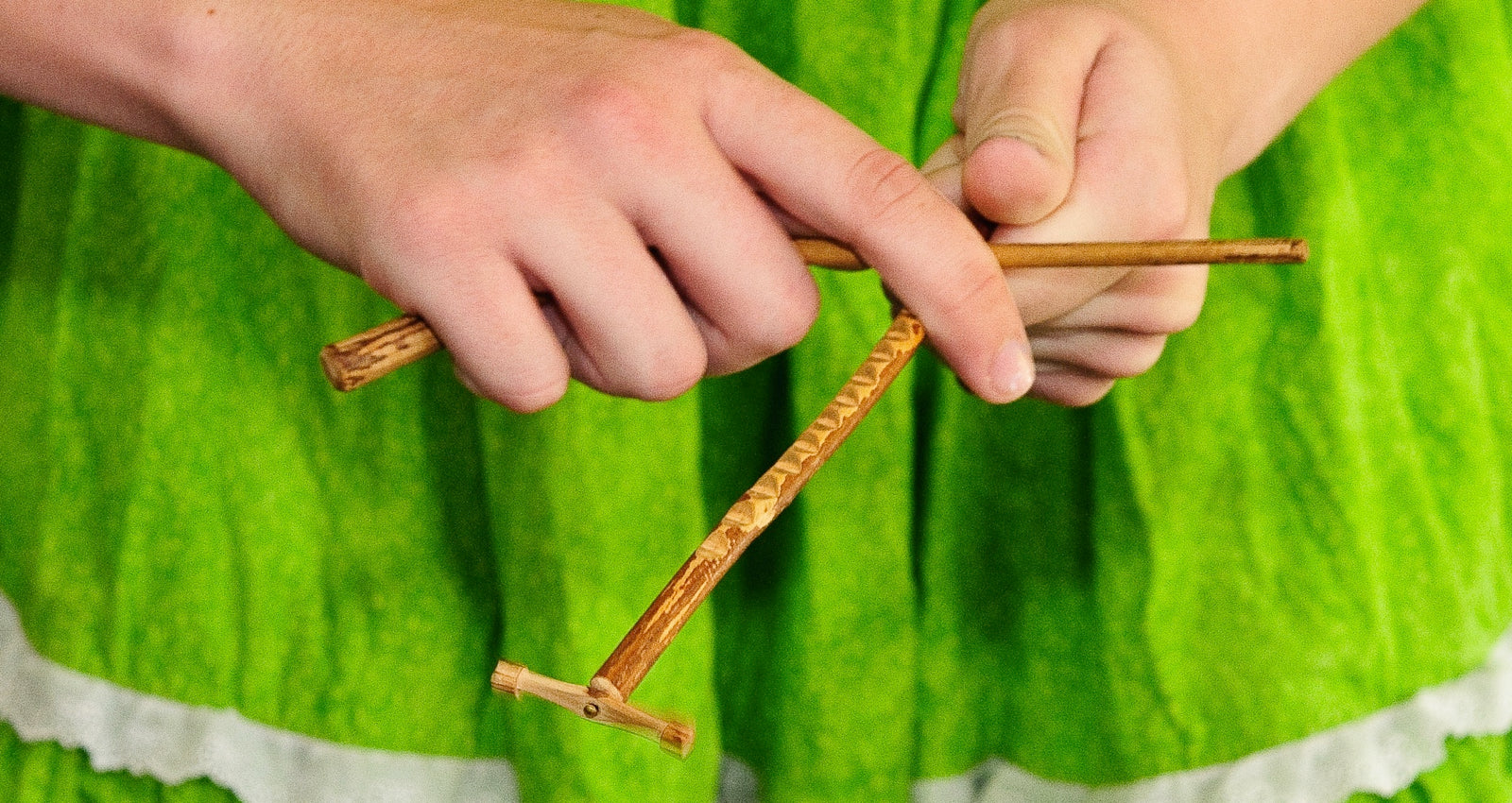 A classic Appalachian toy—the whimmy diddle—is making a big come back. Made from two sticks and a tiny propeller, it has entertained mountain children for generations.
Now it's the centerpiece of its very own tournament. The World Gee Haw Whimmy Diddle Competition will take place during
Heritage Weekend
, September 21-22 at the Folk Art Center outside Asheville, North Carolina, and you'll find today's guest blogger wringing her hands right by the stage.
April Nance helps coordinate the event for the Southern Highland Craft Guild, but that's just one reason she is whimmy obsessed. April is also a proud whimmy diddle stage mom, and she's here to tell you that being a whimmy winner is no small feat.
*
I still remember my first visit to Heritage Weekend fifteen years ago. I had heard about the Southern Highland Craft Guild's celebration of traditional crafts and wanted to check it out. In particular, I wanted to participate in the World Gee Haw Whimmy Diddle Competition.
[caption id="attachment_8674" align="alignright" width="216"]
Two time winner, Mitchell Nance, practices his whimmying.[/caption]
I was lucky enough to meet Bob Miller of Pisgah Forest, North Carolina, Lifetime Member of the Southern Highland Craft Guild and unofficial grandfather of the event. I purchased one of his whimmy diddles, made from two sticks of rhododendron, one stick having carved notches on the side and a propeller on the end.
Bob tutored me on making the propeller spin to the right and to the left—or gee and haw—by rubbing one stick against the notched stick. I took the stage, confident in my newfound skills. The first rounds were easy enough. Judges make sure contestants can "gee and haw" in certain amounts of time. I even did okay when I had to gee haw behind my back. Then came the surprise. I had to switch hands, geeing and hawing with my non-dominant hand. The stubborn propeller barely moved, let alone made a full rotation. My hopes were dashed, and I had to step down without the receiving the coveted prizes, a trophy and a t-shirt. Like all contestants, I did get a Moon-pie, and for me that was sweet enough.
Fast forward fifteen years, and now, I am a whimmy diddle stage mom. I've been taking my sons, ages 10 and 12, to Folk Art Center events since they were babies, and Heritage Weekend is their favorite time to go.
[caption id="attachment_8671" align="alignleft" width="258"]
Guest blogger April Nance with a whimmy diddle at the ready.[/caption]
Both Will and Mitchell met my whimmy diddle tutor Bob Miller before he passed away several years ago. He taught the boys how to whimmy diddle too, and in no time, my offspring eclipsed my meager success. My son Mitchell has won first place in the Children's Competition for two years running. Now my reigning champ is eyeing a third title before moving into the Adult Division. Rumor has it that he's facing stiff competition, so he's is in serious training—geeing and hawing from dusk to dawn—prepping for the 2 pm showdown on September 21 at the Folk Art Center.
Up to this point, my attention to Mitchell's success has been cavalier, but now that he has won twice, I'm invested in him bringing the trophy home again. If he doesn't remember his whimmy diddle when he leaves in the morning, I'll stick it in my purse so he can whimmy in the car on the way to school. He also practices before bed and in between other activities like cross country and band. A strong finish in the Children's Division will set him up for triumph at the next level. And who knows—maybe he'll even bring home the Professional Division Title someday.  Wouldn't that make any southern Appalachian mama proud?
*
Have you ever whimmied? Ready to compete during Heritage Weekend? Please leave a comment and let us know what you think.
To learn more about the competition and all of the other Heritage Weekend activities, click on over to the 
Southern Highland Craft Guild
.