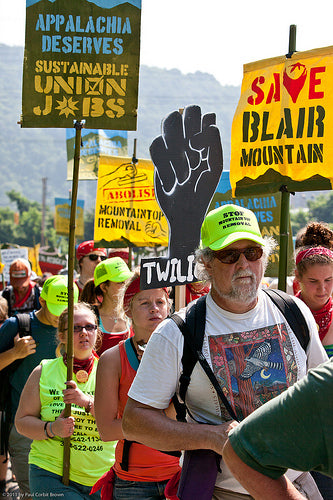 If you're like me and unable to make the remarkable March on Blair Mountain in West Virginia this week, don't worry. The Virtual March is on.
Each day, you can demonstrate your solidarity with the physical marchers and take real steps to help save Blair Mountain, the site of a massive uprising by as many as 15,000 coal workers in 1921 which is now threatened by mountaintop removal mining.
Here are the Virtual March actions so far:
Day 1: Call on President Obama to preserve Blair Mountain:Send a personal email to the president, asking for him to "stand up for environmental justice, workers' rights, and the preservation of American history by designating Blair Mountain as a National Historic Landmark."

Day 2: Give $5 to keep the march safe:On the March's first night, Boone County officials told the marchers that they no longer had permission to camp in the park they'd identified and that if they didn't leave they'd all be arrested. Your $5 gift will provide a secure campsite for one marcher.

Day 3: Call the White House and ask President Obama to re-list Blair Mountain on the National Historic Register: Following an easy-to-use telephone script, you can maintain a steady drumbeat of support and ask the President to relist Blair Mountain on the National Historic Register, which will help protect it against mountain top removal mining.
On MarchOnBlairMountain.org, you can also find updates on the marchers throughout each day. It looks like tonight they're having more lodging woes:
"Wed 6/8/2011 2:40 pm  The march ended approximately 5 miles south of Madison. Marchers were shuttled to the backup sleeping spot, as the camping spot that they had planned on using cancelled last night. Marchers are tired after a walk in 102 degree heat, but are in high spirits. They walked 8.5 miles in total today."
These bold women and men may be in good spirits, but they're clearly having a hard time. They need your support. Consider joining the Virtual March today.