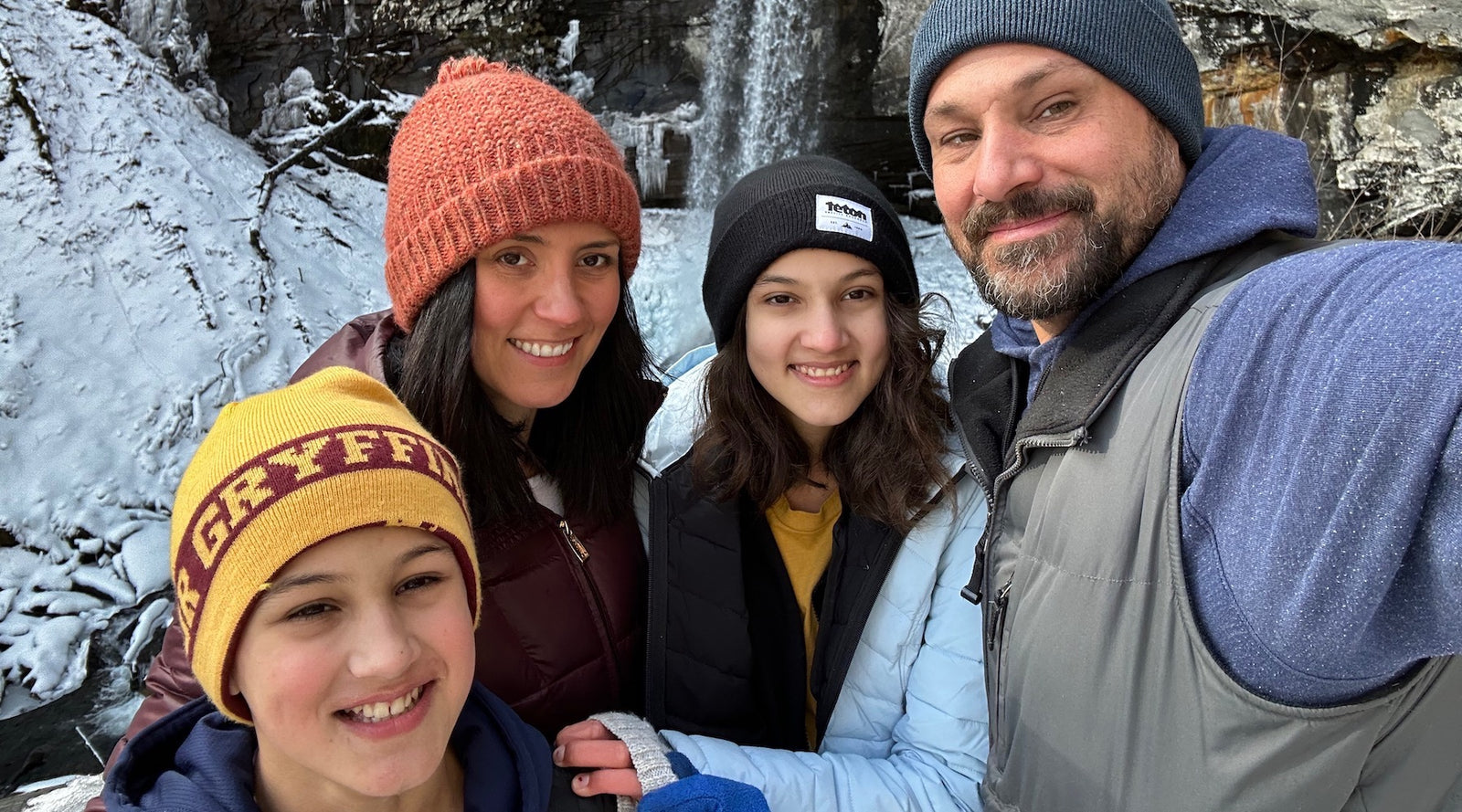 Ben Isenberg with his wife, Callie, and their two children.
Chasing big incentives, telecommuters are flocking to the mountains of West Virginia and Tennessee.
Two winters ago, Ben Isenberg and his wife, Callie, plus their two children were on the tail end of a 15-month, pandemic-fueled expedition across the United States.
"We were true nomads," Ben quipped, noting that he and his family moved into a camper after selling their Maryland home when COVID-19 hit. He then managed Symmetry, his Annapolis-based marketing agency, remotely while Callie — a former high school science teacher — homeschooled the kiddos on the road. "We loved every minute of it," said Ben.
However, as the 2021 holiday season rolled around, the couple felt a twinge of homesickness, not for the Chesapeake Bay or Isenberg's native Connecticut but for someplace small, mountainous, and charming.
The only problem?
"No place we visited felt right," Ben revealed.
But fate works in weird ways. One day in November as the couple dwelled on their next move, the phone rang. It was a representative from Ascend West Virginia, a program to which they'd applied on a lark, and they wanted to interview the Isenbergs.
Before we get ahead of ourselves, it's worth noting that Ascend West Virginia is out to boost local tax revenues by paying remote workers a whopping $12,000 in cash — plus a long list of other perks — to relocate to four Mountain State communities: Morgantown, Greenbrier Valley, Eastern Panhandle, and Greater Elkins.
A collaborative effort between West Virginia University and the West Virginia Department of Tourism, Ascend officially launched in April 2021 after receiving a $25 million gift from Intuit (TurboTax) CEO Brad Smith and his wife, Alys. Since then, the program has fielded more than 20,000 applications from telecommuters employed by hundreds of out-of-state companies.
Isenberg applied after a friend told him about the program. "I never expected to hear back," he said. But then the phone rang. "And they said they wanted to interview me for Lewisburg."
A month later, he and his family rolled into town with their camper in tow. "We drove down Main Street and instantly knew this was what we had been looking for."
Lewisburg, WEST VIRGINIA exudes small-town charm. Photo courtesy of Ascend West Virginia.
Three days later, the Isenbergs made an offer on a house. A month after that, Ben officially put down roots in Almost Heaven as a member of the 33-person-strong Lewisburg cohort. "Moving to West Virginia was the best decision we've ever made," he said. And no, it's not because he and his wife pocketed $12,000 in cash.
More than the money, the Isenbergs value the conscious community-building that's baked into the Ascend model. To help participants get to know one another, each locality is outfitted with a coworking space. Program leaders also organize social gatherings like group bike rides, paddleboard yoga sessions, and farm-to-table dinners.
"Just the other day, a few of us from Lewisburg connected with the Morgantown cohort and went to a basketball game," Ben said. "Being part of a 'family' is huge."
Ascend's outdoorsy focus was also a significant draw. In addition to cash, participants receive two years of free outdoor gear rentals plus a booklet of one-time experience vouchers, covering everything from ziplining to off-roading.
"Access to outdoor recreation was another reason why we made the move," said Ben, who continues to work remotely for his creative agency.
But above all, this marketing exec and his wife settled in Lewisburg because they believed in this small mountain town.
"We wanted to support our community. That's the main idea behind Ascend, after all," Ben noted. "The program is investing in West Virginia by bringing income and different, unique perspectives to the state."
Cash into Johnson City, Tennessee
If you're craving a Smoky Mountain lifestyle, the Johnson City Remote program may be for you.
Launched in June 2021, the initiative aims to "attract and recruit new business with the focus being on remote workers," said Brenda Whitson, executive director for Visit Johnson City.
To entice telecommuters, the program dishes up a laundry list of benefits: up to $2,500 in cash, $500 toward the purchase of a new bike, $1,000 off the purchase of a new spa or hot tub (which make it super easy to make new friends), and a discounted coworking space.
According to Whitson, 35 participants with incomes valuing $600,000 have put down roots in Johnson City so far. And they are loving all that this mini mountain metropolis has to offer.
"We are a progressive, urban area with a diverse park system and a thriving downtown," Brenda shared. Plus, she adds, "the people here are very friendly."
Johnson City Remote pays telecommuters to relocate to the Volunteer State. Photo courtesy of Visit Johnson City.
Lauren Stepp is a lifestyle journalist from the mountains of North Carolina. She writes about everything from fifth-generation apple farmers to mixed-media artists, publishing her work in magazines across the Southeast. In her spare time, Lauren mountain bikes, reads gritty southern fiction, and drops her g's.