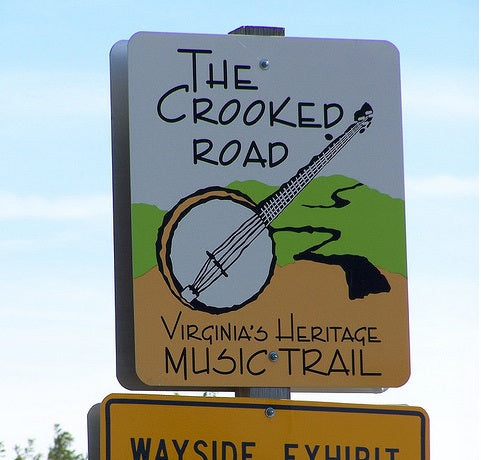 [caption id="attachment_4613" align="alignright" width="107"]
Sonja Ingram, Guest Blogger[/caption]
You might remember 
The Crooked Road
. It's a unique driving trail that winds through Southwest Virginia. Each of its nineteen stops represent Appalachia's musical heritage.
When I wrote about it back in March of 2010, it was facing the axe in state budgets. Luckily, it's still going strong and remains an economic engine. It is estimated to bring $28 million dollars into the region annually.
Our friend Sonja Ingram over at 
Preservation Virginia
 recently took a closer look at how this boost plays out in towns like Galax, where tourism is emerging as serious business.
She was nice enough to share her post here for all of us to read.
*
I 
read
 today that revenue from tourism in Virginia increased nearly 7 percent to about $19 billion in 2010. Tourism in Virginia also supported 204,000 jobs and provided more than $1.3 billion in state and local taxes last year. I also read an 
article
 about 
Galax
, Virginia and how it was just announced that a furniture manufacturing plant that will create over 300 jobs is coming to Galax.
The company, 
Albany Industries
, is also revitalizing a vacant property so few new infrastructure costs will be needed. These two articles coincided nicely with a presentation I was giving recently on the importance of heritage tourism and how in today's economy, localities need to diversify and embrace all economic outlets to survive. But the articles also made me wonder — is there a link between local revitalization/heritage tourism and the creation of new manufacturing jobs?
The 
Crooked Road
, Virginia's heritage music trail, created in 2003, has helped generate huge economic gains for towns and communities in southwest Virginia like Galax. In just 8 years, the Crooked Road was listed as a National Trust for Historic Preservation's 
Distinctive Destination
; it has also been featured on the 
National Geographic's
 Discover Appalachia Interactive Map and the 
Smithsonian's online magazine.
But the real story is the economic impacts of the Crooked Road. According to the 2008 
Crooked Road Economic Impact
, accommodation spending increased by 232% in Galax from 2004-2007 and by 90% from 2003-2007 in Floyd. Direct spending in the region from visitation is estimated at $12.9 million and the total economic impact to the region is estimated at $23 million per year.
Why did Albany Industries choose Galax over other Virginia cities? I am confident that the available workforce, monetary incentives and political maneuvering were all reasons, but these reasons seem to exist in many Virginia towns.Maybe Albany Industries chose Galax for another reason as well; perhaps it was because they wanted to be positioned in an area of revitalization, activity and festivity — traits that Galax possesses, in part due to a heritage tourism initiative called the Crooked Road.