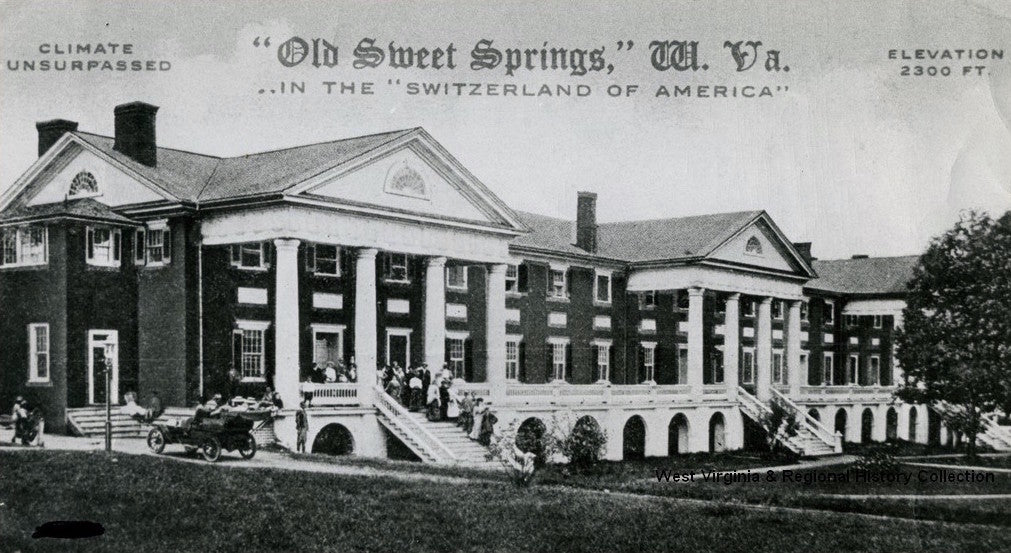 William Jones hates highway driving—he told me this during one of our text marathons—so I felt bad when he aimed for an I-64 entrance ramp, me following his minivan, certain he was taking interstate just to save me time.
This was our first meeting. After two years of online friendship, him living in the southern part of West Virginia and me outside D.C., we decided to veer from our beaten paths and get together in White Sulphur Springs. It was too cold for more than a sidewalk hello, so we rushed back to our vehicles and started what I thought would be a backroads drive to the nearby Sweet Springs Resort.
You might have read about it. William's older cousin, Ashby Berkley, who renovated another nearby resort called Pence Springs in the 1980s, recently purchased this dilapidated beauty—almost 30 acres, a hot springs, and ten historic buildings, all for $560,000. Since William is a preservationist and I am a sucker for old buildings, we thought it would be a fitting way to spend the day.
[caption id="attachment_11927" align="alignnone" width="1024"]
William Jones under the resort's gracious porticos.[/caption]
I was, in fact, pressed for time. The hubby was headed to Chicago, and I had to get back home to mind the dog. While I felt bad that William took the highway, it was faster and did give us more time at Sweet Springs, which struck me, during our approach, as less creepy than expected.
When I heard that I'd be visiting a decaying resort, with structures dating back to the 1790s, one that was once used as a tuberculosis ward, I pictured a house of horrors—ghastly twins lurking in the hallways and Jack Nicholson chasing me with an ax.
But walking across the wide lawn and the building's first floor, I thought it was fundamentally cheery. In spite of collapsing plaster and deserted remnants from its hotel past, there was something upbeat about the place. Big windows brightening each room. Plastic cups and furniture were scattered like someone had thrown one hell of a party. Any spirits who chose to linger there were surely of the Casper sort because nothing malicious would fit in.
[caption id="attachment_11932" align="alignnone" width="1024"]
The resort's elegant dining room was converted to a chapel for retirement home residents.[/caption]
Before the resort existed, William told me, there was a courthouse and rough-hewn jail on these grounds. Serving four surrounding counties from 1795 to 1817, these judicial structures were rented to guests when court was not in session, and soon an adjacent spring developed a curative reputation. Those who bathed in its waters claimed to be healed of everything from arthritis to depression. As word spread, people flocked to this little hamlet. In 1839, the first part of the resort was completed, and soon Sweet Springs was attracting thousands of visitors each year.
[caption id="attachment_11938" align="alignnone" width="1024"]
The dining room during its heyday.[/caption]
Like everywhere south of the Mason-Dixon, the Civil War hit hard here. Area resorts, including the big ones—The Greenbrier and The Homestead—shut down until peace resumed, but unlike its larger brethren, Sweet Springs never quite recovered. A series of owners helped it struggle along for sixty-some years, until 1928, when it closed to the public for good.
West Virginia ended up purchasing the resort, and in 1941, it followed the lead of other rural places, opening a sanitarium there for victims of tuberculosis. Those struck with the disease were said to benefit from fresh air and outdoor living.
What did not benefit from the conversion to a medical facility were the structures that made Sweet Springs special. The resort's gracious entry hall, elegant ballroom, and quaint rental houses were all stripped of architectural detail during remodeling.
As I shot dozens of new photos, capturing the place in decline, William said he'd been combing through old ones and, using the images, he's sure they can restore Sweet Springs to its former glory.
[caption id="attachment_11940" align="alignnone" width="1024"]
The oldest structure at Sweet Springs, the jail predates the resort by some forty years.[/caption]
I am an irrepressible shutterbug and slow every tour. William was ahead of me throughout the place, waiting patiently at the end of corridors and at stairwells to ensure I didn't get lost. Though I was deep in blogger mode, stumbling around, studying Sweet Springs through my phone screen, he never showed frustration.
By the time we reached the basement, all I could do was imagine what this place could be once restored, just stunning with its greek revival architecture set in a remote West Virginia valley, and given its size, it could be more affordable than its nearest neighbor. The Greenbrier, one of the world's toniest resorts, is just down the road and rooms there start around $250 a night.
Beyond that, Sweet Springs might also reflect the culture around it. I've always thought this was a failing of bigger mountain resorts, creating aristocratic islands in the middle of Appalachia. I took my thumb off the shutter long enough to say that their oversight could be Ashby's competitive advantage, and William agreed. His cousin has been thinking along those lines too and is exploring features that play on local heritage, including a cidery, performances by local musicians, a colony for mountain artists, and a full-on Appalachian festival.
[caption id="attachment_11953" align="alignnone" width="1024"]
Furnishings and office supplies hint at Sweet Springs' past.[/caption]
My phone does this funny thing in the cold. Well, it does if dying is 
funny
. The moment we stepped outside the resort's main building, it keeled over.
I may have cussed a little. William may have laughed.
But after that, I no longer stumbled around half-ignoring my friend because I was myopically experiencing Sweet Springs through a 4.7" screen. Side by side, William and I walked the property with hands buried in our pockets for warmth, ducking into smaller buildings—the former guest houses and collapsing bathhouse—roaming with no particular goal, just enjoying one another's company, laughing and chatting, the way we people did at Sweet Springs for more than a century, the way they will again soon.
Work has begun on the resort. While the restoration will be arduous (William has already sent photos of a chimney that collapsed during repair), it will preserve this piece of Appalachian history and create a new haven in the Allegheny mountains. When it reopens, Sweet Springs will, of course, have its famed healing waters and gracious structures, but what else would you like to see there?
Now's the time to share your ideas. Leave a comment below, telling us about features and activities you'd find at your dream mountain resort.
---
You might also like
---