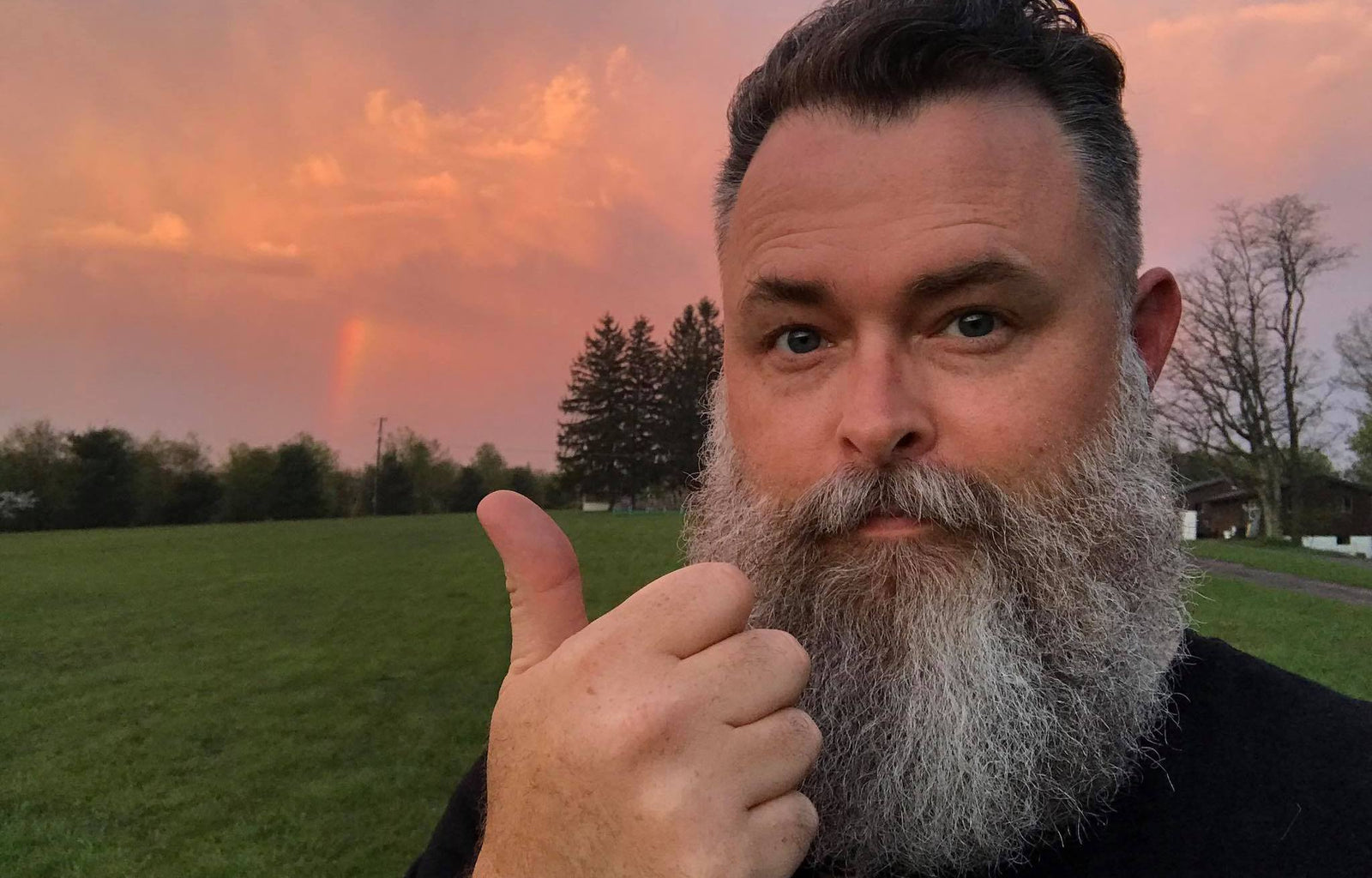 Photographer Roger May is taller than I expected. I met him for the first time at this year's Appalachian Studies Association conference and was struck, first, by his six-foot-and-four-inches of height and, second, by his sincerity. I'd known him online for years, but as soon as he spoke, I could tell he was the kind of fella you'd trust with anything. Maybe it was because, after a firm hand shake, he opened up and told me about his transformative move home to West Virginia.
Like many Mountain State natives, Roger's family left looking for an easier life. They landed in North Carolina, where he studied at Duke University's Center for Documentary Studies and later started his own family in Raleigh. He raised two children while working in IT, and the years added up. Before he knew it, Roger had lived in North Carolina for more than twenty of them, but he never stopped thinking about West Virginia or visiting.
With each trip back, he took cameras and shot beautiful vistas, religious signs, relatives' houses inside and out, and trucks belonging to coal miners. What resulted were more than photos. The views that caught Roger's eye deepened his relationship with the mountains and, in time, inspired him to launch Looking at Appalachia, a project that engages photographers from all across the region to try and represent Appalachia's true complexity. Since its 2014 start, the project has been featured in major news outlets like the The New York Times and has made Roger one the region's most recognizable faces.
That new notoriety led to a job offer, and that's really where the below story starts. It's written by Roger himself, a man who proves you can go home again, a man who has transformed his own life to fight for the mountains we all love.
I moved back home to West Virginia at the end of January this year.
It was a tumultuous time in my personal life, never mind the charged political landscape of both the nation and state. My last day of work in North Carolina was a Friday, and I had my car loaded so I could leave and drive straight to West Virginia. Monday morning, I was first in line at the DMV in Princeton to get my driver's license.  (The town sits just an hour east from Welch, West Virginia, a town where national journalists often descend upon to tell stories of opioid addiction, a decline in coal, health care struggles — all related to poverty.) 
I was coming to get more than just a driver's license. I was there to get a West Virginia driver's license. The woman at the desk told me she'd never seen anyone as excited as me to stand in line at the DMV.
Over the course of my first few weeks, I watched the president sign executive orders that repealed regulations designed to protect the coalfields of central Appalachia. I attended an ill-publicized town hall meeting with Senator Joe Manchin (who refers to West Virginia as the Extraction State rather than the Mountain State) in Peterstown.
When it was time for questions, I raised my hand first and asked him to look me in the eye and tell me, as a West Virginian, how he could vote to confirm Scott Pruitt as head of the EPA. Although he did look me in the eye, the next seven minutes were dedicated to everything but answering my question.
So why come home now? I believe in West Virginia.


A truck in Cedar Grove, Kanawha County with a sticker on the back glass read "Friend of God" a play on a campaign by the coal industry known as "Friends of Coal." (Photo: Roger May)
A person close to me once told me West Virginia was in my DNA. I know I'm not alone when it comes to this place being woven into the very fiber of my existence, of who I am. I have never encountered prouder people in all the places I've traveled in the world. And I mean the kind of pride a mother has for a son, not the kind of pride The Bible warns us about.
I believe in West Virginia despite being told at an early age that if I wanted to make something of myself I had to move away. I believe in West Virginia because we are more than an extraction state. I believe in West Virginia because I owe to it my forebearers and my children. I believe in West Virginia because my inheritance, our inheritance, is more than surface-mined mountains, valley fills, polluted streams, and being ranked at the bottom of too many lists. I came home to West Virginia to fight for the future.
Our young folk are tired of not being heard. They're tired of being told what's best for them, where they should go, why they should stay, and they're tired of not having a place at the table. They're tired of being talked at. My granddad, Richard Watson of Chattaroy, once told me that I have two ears and one mouth and that meant I should listen twice as much as I speak. I came home to West Virginia to listen to young folk.
Our forebearers, whether they marched and organized or wrote songs and taught school and stood for what's right, showed us a way forward. They created hope in times that were dark and sometimes bloody. I came home to West Virginia to honor my forebearers.
In 2014, I photographed the aftermath of the Freedom Industries chemical spill in the Elk River for The Guardian. After working for three days, I got in my car and drove 300 miles back to North Carolina, to clean water, and to a place where hardly anyone knew about the spill. I struggled with leaving and with not doing more. I came home to West Virginia to do more.
I came home to West Virginia because I couldn't not come back. Kentucky writer bell hooks wrote in her beautiful essay To Be Whole and Holy, "Hence we return to the unforgettable home places of our past with a vital sense of covenant and commitment."
I now have the incredible opportunity to direct the Appalachian South Folklife Center in Pipestem, West Virginia. Founded by Don and Connie West in 1965, the ASFC was founded to educate young people about their mountain heritage and to focus on "the restoration of self-respect and human dignity lost as a consequence of the region's colonial relationship with industrial America."
We didn't get here overnight and we won't get out of this overnight. There is no quick fix, no easy button, no campaign promise to fix what is broken. What remains is you and me. What is possible is what we choose to do. In Don West's poem Mountain Boy, he writes, "What will you do for your hills, You mountain boy?"
What will you do for home?
This article was previously published on 100 Days in Appalachia.