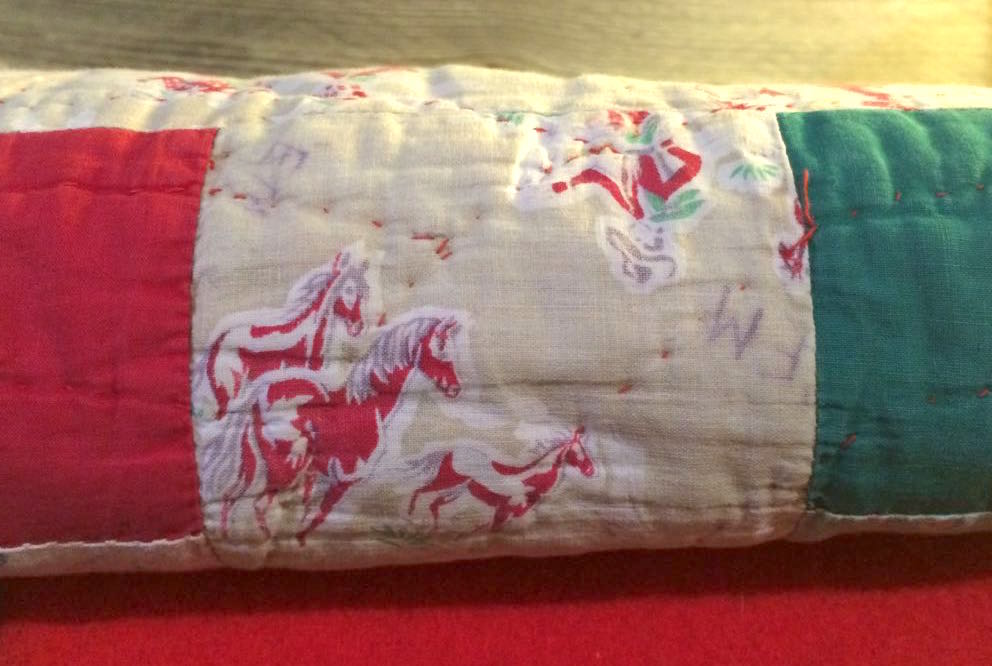 I hadn't expected to choke back tears over my tacos. When I ordered, we were acting like fools, hooting and laughing, making more noise than other families in the restaurant, which would have been the case just about any night, but this dinner followed my graduation. Since I was the first to earn a bachelors degree, we were extra rowdy.
As the server refilled drinks, my stepmother slid a cheery package onto my lap. I looked to her, surprised, and then down the table, wondering who noticed. Cleaning ladies and retirees, they'd already spent too much getting there, two hours from home. I didn't want them to feel like they should have brought gifts too.
My stepmother nudged my shoulder. "Open it!"
With the box flat on my lap, trying not to draw attention, I eased fingertips under the tape and slid gift wrap to the floor. My discretion did no good. Conversation stopped. By the time I lifted the lid, relatives were leaning to see inside. One aunt stood as I unfolded crisp tissue paper, revealing a quilt—light blue with cowboys and ponies, the fabric aged but still bright, though much too small for me.
"Your daddy's!" my stepmother boomed.
Confused, I looked up, trying to conceive how this tiny blanket ever contained the biker next to her, the man behind my every whipping and half my chores, who wore leather and denim most days and a full beard for as long I could remember. Always tough, my father now flashed an uncharacteristic smirk.
Amused or embarrassed?
I wondered, trying to read his face, when I noticed that his lids were damp. He blinked hard and cut his gaze away, toward a basket of chips, and I realized this gift wasn't my stepmother's idea.
I closed the box fast, my own eyes threatening to flood. "Thank you," I managed as a chorus of
awww
ran around the table.
Chatter resumed. We finished our tacos and chips. But that quilt stayed right on my lap, and it's been close ever since, a bright reminder that a good mountain man, no matter how burly, admits he once needed to be wrapped in a baby blanket.
---



In this series, folks who've left the Appalachians share mementos we carry with us, objects that remind us of the mountains.



---
It arrived after my father died from LaFayette, Georgia – a town nestled into the pine trees just as Appalachia stretches out of the mountains and into red clay. He called it his "steak knife," a military issue oxblood combat blade, and it saved his life along the Korean DMZ in the early sixties. At seventeen, he cut his initials into the sheath.
Knives were a conversation we were able to have without his anger and alcohol. He taught me how to dress a deer with it. He bought me my first pocketknife at the Collinsville flea market.
Now, it rests with a small collection of others—a 90 year old Case folder, a Hen & Rooster whittler, and a black horn Laguiole—like the end of the only peaceful story we ever shared.
Logan Knight, Oakland, California
From LaFayette, Georgia
---



Have you ever lived away from the mountains? If so, did you carry pieces of home with you?



---
Living with my family in a small apartment across the Hudson from Manhattan, I haven't had room to keep many things from home. I do have this little flashlight, though, factory made in China. It's a cheap trinket but has my grandfather's name on it and came from his house on Read Mountain. The back side says "Cheyenne River Indian Outreach." Undoubtedly a gift from one of the many charities he supported with his electrician union's pension.
Grandpa passed away in March, and seeing his name on this light reminds me of the home he built with his father after returning from the war. I think of his sisters who lived on Read Mountain behind him and summer get-togethers with homemade lemon ice cream. It reminds me of years drinking coffee with him at his army reunions and his boyish eagerness to connect with friends at 91 years old. Then I start thinking, "And, it
is
a flashlight. It's so symbolic. He had so much wisdom."
I have to admit, though, if Grandpa had received his name printed on a square of toilet paper from some terribly misconceived charity marketing plan, I'd be writing about a toilet paper square instead.
Will Robertson, New York, New York
From Roanoke, Virginia