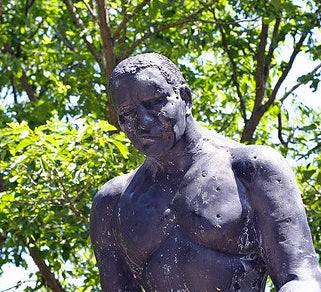 [caption id="" align="alignright" width="240"]
John Henry statue before restoration. Photo provided by Smythe Richbourg.[/caption]
This week, leaders in Talcott, West Virginia rededicated the town's most famous statue. It depicts an eight foot tall, muscle bound John Henry, standing with his feet spread wide and a hammer in both hands. He looks like he is ready to spring off of his stone base and drive some serious steel.
The bronze statue is a testament to the folk legend, whose win over a mechanical steel driver is celebrated in songs and stories. Unveiled forty years ago, the statue sported twenty bullet holes, countless dings, and layers of paint when the John Henry Historical Park began work on it. After careful restoration, Mr. Henry was returned to his usual spot--the entrance to the Great Bend Tunnel.
This is where the legendary battle between man and machine was supposed to have happened. For decades, it has been accepted as fact by every towns person and tourist who has snapped photos of the hulking statue. No one had much reason to question it, at least not until
Scott Reynolds Nelson
came along.
Nelson is a historian at the College of William and Mary, and he asserts that this famous showdown could not have occurred at Great Bend Tunnel. He says that there isn't a single record indicating that a steam hammer was ever used in this spot.
Nelson believes that the actual site was the nearby Lewis Tunnel, which is situated between Talcott and Millboro, Virginia. A steam drill was used there, and, notably, so was human labor.
Those laborers were actually prisoners from the Virginia State Penitentiary. Still reeling from the Civil War, the state of Virginia had begun leasing convicts to private companies. Their work reaped $.25 per day, and during this period, many men were placed with the Chesapeake & Ohio Railway. Their job was to take up chisels and hammers and tunnel through the Allegheny mountains.
Intrigued but this fact, Nelson began to search state prison records, where he encountered a man who upends the John Henry myth. In 1866, a young New Jersey native, only 18 years old, was stationed by the Union Army in Virginia. While there, he was convicted of stealing from a Richmond grocer. He was jailed at the state penitentiary, and later, leased to the C&O Railroad. His name was John William Henry.
This is a uniquely compelling find, because other historians have relied on personal accounts from the 1920s, interviews with men who claimed to have worked with Henry. The records found by Nelson are the first to difinitevely put a man with the right name in the right place at the right time.
Unfortunately, the trail ends there. Nelson's man disappeared from all public records by 1874. According to a
New York Times
articles on Nelson, there was "no mention of pardon, parole or release, strongly suggesting that [Henry] died while working on the railroads and not inside the prison, where his death would have been recorded."
Some of those interviewed in the 1920s said that one in five men died while driving steel into mountain stone. Tons of rock would shake loose and tumble down on them. This could have been Henry's fate, or he could have died according to the legend, from exhaustion after he defeated the machine.
Either way, Henry's final resting place may well be back at the prison grounds. Lyrics from the popular ballad of John Henry say, "They took John Henry to the white house, and buried him in the sand." The main building at the Virginia State Penitentiary was, in fact, a large, white structure, and prisoners were commonly buried on site. In fact, when the prison was demolishing in 1992, workers uncovered 300 anonymous skeletons that had been buried without any markers.
Was the folk hero John Henry among them?
It's impossible to say. No one knows where his body lies, but I think we do know where his spirit stands. The good folks of Talcott, West Virginia have given John Henry a true and permanent home. Whether it's by the right tunnel or not, they've created a place where we can celebrate Henry's legend and where he can remind us that whatever the trials of our day, nothing trumps the power of the human spirit.
[youtube]g6vcvYJCkic&feature[/youtube]