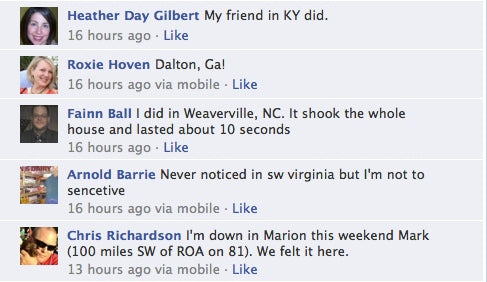 Either you felt it or you heard about it. The area around Whitesburg, Kentucky was home to a 4.3 magnitude earthquake yesterday. It occurred at 12:08 p.m. EST.
While it wasn't huge, it was big enough to rattle pictures and knock over knick-knacks, not just in Kentucky but across the region. On
The Revivalist's Facebook page
, folks responded to the question "who felt the quake?!"
All this earth shaking set me to wondering--what's the risk of a more serious quake in the Appalachian South?
Turns out, we have one major fault line and several smaller ones in or near our area. The New Madrid fault is the largest of these. It runs just west of us and puts large population centers, such as Memphis and St. Louis, at risk for a bigger earthquake. Other small faults run right through the mountains, such as the one that caused yesterday's event.
According to a 2010 interview with 
Dr. Michael May
, a geology professor at Western Kentucky University, we shouldn't be too concerned about the size of a quake in these parts. A major earthquake would probably be centered west of us, along the New Madrid. We should, however, consider our lack of preparedness for one. Earthquakes can reach 6.0 in the eastern United States, and Dr. May says that "some of our older buildings were not constructed with that seismic risk in mind."
After yesterday's quake, 
The Los Angeles Times
 noted that the biggest quake ever recorded in Kentucky was a 5.2 in 1980, which struck in Sharpsburg, a town in the eastern part of the state. "Property damage totaled more than $1 million during that temblor, with collapsed chimneys and cracks in the ground seen about 7 1/2 miles away from the epicenter."
All told, earthquakes, even local ones, can do damage, and other natural disasters are common in our mountains too--tornadoes, severe winter storms, even hurricanes as they sweep inland. There's plenty of reason to prepare for the worst. You can find excellent emergency preparedness tips on the
American Red Cross Website
and in its new suite of
emergency apps
.
Also, the below earthquake awareness video is a fun way to learn what to do the next time a quake hits our area. Produced by Lexington high school student Samuel Stucky, it won the 2012 Kentucky Emergency Management video contest.
So did you feel yesterday's quake? Do you feel prepared for a serious disaster? And if you could have any one item in your emergency preparedness kit, what would it be?
[youtube]8bO-MrVsTRM[/youtube]